Our current herd sire is RJF Texas Rebel – READ more here

Member of Texas Longhorn Breeders
Assoc. of America (TLBAA)
Texas longhorn calves for sale in Texas
Finest Genetics | Fairly Priced
Prices include:-
Calf vaccinations
Deworming
Castration (where applicable)
Permanent marking with brand and Private Herd Number (required for registration)
Registration with TLBAA
Transfer of ownership certificate to members of TLBAA
Although Cattle Ranching is not our primary source of income, we have ranched with cattle and other livestock for over 20 years. We have learned a ton over the years and share our experiences in our Cattle Blog. 
Most every month, we post an article about Texas Longhorn cattle. Here is one of our all time most popular blog posts.
15 awesome reasons why ranchers raise Texas Longhorn Cattle 
16 Tips for Longhorn Cattle Ranchers in Texas
What is the value of Texas Longhorn Cattle in 2023? A cost overview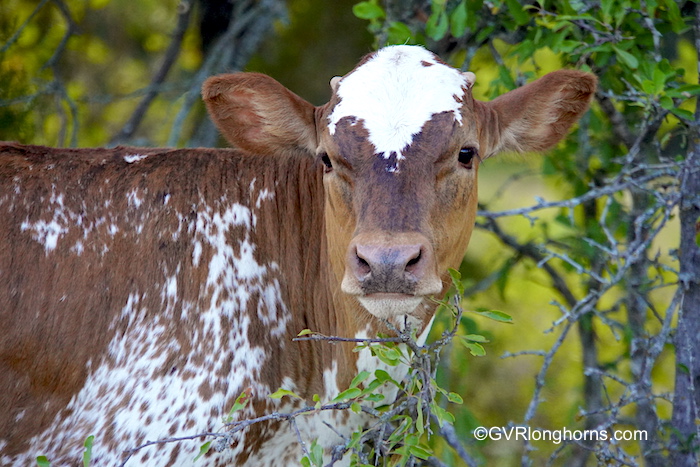 Schedule a visit today to meet us.
We often have longhorns for sale that have not yet made it onto our sale page. Contact us directly to enquire who else is available for sale.
Thanks for stopping by!
Paul and Cathy
Better yet, see us in person!
Our Texas Longhorn cattle love our customers, so feel free to schedule a visit. We are near Stephenville, south of Dallas and Fort Worth.
This page is a summary of Texas longhorn cattle facts, links and other resources. For more info on our herd, please feel free to contact us. GVR Longhorns at Green Valley Ranch
Dublin, Texas, United States
Contact Us
DROP US A LINE!
THANK YOU FOR VISITING US AT GVRlonghorns.com
We are constantly updating our SALEBARN with our Texas longhorn cattle for sale
SCHEDULE YOUR VISIT TO MEET OUR HERD TODAY WITH A VIEW OF OWNING YOUR OWN TEXAS LONGHORN CATTLE
*** most of our babies are sold on sight and don't get a chance to debut on our website***
WE ARE ALSO EXCITED TO INTRODUCE OUR NEW YOUNG HERD SIRE IN PARTNERSHIP WITH BENTWOOD LONGHORNS.
His name : RJF TEXAS REBEL
**all calves are eligible for registration with TLBAA
**all presenting the finest Texas longhorn genetics
This page is updated regularly. However, we do not post everybody that is available. For pricing and foundation packages of our longhorn calves or any of our Texas longhorn cattle for sale on our website, please call or email us. We are near Stephenville and south of Dallas and Fort Worth
DISCLAIMER – Longhorns are a great addition to our Ranch. Although we love them, we respect them and do not underestimate their strength. Many longhorns have been halter trained but ours are not. We use common sense in handling them and urge you to do the same.