Have you herd? RJF Texas Rebel is our new herd sire.
It's been a while since our last Texas longhorn herd update.
We've had a ton of exciting happenings to let's dig straight in.
Texas longhorn herd bull
You may well have heard that in March 2021 we added a new young herd sire to our herd,
DOB 09/17/2019.
Bred by Harrell Longhorns.
Owned by us in partnership with Bentwood Ranch.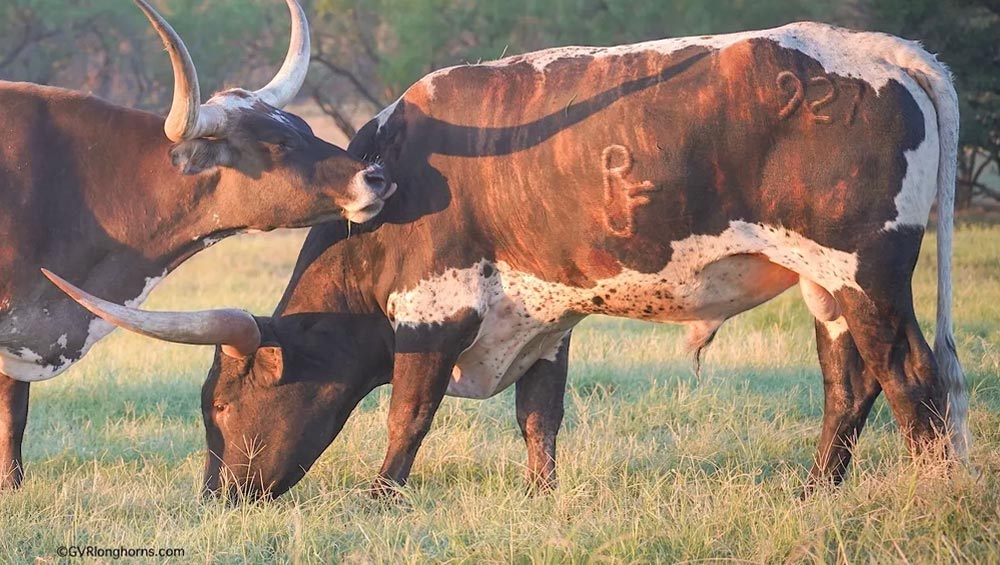 So what is so special about our longhorn bull – RJF Texas Rebel?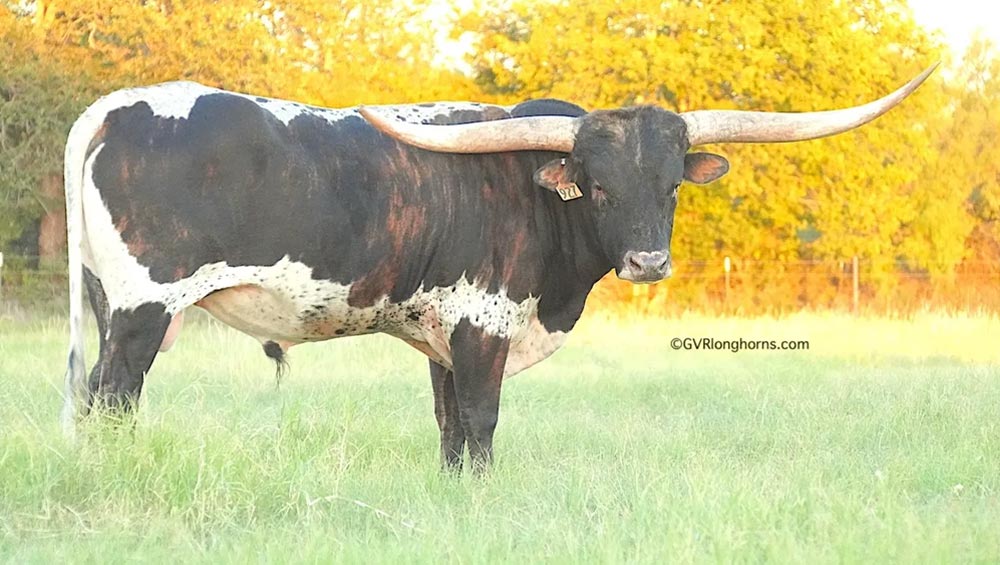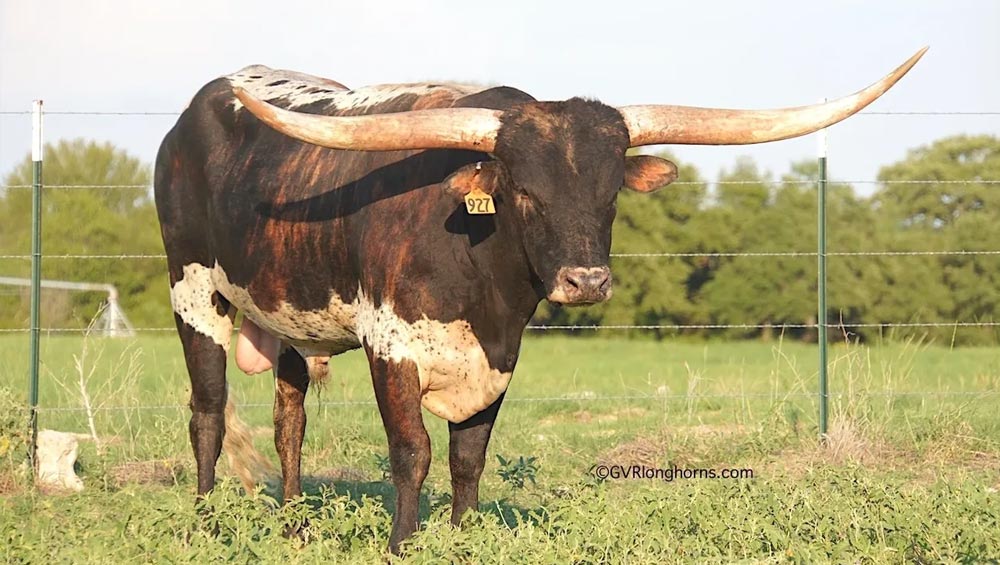 GENETICS
RJF Texas Rebel has a pedigree jam packed with special genetics. *Justin Rombeck highlights some of these influential genetics for us.
On the top, his sire is Jammin Tex, a son of WS Jamakizm, known for his big body, strong legs, horn length and his brindle coloring. Jammin Tex's dam is Texana Garland Gal, sold for $90 000.00 in 2016. At the time her horns measured 92″ TTT. What's more, Texana Garland Gal, her sire Tejas Star and his full sister Texana Van Horne are all legends in their own right.
Also, as if that's not enough, RJF Texas Rebel's dam is HL Awesome Reb.
HL Awesome Reb recently sold for $140 000.00. Incidentally, a few years ago Bentwood Ranch had purchased her for $16 000.00, not at all bad for a return on investment!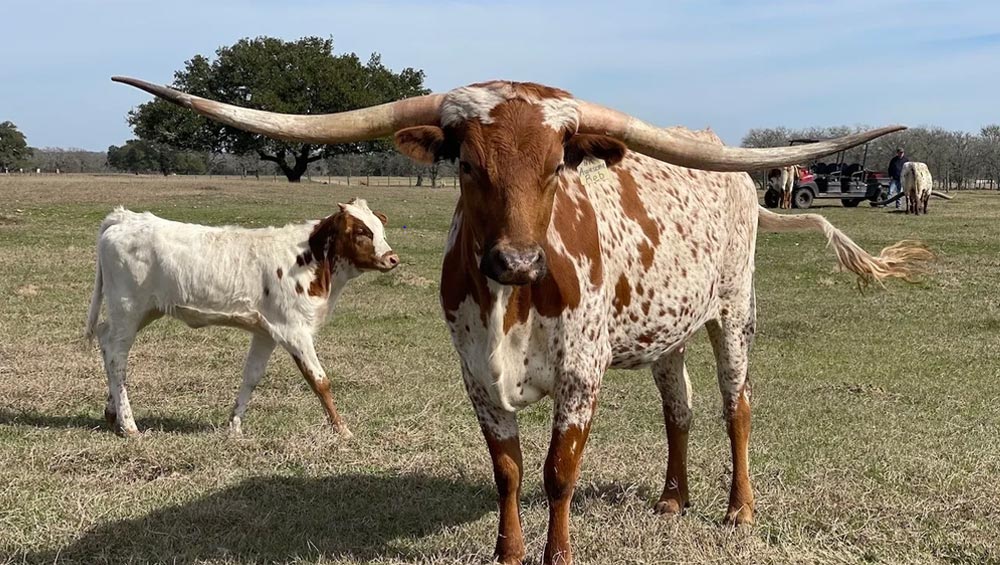 HL Awesome Reb is sired by Rebel HR, the same sire who sired HR Rosette.
HR Rosette sold on auction in 2022 for $700 000.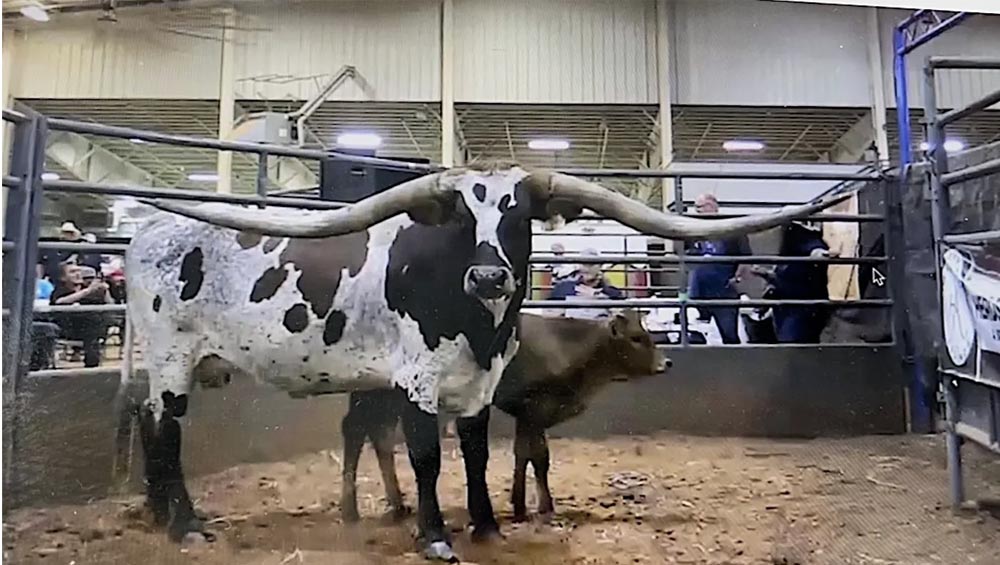 *Justin Rombeck is a walking encyclopedia of all things Texas longhorn, In fact,  he is especially knowledgeable about Texas Longhorn Cattle genetics. Furthermore, he is totally an influencer in the industry. If you don't know already, he recently pulled off one of the most successful auctions in the Texas longhorn cattle industry, namely the  Legends Longhorn Sale.
It is simple!  RJF Texas Rebel's performance has been awesome. In essence, the proof of good genetics and great genetics is in the progeny.
Even though this is his first year on the job, RJF TEXAS REBEL produced calves at a remarkable ratio of 80% heifers to 20% bulls. Additionally, he works like clockwork and the babies arrive right on time.
What's more, each longhorn calf is stunning from the first day. The calves are like our children so we know we are subjective when we say that.
Therefore, rather than highlight what we like about these predictable genetics in words, here are photos of some of his first season of longhorn calves. This way,  you can be the judge….
In brief, here are a few characteristics to look out for:-
strong top line
sturdy legs
coloration
body conformation
muscling
These babies are too young to show their horn development but we know the potential is there for shape and size.
---
CONSEQUENTLY, FOR A CHANCE TO HAVE YOUR OWN RJF TEXAS REBEL LONGHORN CALF, VISIT OUR SALEBARN.  EVEN BETTER, SCHEDULE A VISIT TO MEET OUR HERD.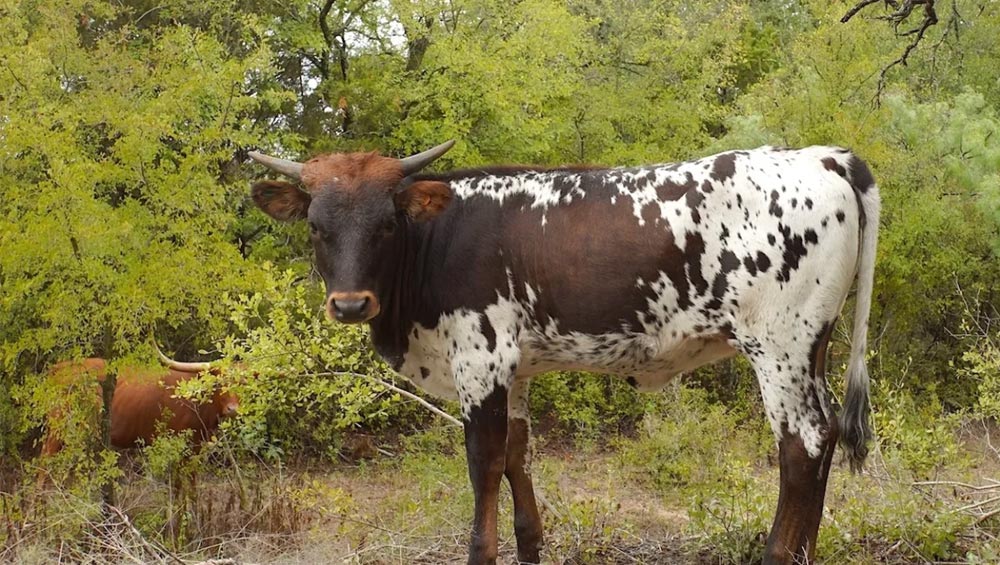 Kristina is the very first calf that RJF Texas Rebel has sired.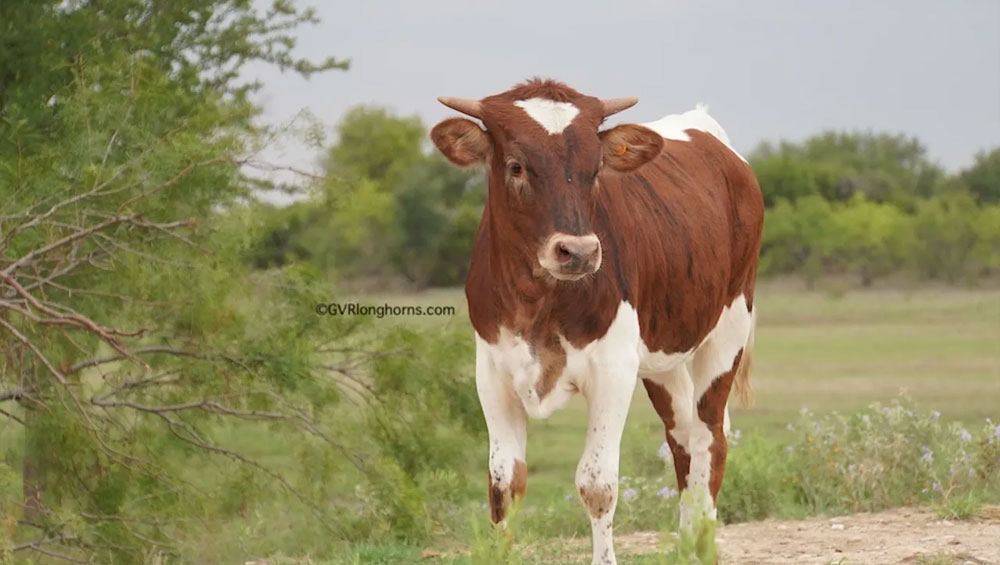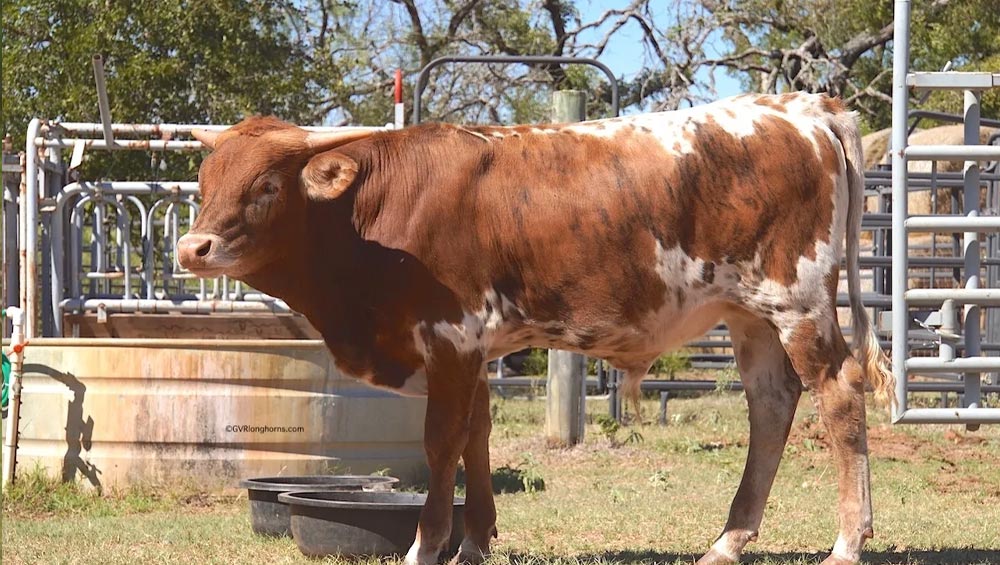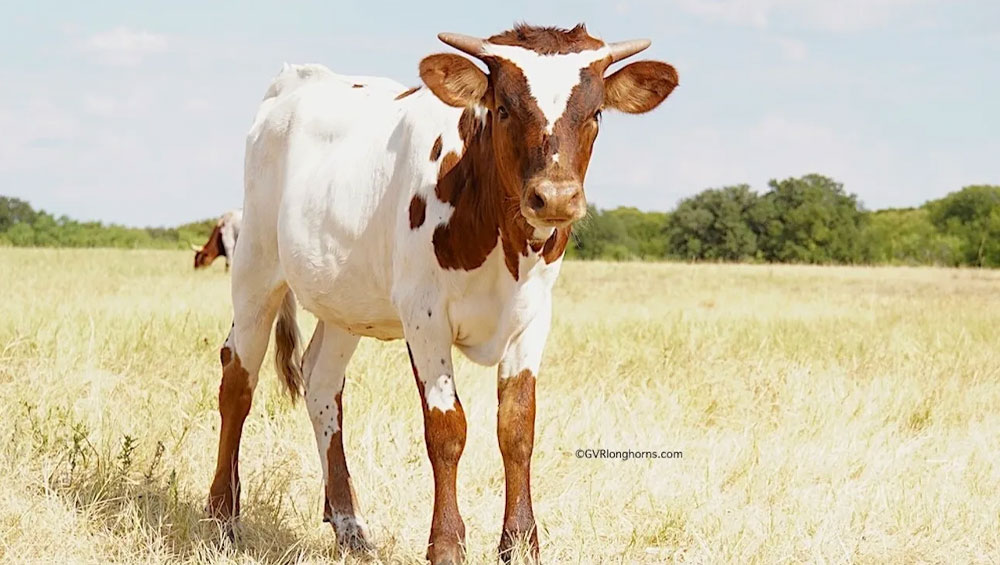 and a few more……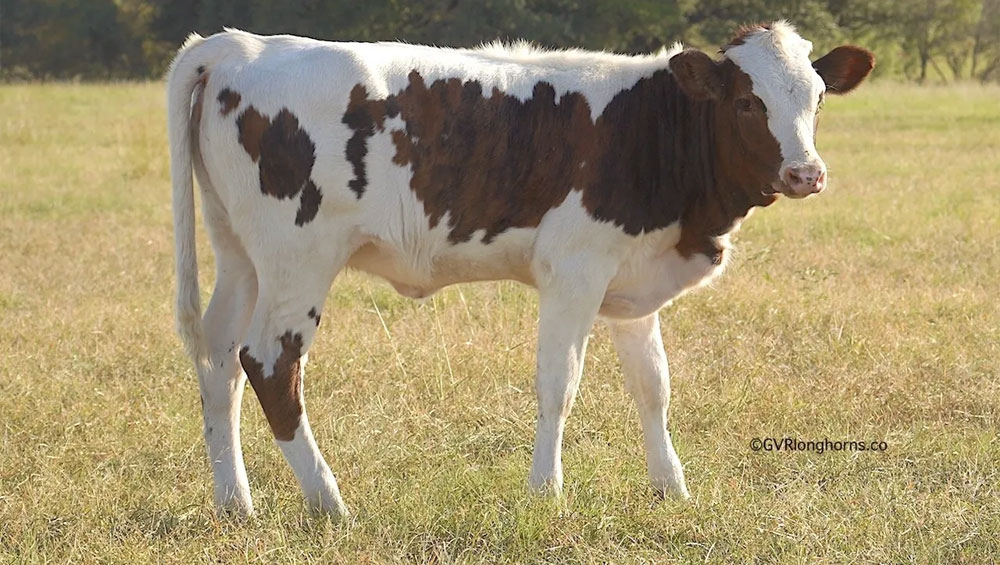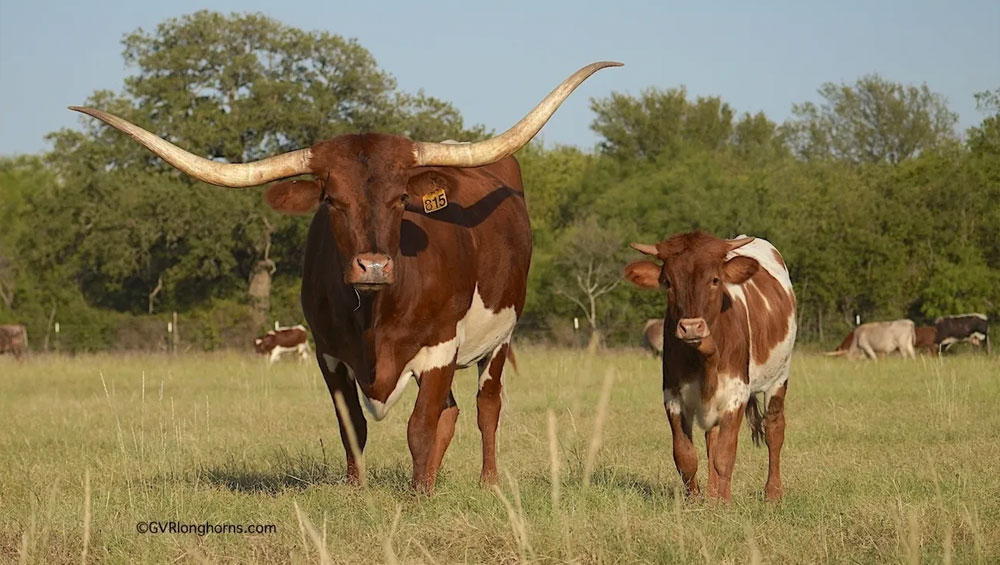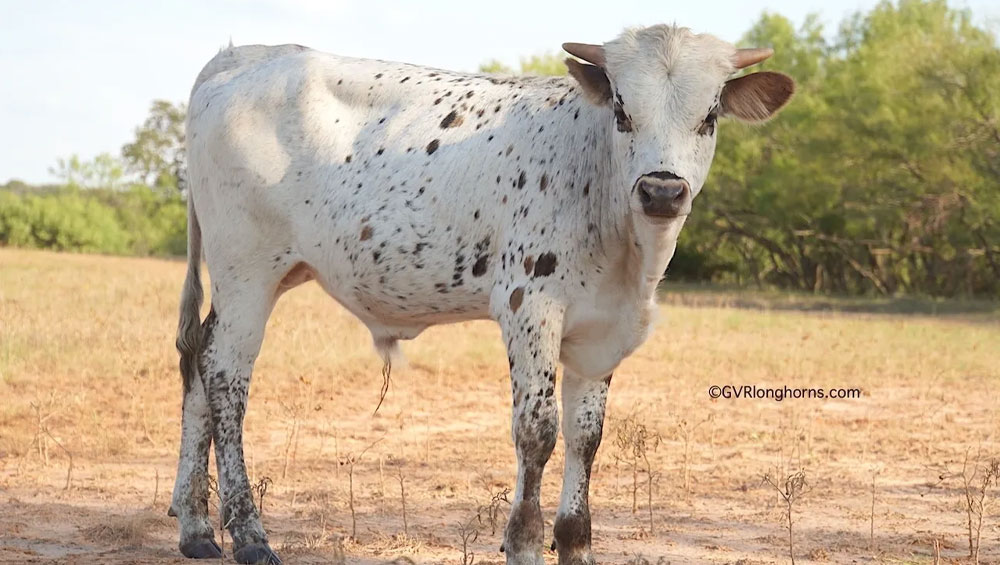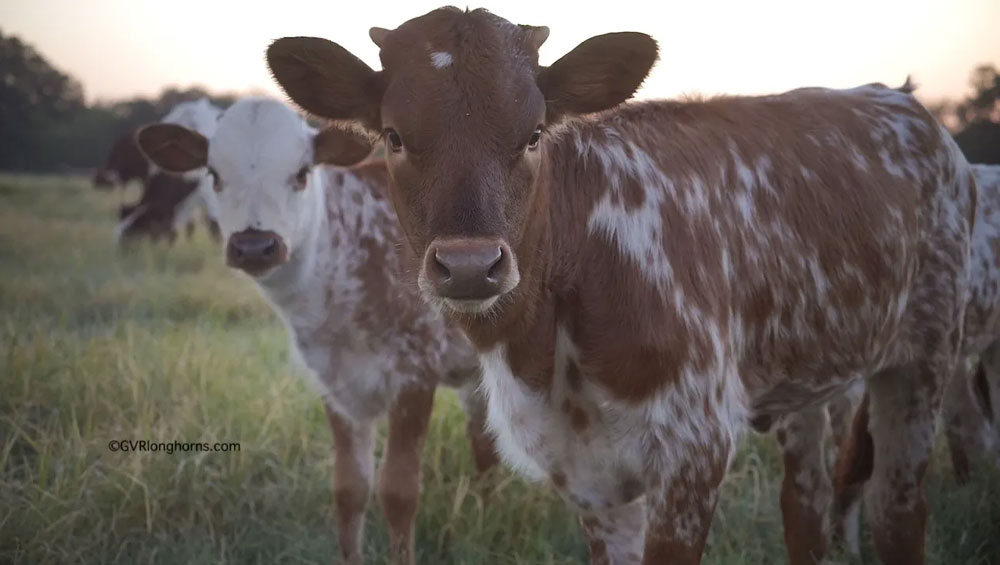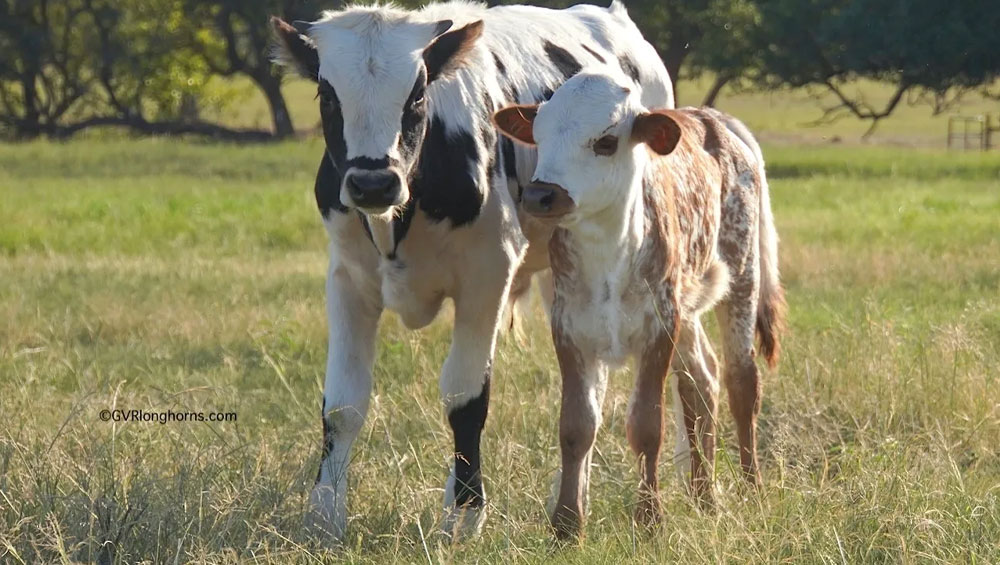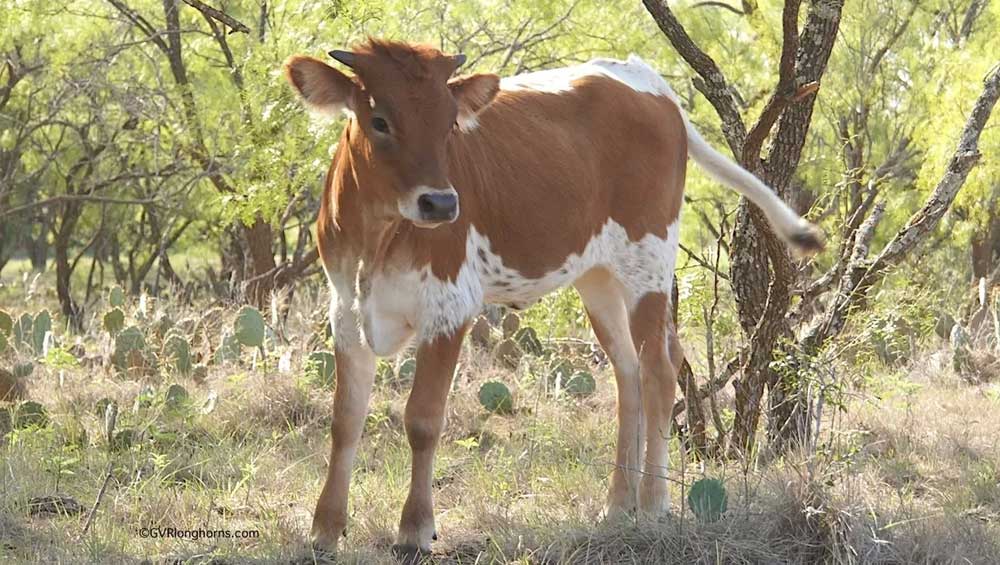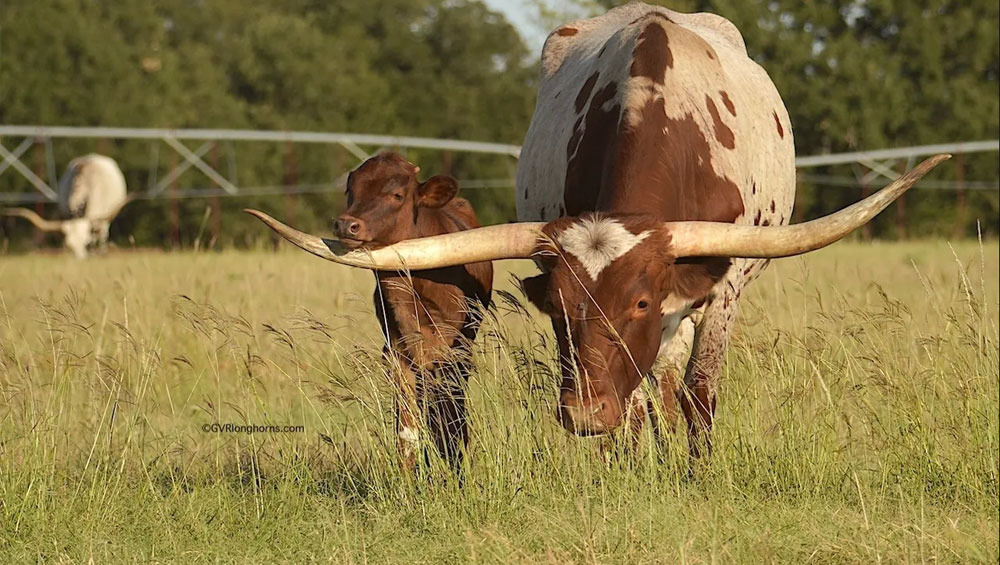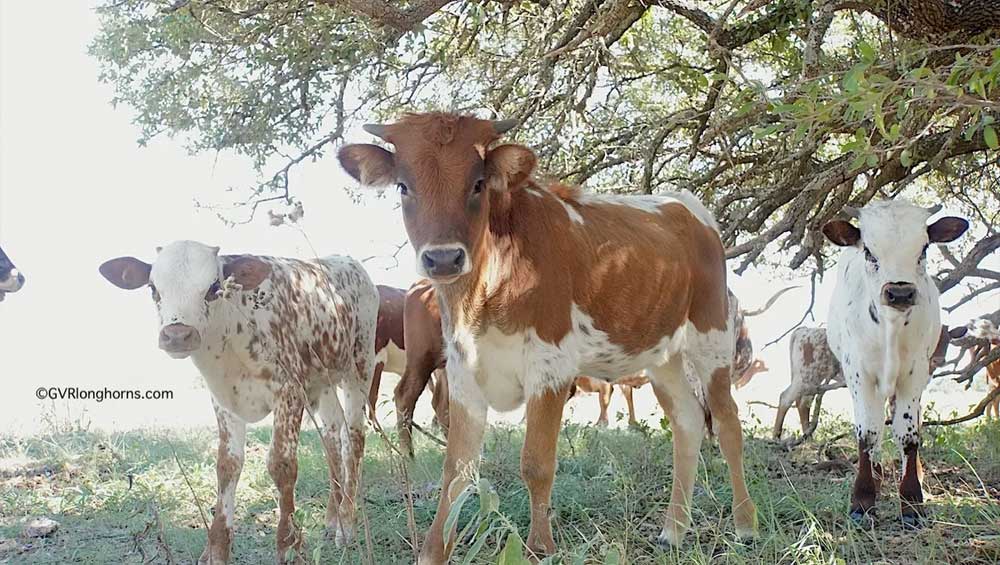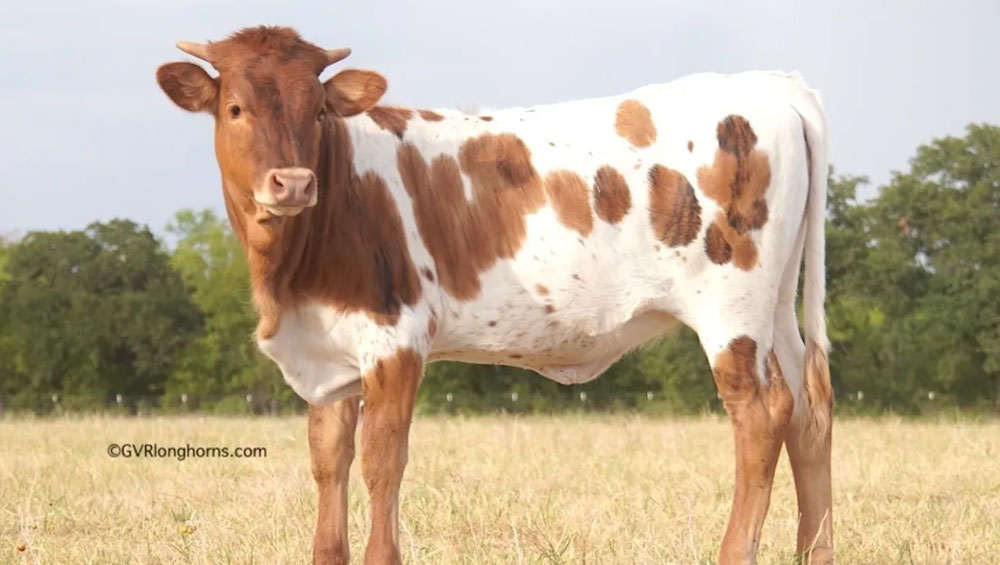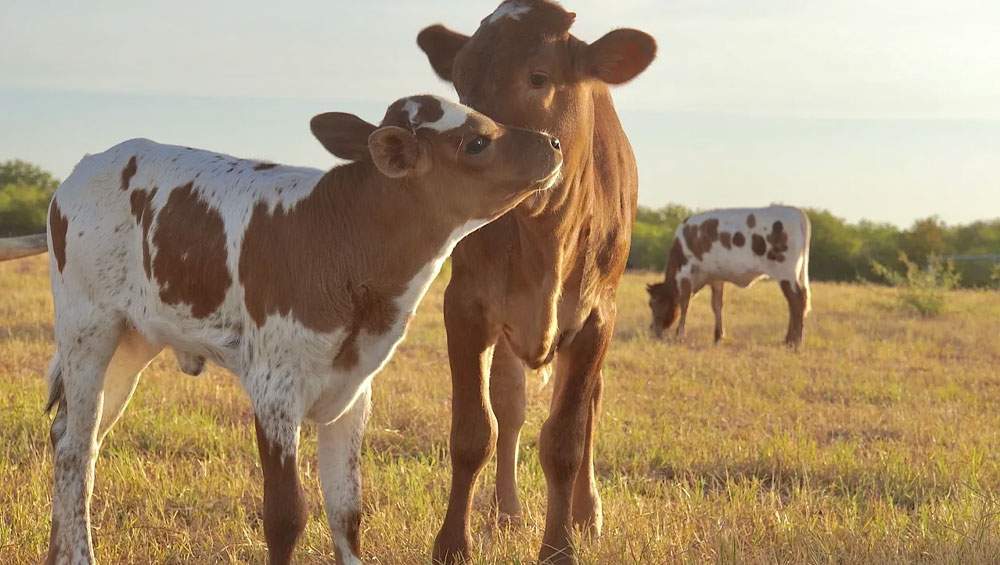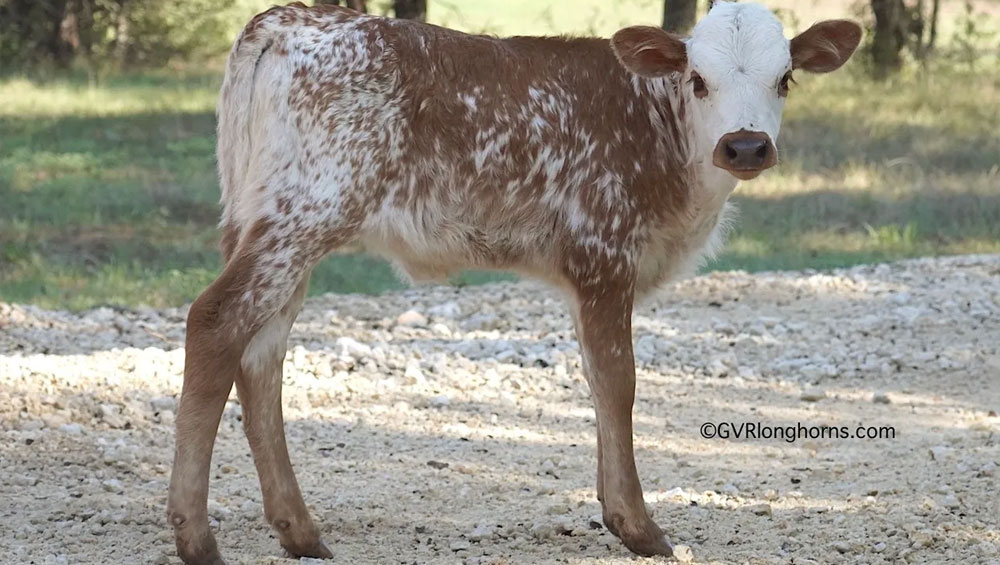 Disclaimer: All material noted above is based on our hands- on experience as ranchers, as well as our observations of our own cattle over the years. Also, we have done and continue to do extensive research in order to maintain our herd's optimum health. However, all opinions and statements made on our website are meant as guidelines only. We are not qualified statisticians/ veterinarians. We urge you to consult a specialist with your concerns. Content of this blog and all pictures belong to GVR Longhorns LLC and may not be copied in any form. ©GVRlonghorns.com All rights reserved