exas longhorn cattle are one of over 70 Texas State Symbols that have been formally designated by the Texas Legislature.
For example:
THE LONE STAR STATE is the official Texas state nickname.
The lone star is on the Texas flag and the state seal.
The Lone Star Flag: Blue stands for loyalty, white for purity and red for bravery.
What's more, the lone star cut is the official state gemstone cut.
On the Texas flag, the blue stripe stands for loyalty, white for purity and the color red represents bravery. The star has five points, one point for each letter of the state name (TEXAS).
---
There are many more TEXAS STATE SYMBOLS but here is a list of Texas state symbols found on our Texas Longhorn Cattle Ranch.
welcome to Green Valley Ranch
To state the obvious, GVRlonghorns at Green Valley Ranch is a Texas longhorn cattle ranch – so we start here, lol
Texas Longhorn cattle have been selected officially as the large mammal symbol for Texas since 1995.
Their history is tightly woven into the history of the State of Texas and the Chronicles of Texas include the story of the Texas longhorn cattle breed. Which is why a trip to Texas is not complete without a sighting of impressive Texas longhorns in Texas.  To schedule your visit to see some of the finest Texas longhorns with a view of owning your own, contact us ASAP
For more on the history of Texas longhorn cattle feel free to visit and read our most popular articles on the subject,
17 FUN FACTS: The Texas Longhorn Cattle Breed and its history
100 YEARS OF TEXAS HISTORY WITH TEXAS LONGHORN CATTLE IN TEXAS
IMMUNE TO A DISEASE WHICH PLAYED A ROLE IN DEPLETING A BREED, HOW?
The official Texas longhorn cattle herd is the Foundation Herd of the TEXAS PARKS AND WILDLIFE DEPARTMENT and it can be visited at a number of sites one of which is at the historic site of Fort Griffin. For more information on the Texas longhorns at Fort Griffin and the official state longhorn herd, read
TEXAS LONGHORN CATTLE SIGHTED AT AN HISTORIC SITE
Our Texas longhorn steer, Maxie Moo
---
TEXAS LONGHORN CATTLE FOR SALE
– VISIT OUR SALEBARN (everybody bovine for sale does not always make it to our website. Feel free to call us so as not to miss out on the best we have to offer)
TEXAS LONGHORN CATTLE PRINTS
– VISIT OUR ART BARN  (if you would like a picture but don't see it as a print, just let us know)
---
Texas State small mammal: ARMADILLO
Although there are several species of armadillo, the nine-banded armadillo is the only one found in the US.
Nine-banded armadillo.
Unlike the three banded armadillo found in South America, the nine-banded armadillo cannot roll itself into a ball.
With little exception, they have 4 identical armadillo babies, they live for 7 to 20 years, they can carry leprosy and they can hold their breath under water for up to 6 minutes.
Armadillos have strong claws. They are enthoosiastic diggers and dig for food and they dig their burrows. Their holes are a little bit of a menace for our longhorns.
Texas State flower: TEXAS BLUBONNET
We have gathered tons of information on the Texas bluebonnet and other wildflowers that bloom on our ranch in Texas.
Here is one of many articles we have posted over the years.
Wild about wildflowers? here are 7 wildflower facts….
bluebonnet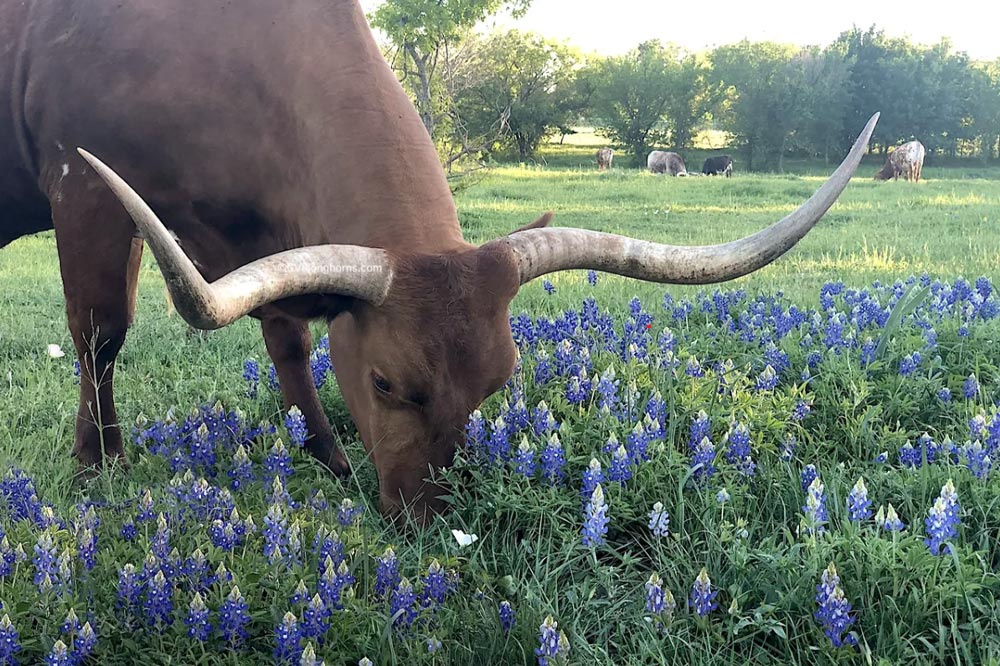 Texas State plant: PRICKLY PEAR CACTUS
There are  over 200 sub species of the prickly pear cactus. If you remove the spines, both the pads and the fruit are edible.
Cochineal is an insect that lives on cacti and produces an acid used in the making of natural red dye.
It's essentially squashed bugs and its found primarily in red food colorant and lipstick. Red lipstick has never better!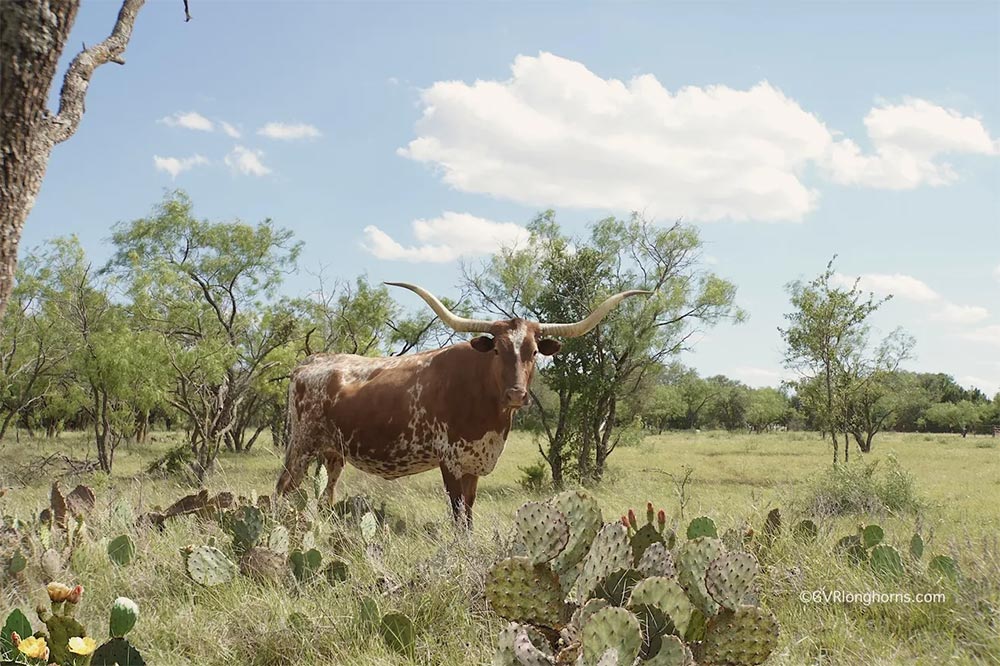 Texas State shrub: CREPE MYRTLE
For anyone who does not have naturally 'green fingers' the Crepe Myrtle is the shrub to choose. Its hard to kill! And, it's heat tolerant and drought resistant.
It provides a consistently beautiful bouquet of flowers for many months of the year.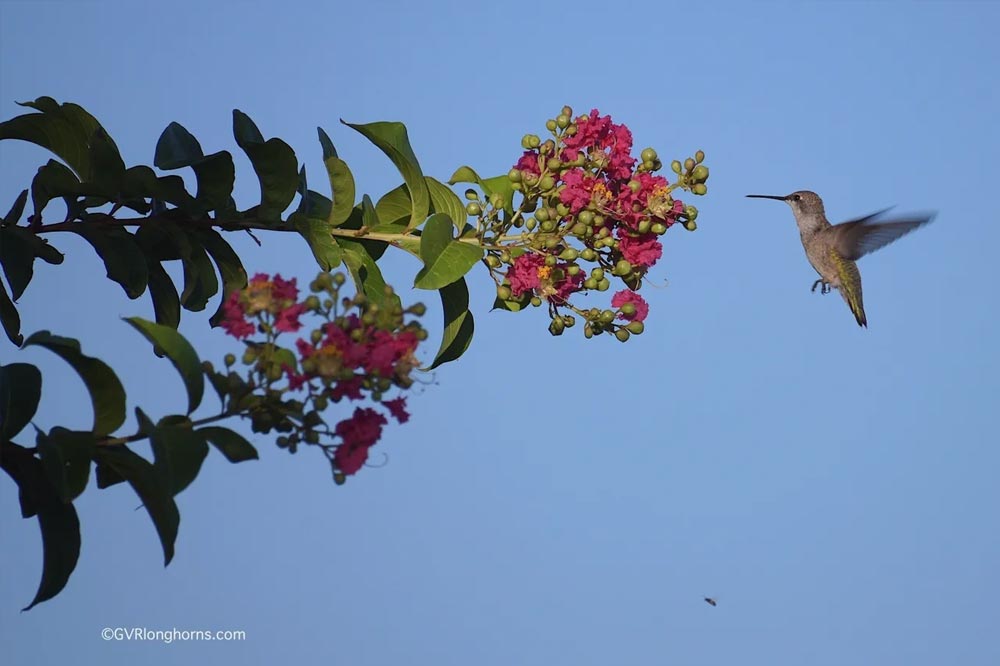 Pollinators love crepe myrtles too
Texas State tree: PECAN
Peecan, Pecun, Picaan – No matter how you say it, it became the state tree in 1919.
There are more than 1000 different varieties and they can live and produce nuts up to 300 years old.
Moonshine in his favorite spot, next to a hay bale under the shade of the pecans.
Texas State insect: MONARCH BUTTERFLY
According to the U.S. Forest Services, the Monarch Butterfly migration is "an endangered phenomenon."
Texas is an important state on the migration route because Monarchs fly through Texas from Mexico to Canada.  The Monarch migration is dependent on the conservation of specific habitats in the US because they lay their eggs on a specific plant, the Milkweed.
monarch butterfly
Texas State fiber and fabric: COTTON
The official state fabric of Texas is cotton.
What a perfect opportunity to introduce our latest T-shirt designed by Whiski Designs in Dallas, TX.
Our latest T-shirts designed by Whiski Designs on the softest cotton you can imagine. Would you like to purchase one? Just let us know….
Texas State waterlily: NYMPHAEA TEXAS DAWN
The Nymphaea Texas Dawn is the first waterlily to be named for Texas. It was created by a Texas resident and expert in the field Kenneth Landon. The Nymphaea Texas Dawn waterlily has won many awards and is noteworthy for its unique beauty and hardy nature.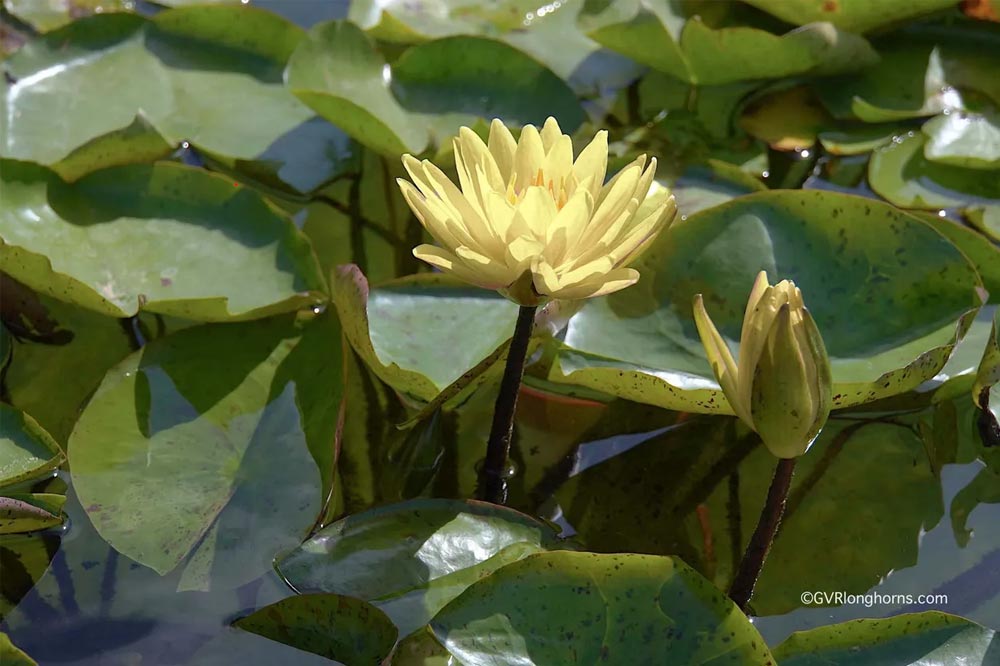 Texas State bird: NORTHERN MOCKINGBIRD
Mockingbirds are prolific singers. J. J. Audubon referred to mockingbirds as the 'King of song'.
They are found all year round in all areas of Texas.
But these are not the reasons why the mockingbird was proclaimed the state bird of Texas.
In true Texas fashion, a mockingbird will protect its home, "falling if need be, in its defense, like a true Texan."
mockingbird
Texas State gem: TEXAS BLUE TOPAZ
The Texas blue topaz is a beautiful hard stone but quite rare.
In fact, Mason County is the only area in Texas where this state gem can be found.
the advantage of owning a topaz ring, is making sure you have enough occasions to wear it
Texas State hat: COWBOY HAT
The cowboy hat is a symbol of the iconic western culture of Texas. Whether one refers to the historic days of the vaqueros, the Texas rangers, or rodeo riders, and all cattle ranching in between, no cowboy is fully dressed without a cowboy hat.  It is not only a practical necessity in the Texas heat but a symbol of the uniqueness of a Texan.
John B. Stetson is accepted as the designer of the modern day cowboy hat.
Our cowboy through the ages- he is never fully dressed without his cowboy hat, even at the University of Pennsylvania
Texas State footware: COWBOY BOOTS
Similar to the cowboy hat, cowboy boots have played a valued role in history and have evolved in modern times, thanks to boot makers Justin, his daughter Enid Justin Steltzer, Lucchese and the likes. After all, how can one even consider partaking in the official folk dance: THE SQUARE DANCE, if one does not own a pair.
Cowboy boots – one can never have enough. This is one rack of my cowboy boots but no telling how many more racks there are.
Texas state song: TEXAS, OUR TEXAS
by William J. Marsh and Gladys Yoakum Wright
Texas , Our Texas ! All hail the mighty State!
Texas, Our Texas ! So wonderful so great!
Boldest and grandest, withstanding ev'ry test
O Empire wide and glorious, you stand supremely blest.
(Chorus)
Texas , Our Texas ! Your freeborn single star,
Sends out its radiance to nations near and far,
Emblem of Freedom! It sets our hearts aglow,
With thoughts of San Jacinto and glorious Alamo.
(Chorus)
Texas, dear Texas ! From tyrant grip now free,
Shines forth in splendor, your star of destiny!
Mother of heroes, we come your children true,
Proclaiming our allegiance, our faith, our love for you.
(Chorus)
God bless you Texas!  And keep you brave and strong,
That you may grow in power and worth, throughout the
ages long.
God bless you Texas !  And keep you brave and strong,
That you may grow in power and worth, throughout the ages long.
boots, hats and longhorns….any doubt this is TEXAS?
for a full list of Texas State Symbols:-
 https://www.tsl.texas.gov/ref/abouttx/symbols.html
if you enjoyed this blog :-
A SIMPLE TIP TO AVOID A COMMON MISTAKE WITH TEXAS LONGHORN CATTLE
AN EASY GUIDE TO COLORATION OF TEXAS LONGHORN CATTLE
HOW TO WEAN YOUR TEXAS LONGHORN CATTLE GENTLY: 5 EASY STEPS
HOW DO TEXAS LONGHORNS COMPARE WITH OTHER CATTLE BREEDS: 9 FACTORS
16 TIPS FOR TEXAS LONGHORN CATTLE RANCHERS IN TEXAS
HOW TO ENSURE YOUR TEXAS LONGHORN CATTLE HAVE WATER YEAR ROUND
14 GESTURES OF LOVE AND AFFECTION, THE TEXAS LONGHORN WAY
TEXAS LONGHORN HORNS – EVOLUTION- REVOLUTION!
THE SECRET BEHIND THE POPULARITY OF TEXAS LONGHORN CATTLE
15 AWESOME REASONS WHY RANCHERS RAISE TEXAS LONGHORN CATTLE
ARE TEXAS LONGHORN CATTLE DANGEROUS?
IMMUNE TO A DISEASE WHICH PLAYED A ROLE IN DEPLETING A BREED – HOW?
WHERE IS THE VALUE IN TEXAS LONGHORN CATTLE? 5 CONSIDERATIONS
CONFESSIONS FROM LOVERS OF LONGHORNS
WHAT DO TEXAS LONGHORN CATTLE HAVE IN COMMON WITH A GOLDFISH?
---
References:
https://www.fs.fed.us/wildflowers/pollinators/Monarch_Butterfly/index.shtml
https://txmn.org/alamo/area-resources/natural-areas-and-linear-creekways-guide/prickly-pear-cactus/
https://statesymbolsusa.org/symbol-official-item/texas/cultural-heritage/cowboy-hat
---
Disclaimer: All material noted above is based on our hands- on experience as ranchers, as well as our observations of our own cattle over the years. We have done and continue to do extensive research in order to maintain our herd's optimum health. However, all opinions and statements made on our website are meant as guidelines only. We are not qualified statisticians/ veterinarians and urge you to consult a specialist with your concerns. Content of this blog and all pictures belong to GVR Longhorns LLC and may not be copied in any form. ©GVRlonghorns.com All rights reserved