How to avoid a common mistake with Texas longhorn cattle horns: ONE simple tip to twist your thinking, so to speak
Longhorns are a dime a dozen these days- yes, long horns that is.
Tip to tip measurements are all the rage. Until of course, real old time twisters become the subject of conversation. It's true, those old time twisters are more challenging to come by. However, you may be surprised to know that twisty horns develop slowly. In fact unlike the heavy based wide horn spread, where the initial horn growth happens in the first few years of a Texas longhorn cow's life, those spectacular twists evolve a lot later than many would imagine.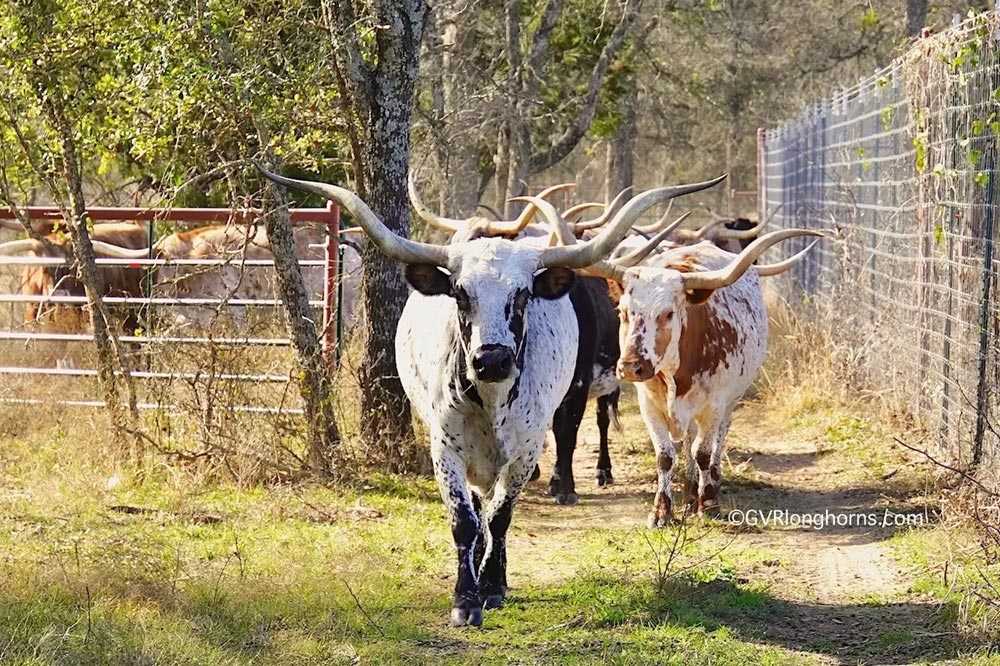 How quickly do longhorn horns grow?
A Texas longhorn cow's horns will grow more rapidly in the first few years of life. By two years of age a longhorn cow has generally reached over 50% of her horn growth. Although her horns will continue to grow through out her life they will grow fastest in those first four to five years.
So, if your young heifer checks all the boxes with regard to body confirmation, temperament and color, horn shape, etc., you would think that making a decision on whether or not to keep a heifer to enhance your herd would be easy done at around two years of age.
In other words, if Texas longhorn cattle horn measurement's from one tip to the other are around 60" or more at age 2, that's a good indication that they will have a horn set to be proud of, right?
With GVR Dusty, it absolutely was the case.
Dusty at 24 months
Dusty just shy of her 4th birthday, standing with her first calf Stardust. Stardust is a heifer. Can you notice how Stardust's horns are pointing backwards? She is almost 8 months old in this picture.
Dusty is a 4th generation cow born on our ranch. Her mother has a tight twist in her horns. We bred her with our Top Caliber bull M Arrow High Caliber and got this result – a rolling twist with a wider horn spread.
---
But, what if those TTT(Tip To Tip) measurements fall short?
Here is where it gets tricky.
To illustrate, many Texas longhorn breeders  discard their young longhorn cows at two years of age if their horn measurements don't match the current trends.
And that's to be expected! After all, high dollar cows have consistently high measurements. Nonetheless if you love a good looking Texas longhorn but cannot afford a hefty price tag, and even if you can, there is one consideration worth the time.
What we have observed, with our own herd and within the Texas longhorn industry is that 'corkscrew' twists or similar tighter twists develop over time and often over a longer period than one would expect.
Here's a graphic example-
let's take our older cow Jasmine Blossom…….
Jasmine Blosssom – 6 months old
Initially Jasmine Blossom's horns were set back indicating that there would be some sort of twist in her future.
Jasmine Blossom at around 20 months standing with her mama
At 20 months of age, Jasmine Blossom had a desirable body conformation and nice color. As you can see, her horns at two years of age did not conform to todays current trends of a lot of horn and a wide horn spread.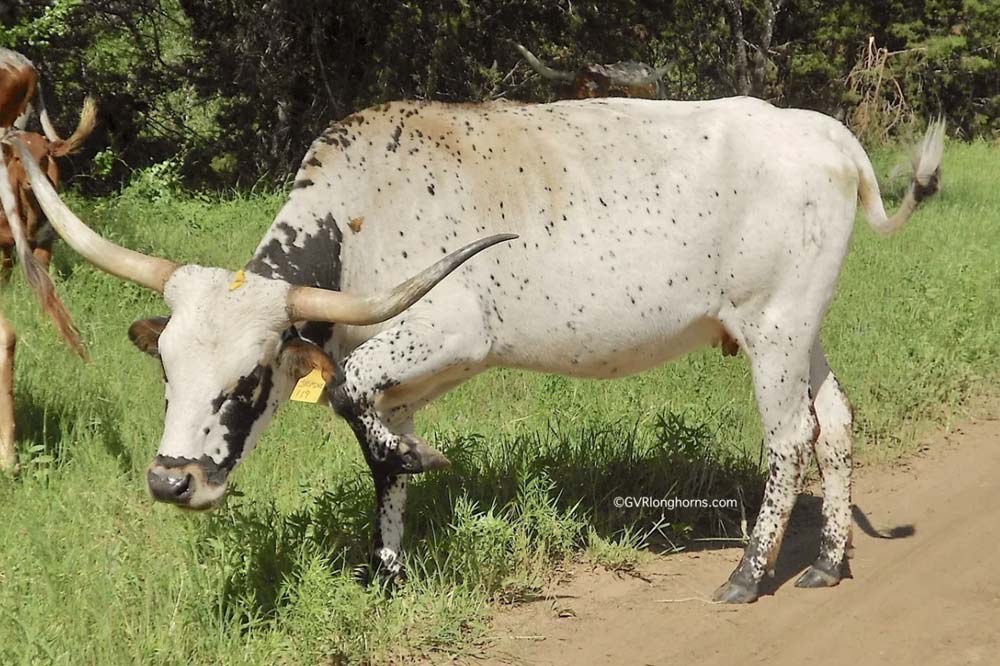 Jasmine Blossom's genetic history is solid  but even at three years of age and several years after, Jasmine Blossom's horns did not stick out, so to speak!
In the case of Jasmine Blossom, her horns developed a third twist late in her life, in her 11th year.
Jasmine Blossom with her calf Cactus Blossom in 2020
We still see some change in Jasmine Blossom's horns, not necessarily in her TTT measurement but in the twist and shape of her horn set. She is 13 years old now. Who knows, she may continue to grow and she may not. She certainly does not have the most spectacular twist but we really do like her horn set and judging from feedback from our visitors we know her Texas longhorn cattle horns stand out  in our pastures.
Jasmine Blossom with her most recent calf who is currently FOR SALE on our salebarn page
Conclusion
We all thrive on instant gratification.
Nonetheless, here is a reminder. HR Rosette sold for $700K in 2022. She reached 100″ TTT before her 6th birthday. However, her horn development really started to show progress after her second birthday.
Patience is an outstanding virtue in our modern world. None the less it is also one that is worthwhile the effort when it comes down to weighing up those outstanding twisty Texas longhorn horns, especially if you believe in the genetics of your Texas longhorn cattle.
We hope this blog helps answer some of the questions we have received regarding Texas longhorn horns.
If you liked this post please consider sharing it.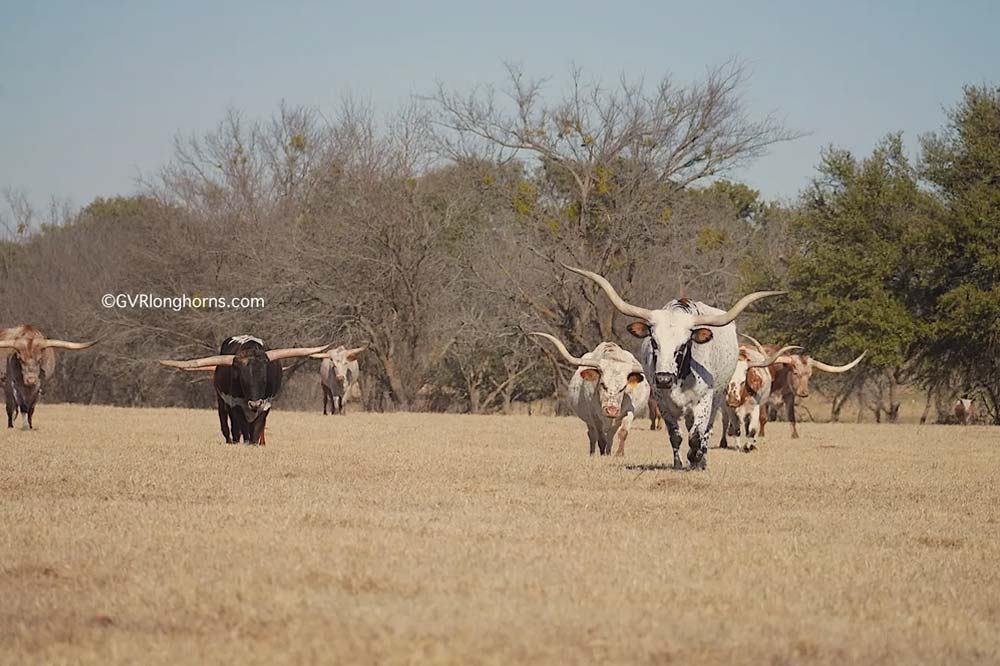 You may also like our previous posts on Texas Longhorn Horns:-
Texas longhorn horns – Evolution | Revolution
100 years of Texas longhorn cattle in Texas
For further reading :-
AN EASY GUIDE TO COLORATION OF TEXAS LONGHORN CATTLE
HOW TO WEAN YOUR CATTLE GENTLY: 5 EASY STEPS
HOW DO TEXAS LONGHORNS COMPARE WITH OTHER CATTLE BREEDS: 9 FACTORS
16 TIPS FOR TEXAS LONGHORN CATTLE RANCHERS IN TEXAS
HOW TO ENSURE YOUR TEXAS LONGHORN CATTLE HAVE WATER YEAR ROUND
14 GESTURES OF LOVE AND AFFECTION, THE TEXAS LONGHORN WAY
TEXAS LONGHORN HORNS – EVOLUTION- REVOLUTION!
THE SECRET BEHIND THE POPULARITY OF TEXAS LONGHORN CATTLE
15 AWESOME REASONS WHY RANCHERS RAISE TEXAS LONGHORN CATTLE
ARE TEXAS LONGHORN CATTLE DANGEROUS?
IMMUNE TO A DISEASE WHICH PLAYED A ROLE IN DEPLETING A BREED – HOW?
WHERE IS THE VALUE IN TEXAS LONGHORN CATTLE? 5 CONSIDERATIONS
CONFESSIONS FROM LOVERS OF LONGHORNS
WHAT DO TEXAS LONGHORN CATTLE HAVE IN COMMON WITH A GOLDFISH?
Disclaimer: All material noted above is based on our hands- on experience as ranchers, as well as our observations of our own cattle over the years. We have done and continue to do extensive research in order to maintain our herd's optimum health. However, all opinions and statements made on our website are meant as guidelines only. We are not qualified statisticians/ veterinarians and urge you to consult a specialist with your concerns. Content of this blog and all pictures belong to GVR Longhorns LLC and may not be copied in any form. ©GVRlonghorns.com All rights reserved