Did you know, color in Texas longhorn cattle is somewhat predictable?
This last weekend at the Hudson Valentine Longhorn cattle Auction, LTL Sheza Outside Kat owned by Richard and Jean Filip realized the highest selling price that day for a whooping $350 000. Not yet 5 years old, this longhorn cow currently has a horn spread measuring 103"Tip To Tip. No doubt, horn length attracts the wealthy buyer. None the less, even with a lucrative bank roll, spending vast amounts on a cow is not for everybody. Texas longhorns are unique for their horns but their color is a major draw too.
LTL Sheza Outside Kat – SOLD for $350000.00. She has long horns and her coat is fashionable too. This photo was taken at Bentwood Ranch in January 2021.
Texas longhorns for sale in Texas – CLICK HERE
Color in cattle
Many cattle breeds are identified by a fixed color pattern. A Hereford has a white face and red body, a Charolais is white and a black Angus is any color as long as it is Black. In these instances, a variation in color would certainly affect the value of cattle.
A black angus can be any color as long as it is black
Texas longhorns are quite the opposite.
If you are attracted to Texas Longhorn cattle as we are, there is no doubt that you admire the beautiful 'coats' they wear and the kaleidoscope of color variations in their hides. Color is not a direct indication of the quality of a longhorn but even so, a "flashy" Texas longhorn may well outshine a longhorn with more neutral tones.
As with most things in life, it's the Bells and Whistles that count.
Her name is Beauty. Can you tell?
Texas longhorn coloration is a science
The truth is that color in Texas longhorn cattle as well as other bovine breeds is determined predominantly by genetics.
Unlike several characteristics such as horn growth, environmental factors have very little impact on how a baby longhorn calf will be decorated when it is born.
Understanding the full implication of Texas longhorn coloration genetics may seem complex. We know, we've been there. So, to make it clearer here are some basic factors worth noting.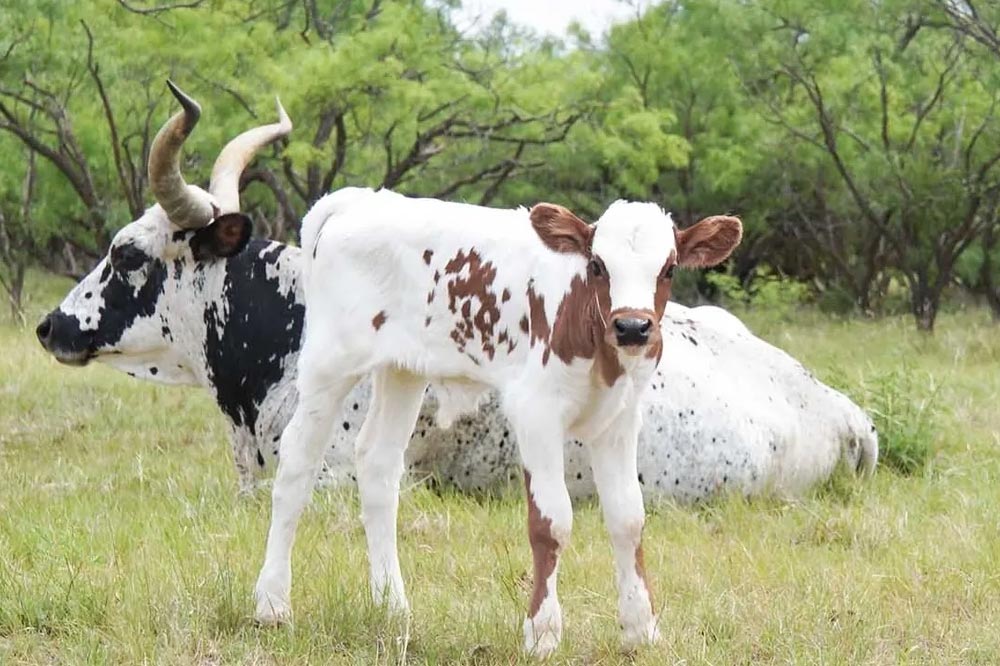 A brief overview
Pigments
If you have read anything on the color of cattle you may already know that there are only two pigments responsible for coloring a bovine's hide.
A. Eumelanin -black ( a low concentration will appear gray or even brown)
B. Phaeomelanin – red ( a low concentration could be anything from orange to yellow)
The color you see on a Texas longhorns' coat will look different as the level and intensity of the pigment varies from one cow to the next.
The lack of pigment will appear white.
Our current herd sire is RJF Texas Rebel. His coloration stands out in his progeny. This is Egglentine. Her black nose and the black tip of her tail is characteristic of Texas Rebel's calves and an indication that her coat will darken as she gets older.
Genetics of Coloration
A series of articles on " The Genetics of Coloration in Texas Longhorn Cattle" appeared in the Texas longhorn Trails magazine in 2004 written by David Hillis.
A few basic points from these articles are listed below.
There are many types of genes that have been studied in relation to color patterns in cattle.
Each gene will influence the colors and the patterns they produce in different ways.
Each color gene has two or three different Alleles, or groups of genes that determine hereditary colors.
Pretty much all Texas longhorns inherit two copies of genes, one from each parent
If both copies are of the same Allele then longhorn is homozygous for that gene
Heterozygous refers to having two different alleles of a gene(s)
Blackie appears to be homozygous black but her calf is a clear indication that she is heterozygous for the color black. In other words, Blackie AKA Sniper's Star is not a true black cow.
Some examples of genes present in Texas Longhorn Cattle include
The Extension gene. The Extension gene controls the level of a particular enzyme referred to as Tyrosinase. High levels of Tyrosinase in a Texas longhorns coat will form a black hide. When low levels of Tyrosinase are present red coloration develops. Equal amounts of Tyrosinase will present black and red. This color classification is called wild coloration.
Wild-type is not a color but a type of a color gene that controls a coat color that contains both red and black.
A. Black ( A is dominant over B and C)
B. Red
C. Wild Type – A combination of Red and Black ( C is dominant over B )
Wild type color often changes as a Texas longhorn matures.
Examples of wild type color…….
Parker brown
Kristina, 5 days after she was born on Christmas Day 2021
Kristina at 5 months, getting darker by the day
Brindle
Sweet Pepper has a beautiful brindle coat which has become more distinct with age. Incidentally, our Paintbrush who has similar coloration, only started showing her 'stripes' at around two years of age
Walnut
Walnut appears to be black but is characterized by a white muzzle ring and reddish hair down the poll and back
The Dilution gene lightens the hair color on a Texas longhorn. If the dilution gene is dominant coloration will change. A black or red cow with dilution gene would appear lighter.
The Spotted gene  controls white patterns- spots vary considerably in shape and size. There are 3 known spotting alleles. These alleles influence color patterns from solid to lineback to color-sided to spotted patterns
Desert Sunrise is our beautiful blue roan cow. Can you see how the roan gene effects the entire body?
Rosebud is one of a number of our red roan heifers. Her sire is M Arrow High Caliber who is a red roan bull.
Mother and daughter – some brockling and some brindling
The color possibilities are endless…….
J. Frank Dobie in his book 'The Longhorns.' wrote that "the colors were more varied than those of the rainbow,"
In fact, according to Hillis, there are 26,244 different genotypic combinations for color in Texas longhorn cattle and possibly more.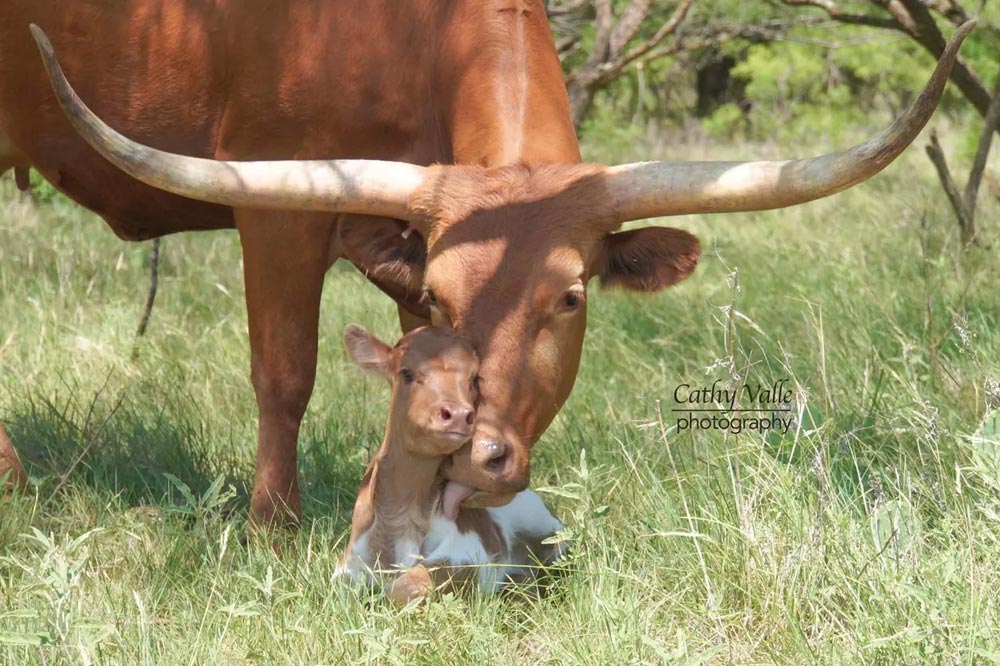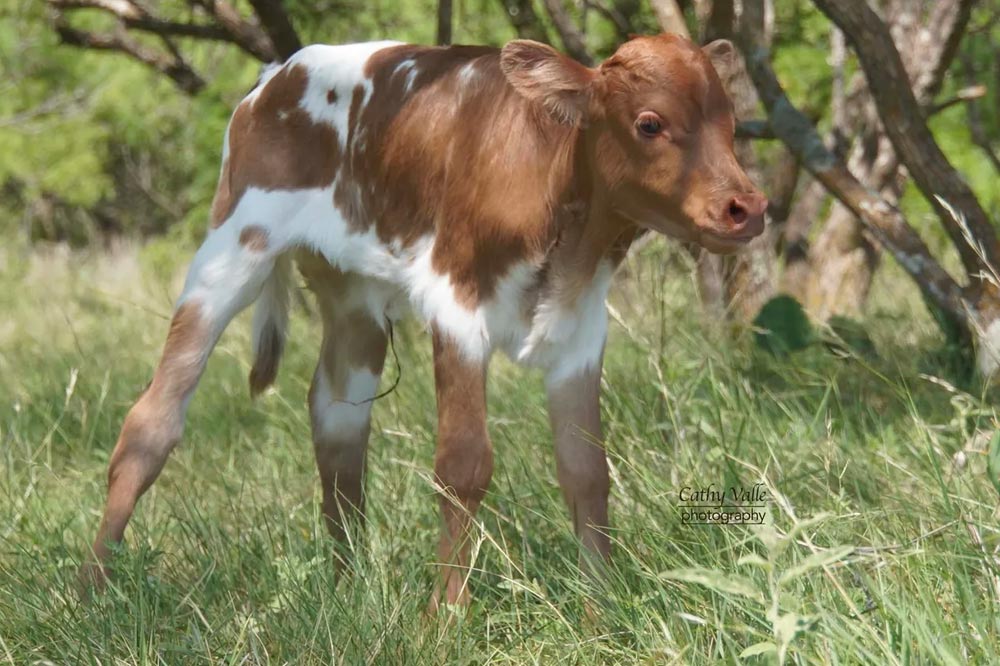 References:-
Hillis D. M. 2004 The Genetics of Coloration in Texas Longhorns: Part 1: The Basic Color. Texas Longhorn Trails, Volume 16, number 3, pages 40-41 (2004)
https://projects.ncsu.edu/cals/an_sci/extension/animal/news/junjul96/jnjl962.html
http://www.simmental.org/site/pdf/other/olsoncolor.pdf
J. Frank Dobie, the Longhorns, University of Texas Press,1985
---
if you enjoyed this blog :-
HOW DO TEXAS LONGHORNS COMPARE WITH OTHER CATTLE BREEDS: 9 FACTORS
16 TIPS FOR TEXAS LONGHORN CATTLE RANCHERS IN TEXAS
HOW TO ENSURE YOUR TEXAS LONGHORN CATTLE HAVE WATER YEAR ROUND
14 GESTURES OF LOVE AND AFFECTION, THE TEXAS LONGHORN WAY
TEXAS LONGHORN HORNS – EVOLUTION- REVOLUTION!
THE SECRET BEHIND THE POPULARITY OF TEXAS LONGHORN CATTLE
15 AWESOME REASONS WHY RANCHERS RAISE TEXAS LONGHORN CATTLE
ARE TEXAS LONGHORN CATTLE DANGEROUS?
IMMUNE TO A DISEASE WHICH PLAYED A ROLE IN DEPLETING A BREED – HOW?
WHERE IS THE VALUE IN TEXAS LONGHORN CATTLE? 5 CONSIDERATIONS
CONFESSIONS FROM LOVERS OF LONGHORNS
WHAT DO TEXAS LONGHORN CATTLE HAVE IN COMMON WITH A GOLDFISH?
Disclaimer: All material noted above is based on our hands- on experience as ranchers, as well as our observations of our own cattle over the years. We have done and continue to do extensive research in order to maintain our herd's optimum health. However, all opinions and statements made on our website are meant as guidelines only. We are not qualified statisticians/ veterinarians and urge you to consult a specialist with your concerns. Content of this blog and all pictures belong to GVR Longhorns LLC and may not be copied in any form. ©GVRlonghorns.com All rights reserved