How to wean your young Texas Longhorn Cattle gently: 5 easy tips to calm calves
Weaning young Texas longhorn cattle is stressful.
Wonder feeding her hungry calf Alice in Wonderland
So why do ranchers wean cattle?
It is true that a longhorn cow will eventually wean her calf naturally. However, when a rancher intervenes, the cow has an opportunity to retain or regain condition. All the nutrients that a lactating cow provides for her offspring are redirected back into her own system when a calf no longer feeds from her. Weaning is even more advisable when a cow is older and/or rebred.
Rosebud with her first calf, an Easter bunny baby, Anastasia
How a rancher decides to wean a calf depends on so many factors but if reducing stress on your Texas longhorn herd is important to you here are a few techniques you may want to consider.
These steps may not work for everyone. Sometimes we cannot follow all the steps ourselves. BUT when we do we find, without exception, that our weanlings are happier, less edgy and more social.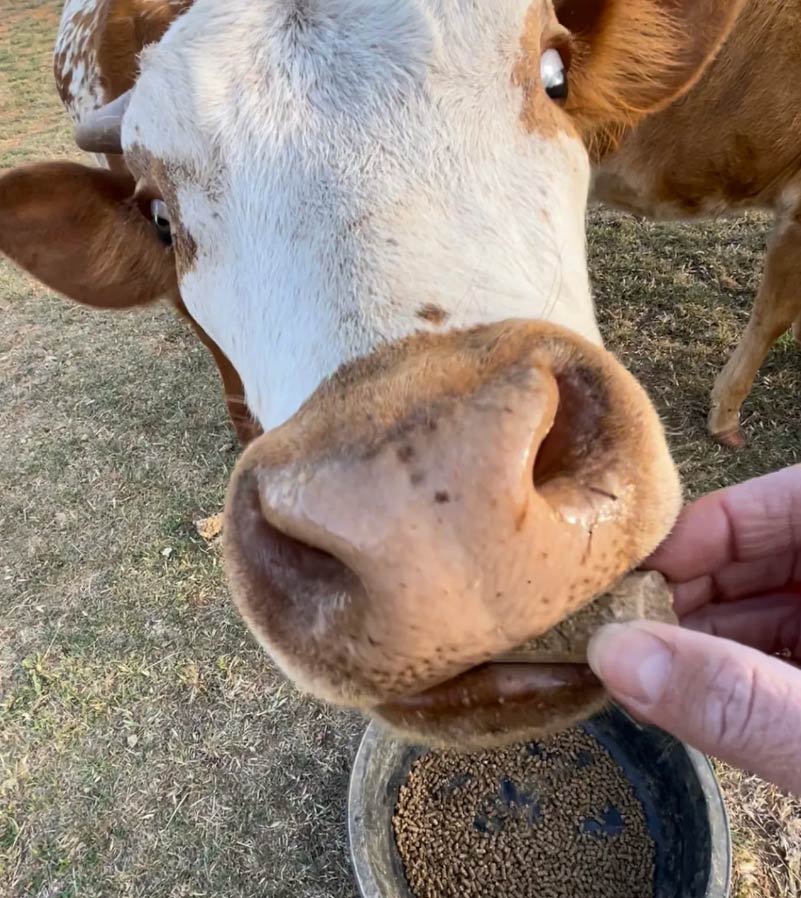 1 – Pre Weaning
Many ranchers set aside one weekend to vaccinate, brand, castrate and wean their calves. Occasionally we have to do that too but we typically find that our vaccinated/castrated longhorn calves do better when returned back with their mothers for a few weeks.
We also find that having these responsibilities behind us, reduces the amount of stress the calves will endure when weaned.
*brucellosis-ed
Stardust is vaccinated but back with her mama for a little while longer
2- Weaning Age
Weaning ages vary but many beef cattle ranches wean between 6 & 8 months.
On average, so do we but always taking into account our longhorn cow's condition and if necessary the calf's condition.
Cost factors are usually not an issue for us but climatic conditions can cause us to change our plans. We all have experienced how bipolar Texas weather can be.
Stardust was born on 8/18/21. At 7.5 months she was weaned. She had already been vaccinated and she had been grazing grass and hay for some time before she was separated from her mother.
3 – How to Wean
Many references suggest that fence line weaning is a good option to minimize stress on calves.
There are a number of different ways to wean a calf. Some ranchers choose total separation and others opt for two-stage weaning, keeping the calf with the cow but fitting the calf with a device to prevent suckling. We practice fenceline weaning. With this method the cow and her calf have nose to nose contact through a fenceline for some time. Our calves seem to be less fearful when their mothers are in sight. They cry less and eat more. The calves are also familiar with the section of pasture they are separated into as prior to weaning, they had free access to this space with their mothers.
4- Keeping forage consistent
Usually, at 6 months a calf is eating hay and grazing. By 8 months a calf is practically weaned. Keeping weanlings on the same forage they have been on before  separation and introducing a calf starter slowly, even on the smallest scale, helps keep a calf in good body condition.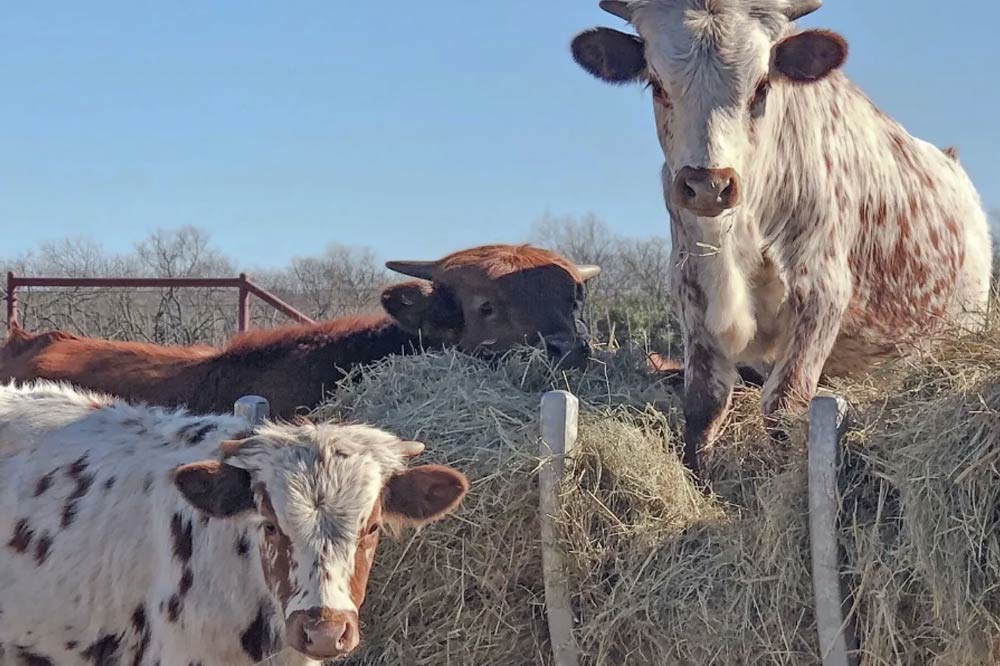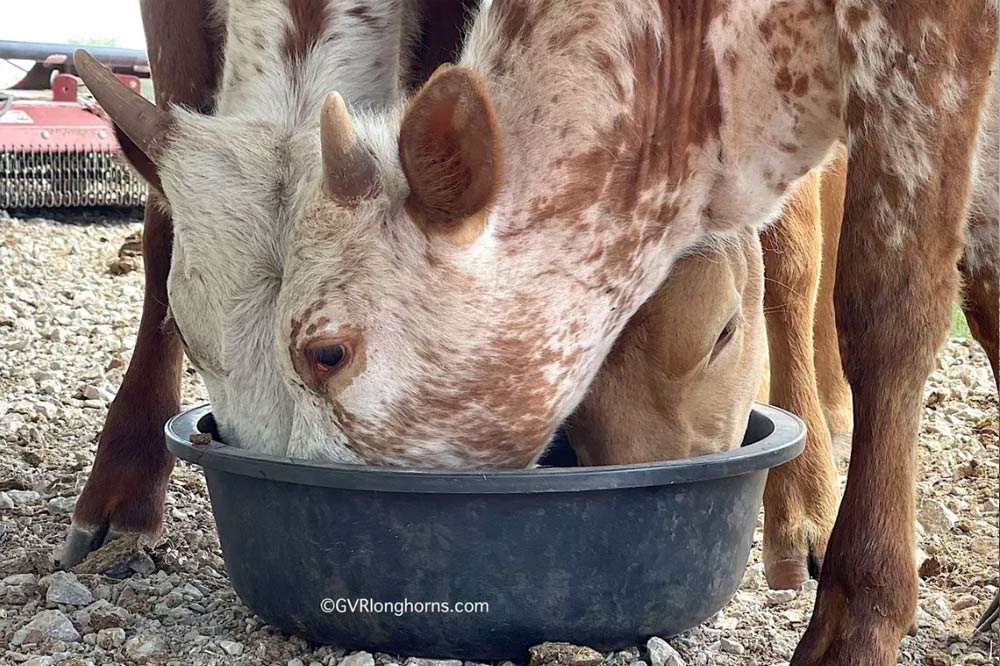 5 – Weaning calves in a group is ideal.
A bovine is lonely on its own whether it is being weaned or otherwise. Another bovine as company helps reduce the stress.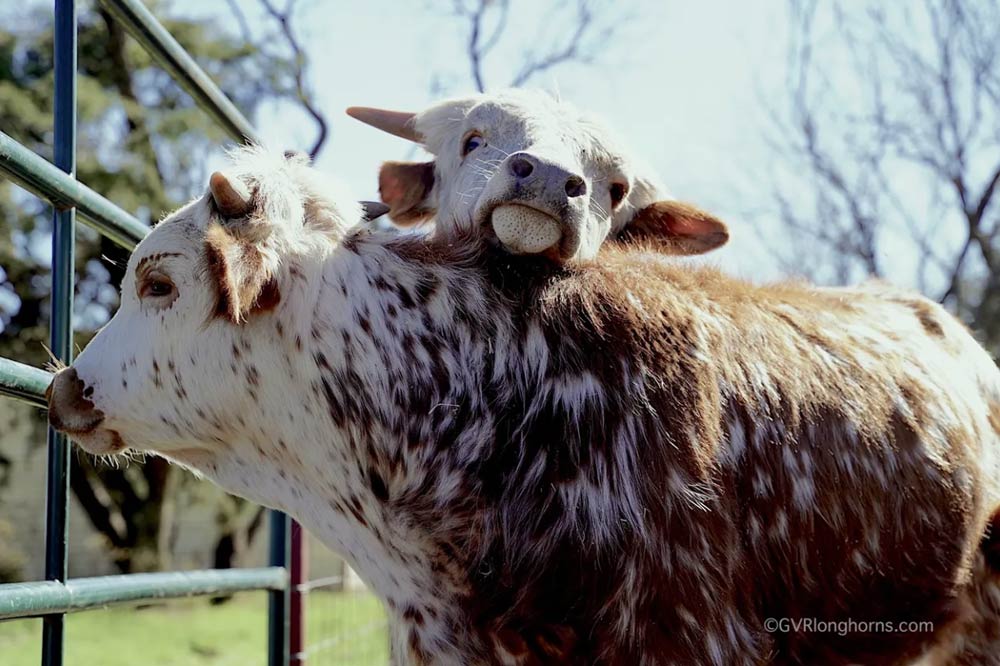 6 – Weaning is a time for socializing.
Spending time with a calf on its own is far less hazardous without a protective longhorn cow in the mix.
Even so, winning a calf's trust takes time. If a calf backs off so do we.
According to the Center of Disease Control, over 20 people are killed by cows every year. At 6 months, a weanling weighs more than a human adult, a crucial fact to bear in mind when handling cattle, especially in confined spaces. Common sense prevails…
7- Weaning is a great time to teach some basic ranch rules.
Some ranchers prefer not to wean their young Texas longhorn cattle in a corral for fear of spreading disease. However, our corral is accessible during weaning.
After a few days in the weaning pen, rest assured one calf, if not all, will follow us with the feed bucket. We lead our calves through the corral and eventually feed them in the crush. As they acclimate and they become more relaxed we jingle chains, open and close gates and close them in the crush as they eat.
The TLBAA published an article in November 2020 suggesting the environmental factors impact how cattle behave. Certain routines, like running our weanlings through the chute, helps them stress less as they get older. However, just like humans, some cattle trust us more than others do. There are some that will always be scared but for the most part, this activity helps us manage our cattle more safely. Afterall, we are not as young as we used to be!
* In Texas, all heifer calves should be administered a Brucellosis vaccine by a veterinarian between 4 and 12 months of age. ( see reference above )
For more information on how to handle your young Texas longhorn cattle, be sure to read this month's edition of Texas Longhorn Trails ( April 2022), and yes, that's our "herd manager" Paul in the picture (lol!)
---
Subscribe  HERE for an update on available Texas Longhorn cattle
For TEXAS LONGHORN CATTLE PRINTS/CANVAS/ART –