3 Challenges with Forage for Texas Longhorn Cattle in Drought conditions in Texas.
The US Drought Monitor indicates that close to 80% of Texas is currently experiencing some level of drought. Interestingly, the drought is not as extensive as conditions were last year this time. Even so, according to Reuters.com, last year in East Texas alone, more than 480 000 cattle were sold between January 2022 and August 2022 compared to the year before. This year ( 2023), low to no rainfall and soaring triple digit temperatures have left the Texas landscape pretty parched.  And, although Texas longhorn cattle are known to endure extreme temperatures, there are a few challenges that are best not to be discownted.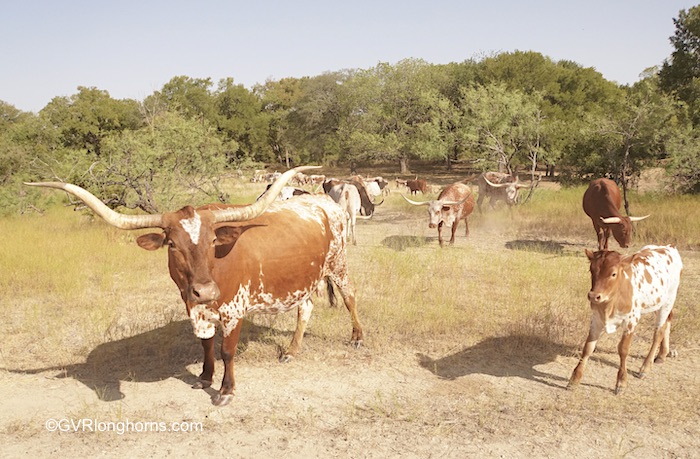 Forage Challenge Number 1
Drought effects forage growth
Starting with the most obvious impact, when it does not rain, the grass does not grow.
It is true that properly fertilized forage will do better during drought conditions. fertilized Pastures have a better chance of recovery too.
Nonetheless, in a persistent drought,  close grazing ( grazing close to the soil)  becomes the norm.
Consequently, overgrazing can damage a pasture for years to come, as goes the old adage "if you take the shoot, you kill the root."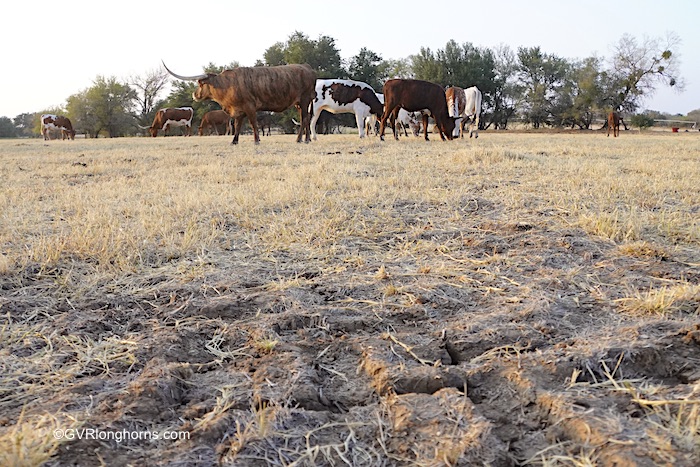 No grass is one thing but what about the grass that there is?
Forage Challenge Number 2
Drought affects nutritive values of forage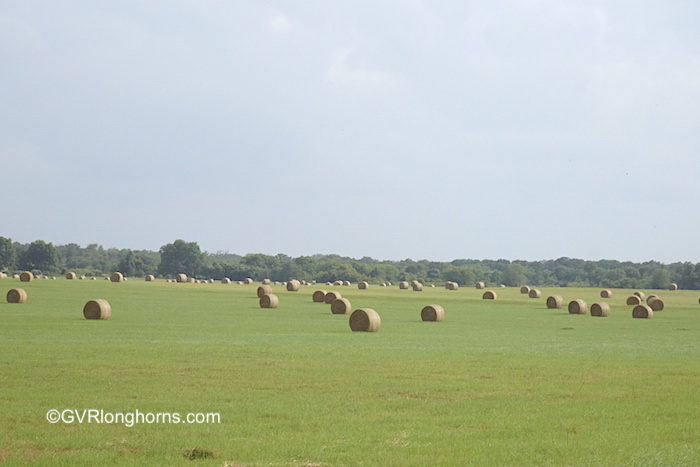 What little grass there is may lack in nutritional value.
Just as in Spring, perennial grasses like Coastal rely on stored reserves from below the soil during a drought.  High temperatures and lack of moisture inhibit photosynthesis and grasses have to draw from their roots to continue growing.
In severe drought, nitrogen and carbohydrates will be absorbed by the roots rather than utilized to produce new leaf growth. The longer the drought lasts and the more severe and the less nutritious the grass will be.
Excessive heat adversely effects hay too.
Protein and mineral supplements are therefore essential during a drought. For additional information of Protein supplements and a photo guide to forage quality, See Protein Supplements for Mature, Dry Forages – Texas Longhorn Trails Aug Edition, Page 70.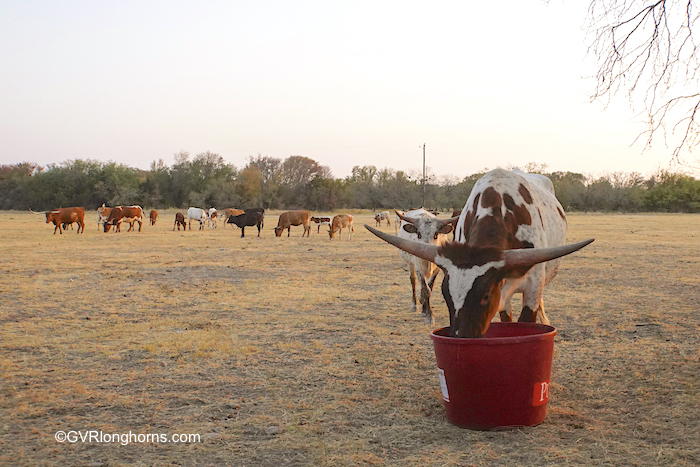 Forage Challenge Number 3
Drought stimulates nitrate accumulation in forage
Most of the nitrogen absorbed by growing plants is in the form of nitrate nitrogen. It is water soluble and absorbed by plant roots easily when soil is moist.
Under normal conditions, nitrates are converted into ammonium nitrates and spread throughout the plant in the form of amino acids and other proteins.
In periods of drought, when plants are stressed this conversion process slows down or stops completely and nitrates will accumulate in plants.
In some plant varieties, nitrates can accumulate to toxic levels during drought exposing cattle to nitrate poisoning.
Prussic Acid is another compound that can accumulate to toxic levels during drought in certain plant and weed varieties.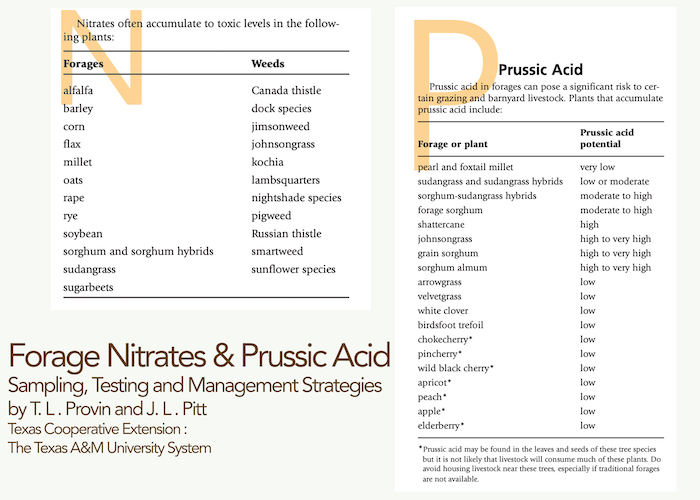 To conclude:
Water
Shade
Quality of forage
Shorter working days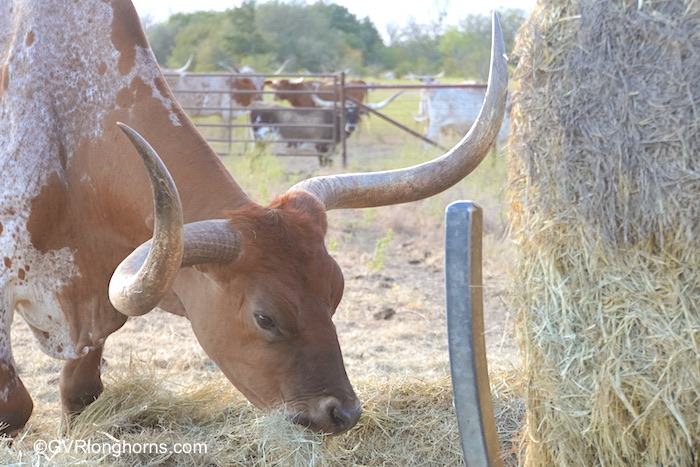 As drought conditions persist,
water reserves dry up, fire hazards increase and the availability and the cost of supplemental forage changes.  Subsequently, sourcing additional forage becomes the HOT topic to maintain herd health. We all know that the cost of feeding cattle can easily burn holes in one's wallet.  As is the case in the winter months, feeding hay and providing protein and mineral supplements is important. However, if supplying supplemental forage now is not in your budget,  Larry A. Redmon (Extension Forage Specialist at A & M College in College Station)  suggests first and foremost the consideration to cut the size of one's herd. With beef cattle that makes a ton of sense in order to reducing forage requirements.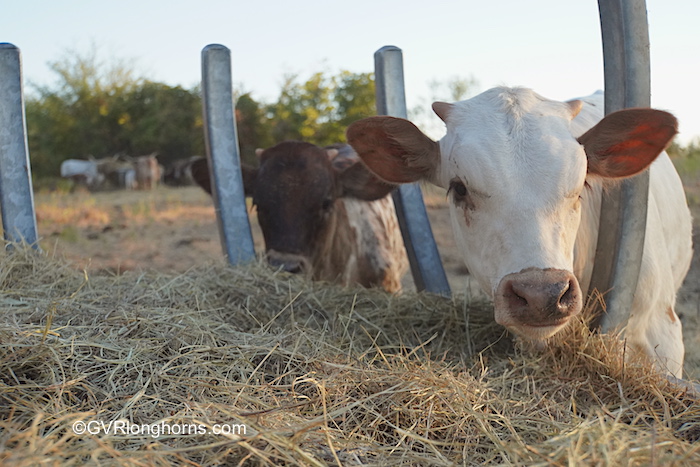 In fact, Redmon suggests reducing the stocking rate to 75% of what is possible during a standard season.  All the same, the choice to sell one Texas longhorn rather than another is not always easy. That is why a strategy for planning ahead and staying true to one's objectives is crucial. READ MORE HERE 
At GVR Longhorns we try to keep our stocking rates low. Even though we are currently around 50% of our stocking capacity,  we have fed hay for many weeks now and have free choice protein and minerals out to maintain herd health.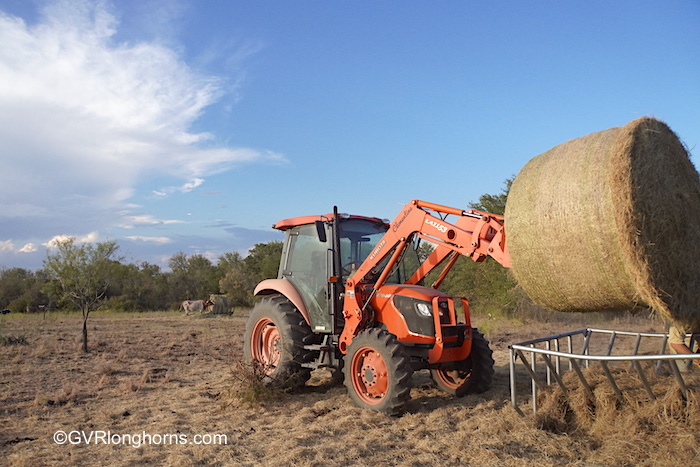 As always, we love hearing from you.
When is the last time you recorded rainfall?
Are you feeding hay?
What about other supplements?
Please let us know how you feel about this post in the comments below or email us directly and if you enjoyed reading this article, please consider sharing it.
Thank you for spending time with us,
Cathy
---
References:
Nitrates and Prussic Acid in Forages Sampling, Testing and Management Strategies – By T.L. Provin and J.L. Pitt  Texas A&M University System
Livestock & Pasture Strategy Points for Dealing with Drought and High Energy/Fertilizer Prices _By Larry Redmon State Forage Specialist, College Station  Texas A&M University System
Disclaimer: All material noted above is based on our hands- on experience as ranchers, as well as our observations of our own cattle over the years. We have done and continue to do extensive research in order to maintain our herd's optimum health. However, all opinions and statements made on our website are  guidelines only. We are not qualified statisticians/ veterinarians and urge you to consult a specialist with your concerns. GVR Longhorn LLC owns all content of this blog and all pictures.  In other words, NO copying please!  ©GVRlonghorns.com All rights reserved