If you have ever asked the question:-  how much do Texas longhorn cattle cost? here is a peak into pandemic prices at public auction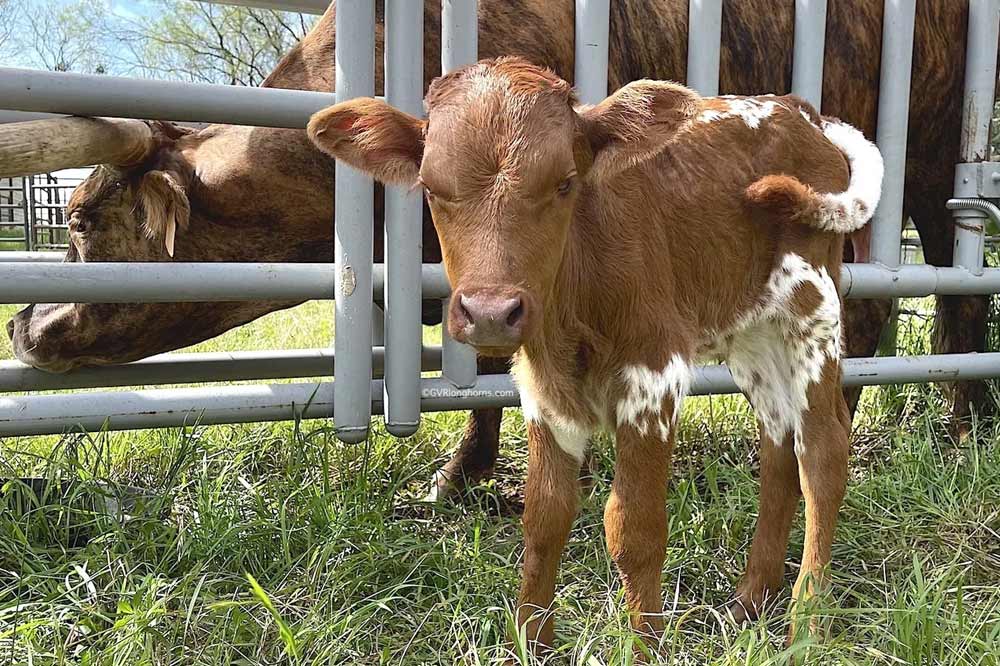 Comparing prices from one year to the next is illumoonating.
---
visit our salebarn HERE
At the beginning of every year, the TLBAA   publishes an article in their magazine spotlighting the highest purchase prices of Texas longhorn cattle realized at auction the year before.
Accordingly, as is the case most every year, the January 2020 edition of Longhorn Trails highlighted the cows that were purchased on auction in 2019 for a price tag of $10000 or more.
In January 2021, a similar article was published and although a pandemic happened in between a comparison of the data reveals an outcome you may not expect.
2019…
In 2019,  72 longhorns sold for $10K or more, throughout the year at public auction. The total sales amounted to just over $1.4 million
2020…
In 2020,  60 longhorns were sold for $10K or more, with a total sales tally amounting to the same figure as the year before, just over $1.4million.
In the first quarter of 2020, we analyzed the results from 6 auctions. (Read more….)
We also  zoomed in on a  smaller target group of Texas longhorns sold at public auction, pointing to a lower trend in average sale prices.
Let's face it, 2020 was an unstable time for everybody and some longhorn auctions were in fact cancelled. Nonetheless one might suggest the the pandemic may have been a positive boost for Texas longhorn cattle auctions.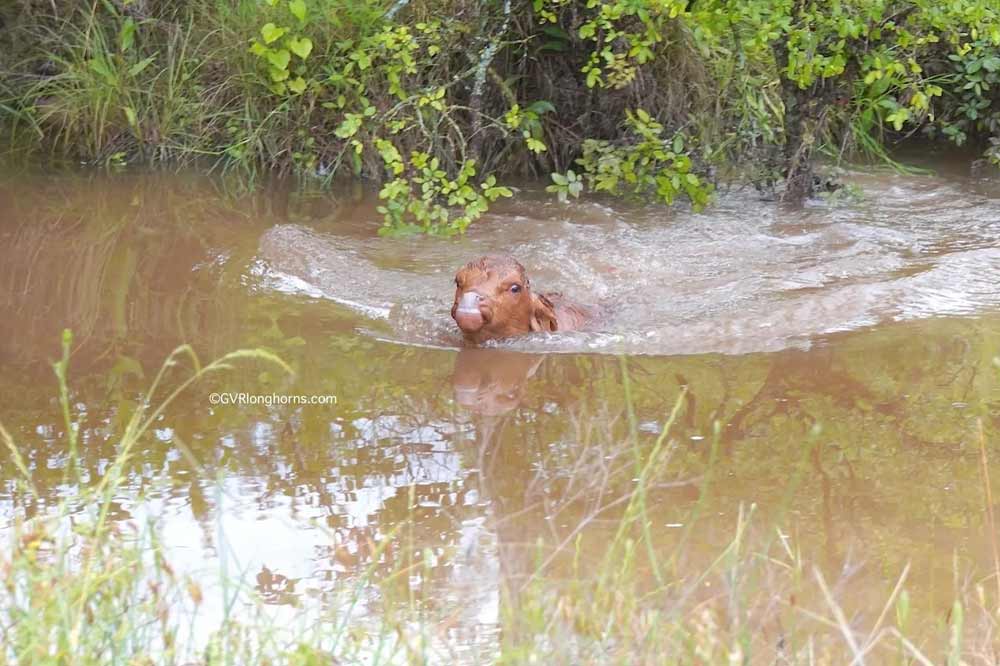 The Texas longhorn auctions that went ahead in 2020 appeared to hold their own, at least as far as 'cash cow' prices are concerned.
One of the more successful Texas longhorn public auctions was hosted by the Legacy Longhorn Group in October 2020 in Grapevine, Texas. This one event alone accounted for the sale of 22 high dollar cows of $10K or more and amassed a whopping $630K + in gross sales.
In this first quarter of 2021, the trends have been exciting to watch.
The sales prices realized over the last 6 months have fluctuated from one extreme to the other. Some auctions  barely covered their costs whereas others did remarkably well and notably better than last year.
On May 1, 2021 the Red McCombs Fiesta Sale took place. McCombs offered all of his herd calved before 2016. Over 20 longhorns were purchased for over $10 000 with the highest price for RM Rose of Sebastian at $75 000.  A rough average for sales over two days was around $7000. This average is noteworthy when considered in relation to one of McCombs first Annual Fiesta Sale events, as noted below.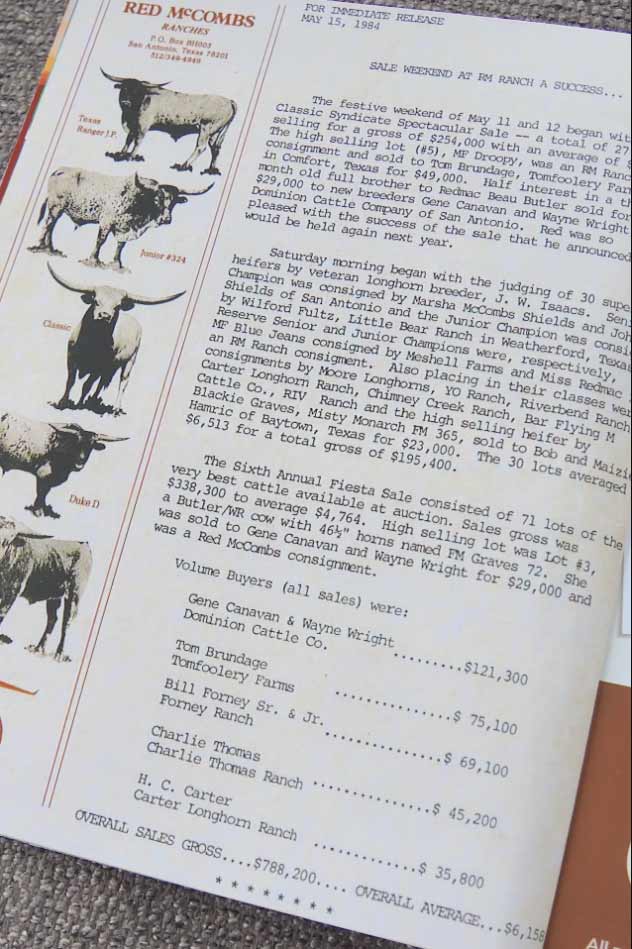 This is a picture of McCombs Sales brochure in which a copy of a release is printed outlining the results of the 1984 Fiesta Sale. Volume buyers, the amounts they spent as well as the average price per lot is recorded.
The 2021 Legacy Sale in March amassed some impressive sales. The two top purchases at the March sale being from the volume buyers Mike and Kali Smith who purchased Dunn Lucky Dice (consigned by Nancy Dunn) for $200K,  and Awesome Trixie ( consigned by Richard and Jeanne Filip) for $160K.
Richard and Jeanne Filip of Bentwood Ranch purchased Awesome Trixie in 2017 for a 'mere' $86 000.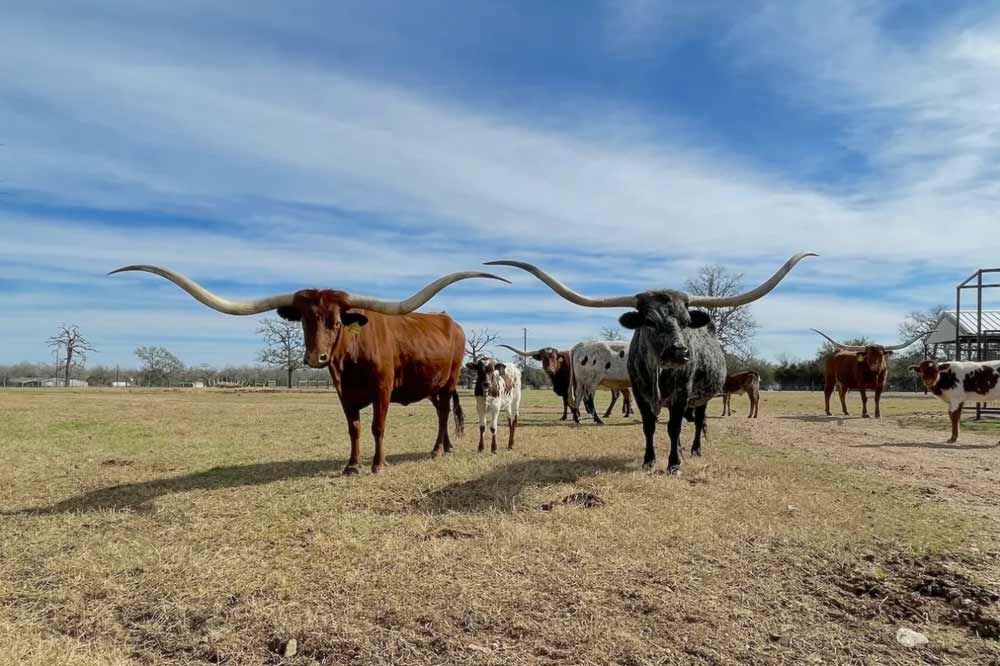 The most sensational sale this year so far since the writing of this blog post has been the most recent sale held this last weekend in May. Again, the Legacy Sale attracted the most flamboyant of buyers with more than half of the lots selling for over $10 000.  Prices ranged from $2800 to $280 000.00. As usual the big price tags were filled, for the most part, by a modest group of buyers who have become familiar names to the Texas longhorn industry motivated by the chance to claim ownership of the longest horned Texas longhorn cattle.
Bentwood Ranch shared the spotlight with some spectacular sales. These sales highlight the impact of the Filips' breeding program has on the industry and strengthens  the legacy they continue to build. The Filips' consignment St All Star MVP  sold for $100 000. They acquired her in 2015 for only $30000, more than trippling their investment. Similarily, 2JB Cocaine Lady was sold for $280 000. Her name is by no means an indication of the Filips' state of mind when they purchased her in 2016 for $46 000, not too shabby as a return on investment.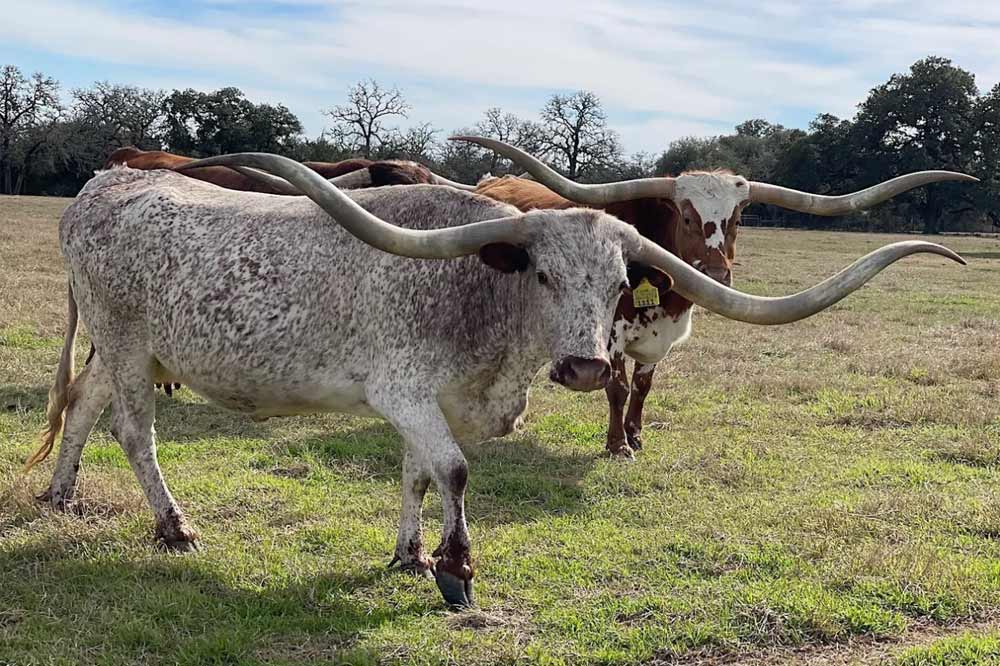 Conclusion
It's not difficult to be attracted to the Texas longhorn cattle market, solely on the merits of public longhorn auction prices. However, like most things in life, it is always helpful to be mindful of the full picture.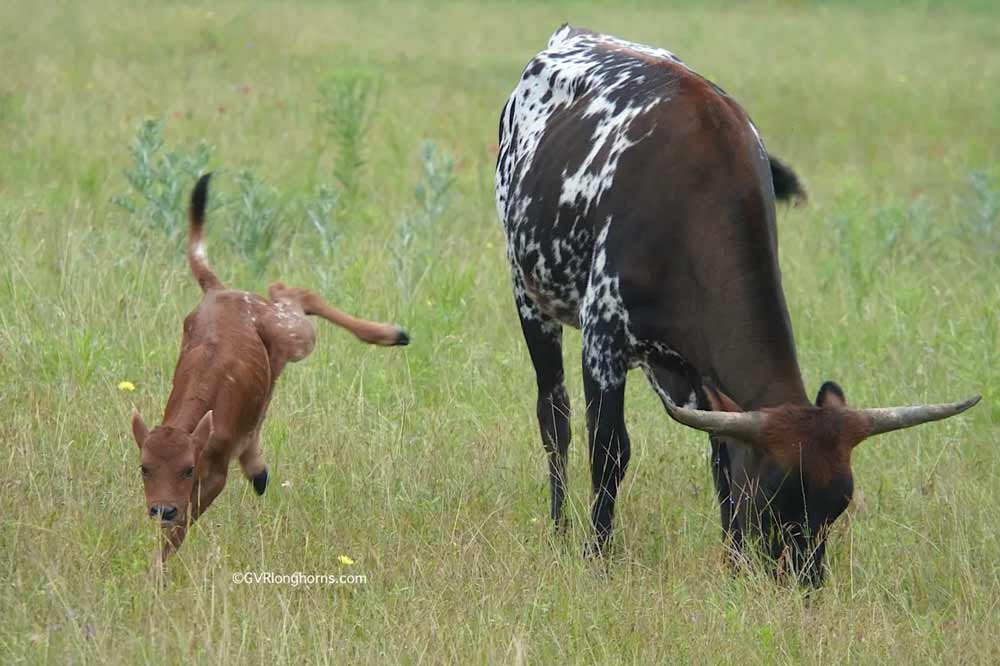 Points to keep in mind:-
* There is no standard for pricing in the longhorn industry.
* Like all investment markets, the Texas longhorn Industry can be volatile and prices fluctuate. A hefty price tag on a cow may not necessarily be indicative of the quality of a particular longhorn cow and like all auctions prices could be influenced by the overall success of that auction at that specific time.
* Horn length from one tip to another is a criteria for value but it is not a guarantee to determine profit. Many a cow sold over $10000 has been previously purchased for a similar price or sometimes, even less. A clear picture of how prices fluctuate is reflected by the variance in prices within any one specific auction, let alone how prices change from one auction to the next.
* Public auction sales reflect only a relatively small portion of Texas longhorn cattle sales.
* According to the TLBAA, the 'Cash Cows,' as they are referred to, reflect about 5% of Texas longhorn cattle sold at public auction, or at least they did in 2019. Even so, these sales contributed to a third of all sales realized at public auction that year where over 1300 longhorns were sold at public auction.
Our very rough calculations would lead us to assume that the average price for the rest of the longhorns sold at public auction averaged at around $2200 in 2019. In 2020, our own analysis of the first 6 months of prices led us to a similar conclusion.
* Private sales are exactly that, PRIVATE. As a personal example, over the years we have acquired over 75% of our herd through private treaty.
Texas longhorn Auctions give us a sneak peak of the potential value of Texas longhorn cattle. However,  for reasons mentioned above, Texas longhorn prices are  difficult to determine across the board.
---
similar blog post:-
Texas longhorn cattle cost how much?
---
Popular Texas longhorn blog posts
HOW TO ENSURE YOUR TEXAS LONGHORN CATTLE HAVE WATER YEAR ROUND
14 GESTURES OF LOVE AND AFFECTION, THE TEXAS LONGHORN WAY
TEXAS LONGHORN HORNS – EVOLUTION- REVOLUTION!
THE SECRET BEHIND THE POPULARITY OF TEXAS LONGHORN CATTLE
15 AWESOME REASONS WHY RANCHERS RAISE TEXAS LONGHORN CATTLE
ARE TEXAS LONGHORN CATTLE DANGEROUS?
IMMUNE TO A DISEASE WHICH PLAYED A ROLE IN DEPLETING A BREED – HOW?
WHERE IS THE VALUE IN TEXAS LONGHORN CATTLE? 5 CONSIDERATIONS
CONFESSIONS FROM LOVERS OF LONGHORNS
WHAT DO TEXAS LONGHORN CATTLE HAVE IN COMMON WITH A GOLDFISH?
---
Disclaimer: All material noted above is based on our hands- on experience as ranchers, as well as our observations of our own cattle over the years. We have done and continue to do extensive research in order to maintain our herd's optimum health. However, all opinions and statements made on our website are meant as guidelines only. We are not qualified statisticians/ veterinarians and urge you to consult a specialist with your concerns. 
Content of this blog belongs to GVR Longhorns LLC and may not be copied in any form. ©GVRlonghorns.com All rights reserved.