Why Texas longhorns?
By Cathy Valle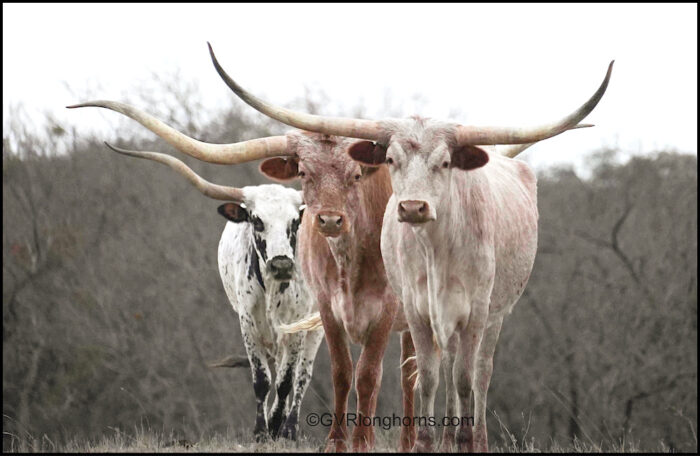 Why do ranchers and land owners actually buy longhorns of their own?
And, after the fact, are they happy with their choice?
Let's face it, the reasons we pick Texas longhorns over other breeds of cattle and over other livestock differs for each of us.
visit our SALEBARN here
A few years ago we posted the article  titled 'Confessions of Longhorn Lovers' and it still attracts many readers.
Since then, our Texas longhorn cowmoonity has blossomed, or should we say "blooomed" more than we ever expected.
The Texas longhorn industry worldwide keeps growing too.
So rather than listen to our reasonings, and for a personal explanation as to why ranchers choose Texas longhorn cattle, we invite you to read these real life stories in our ongoing series of articles:
Why Texas Longhorn Cattle?
To start off this series, why Texas longhorn cattle? it is our privilege to introduce our friend and member of our cowmoonity, Robert G.
About Robert
Robert was an aviation engineer before he retired from the US Navy a few years ago. He is no stranger to both cattle and horses, having been born and raised on a cattle ranch in Wyoming. He is also a professional rodeo cowboy and chose to live in central Texas to be close to the rodeo circuit.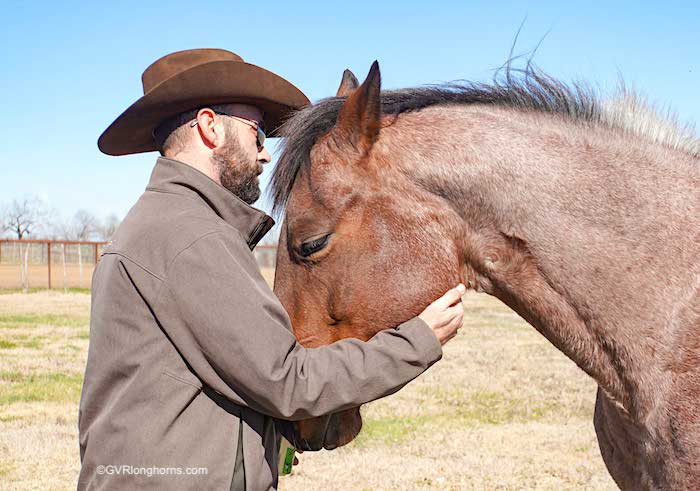 As a side note, GVR longhorns is situated in Dublin TX, a few miles south of Stephenville. Our county is widely referred to as the Cowboy Capital mainly because of the connection to the cowboy capital rodeo association whose rodeo events run pretty much throughout the year.
Robert contacted us two years ago. He was drawn to the look and genetic program of our longhorn calves and wanted two bull calves with the intention of halter training them.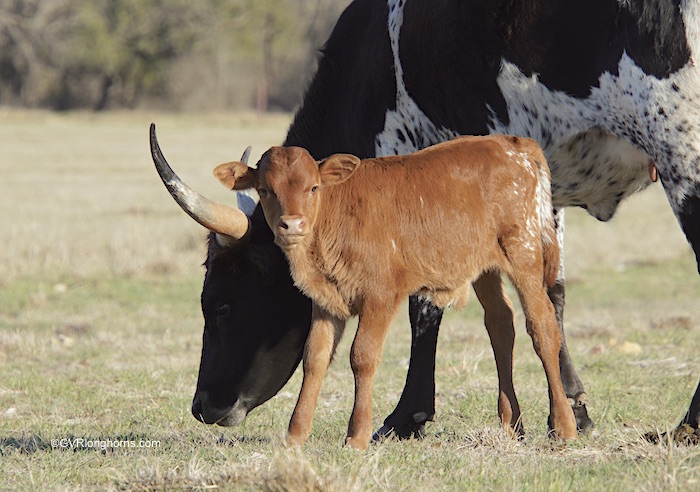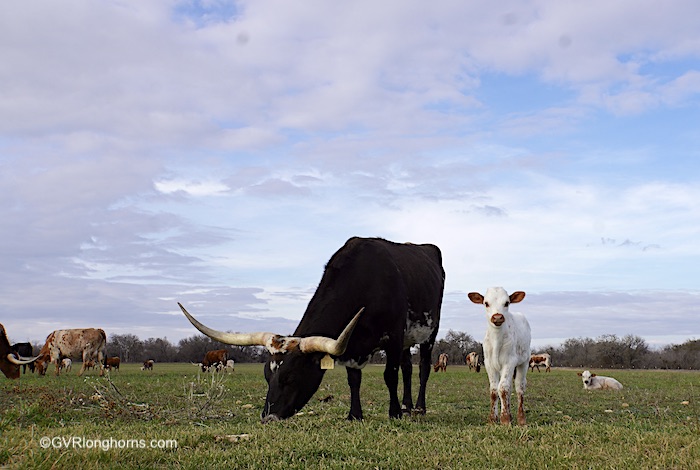 Why?
Training animals such as quarter horses and border collies is like second nature to him. Robert wanted to challenge himself to halter train a longhorn.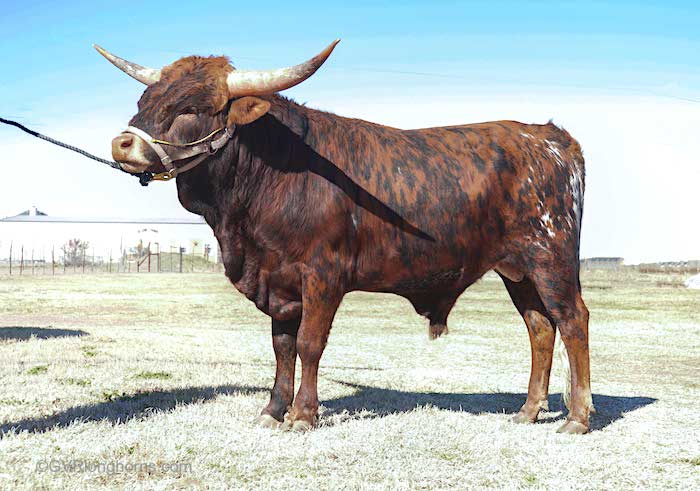 After I visited Robert and his longhorns a couple of weeks back, I sure do admire the work he has done on both of his longhorn boys.
Having bred and trained quarter horses practically his whole life, Robert started off applying what he knew about horses and used the resources and equipment available to him.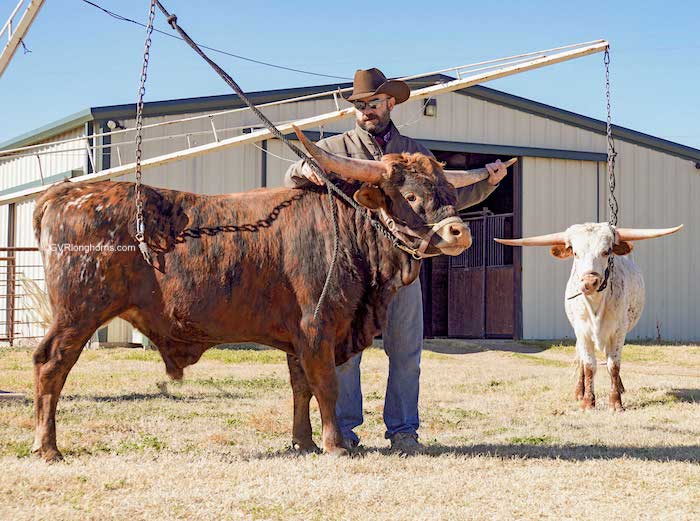 He realized early in the process just how intelligent longhorns are. Not every longhorn is 'trainable' but in order to get any cooperation, trust is paramount.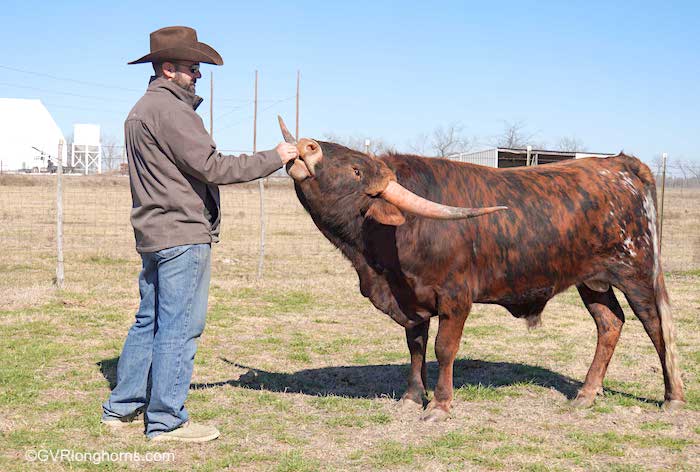 Earning that trust took hours of patience but it has paid off.  In fact, Robert learned quickly that the approach to training horses and longhorns is quite different. From the start, the level of trust of a horse versus a longhorn is significant. Robert found that the process of earning trust is a slow one in comparison but just as rewarding.  longhorns are clearly comfortable with a halter on.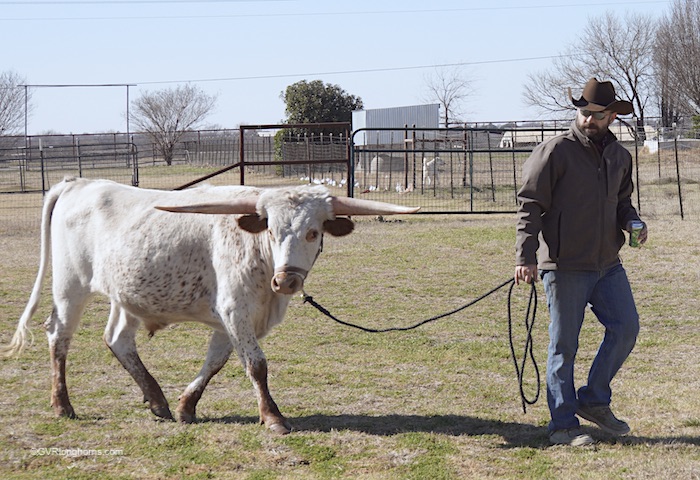 It was a pleasure to watch Robert lead both his steer and bull back to their pasture. They are both so relaxed in his presence. They lead without hesitation and react respectfully to commands.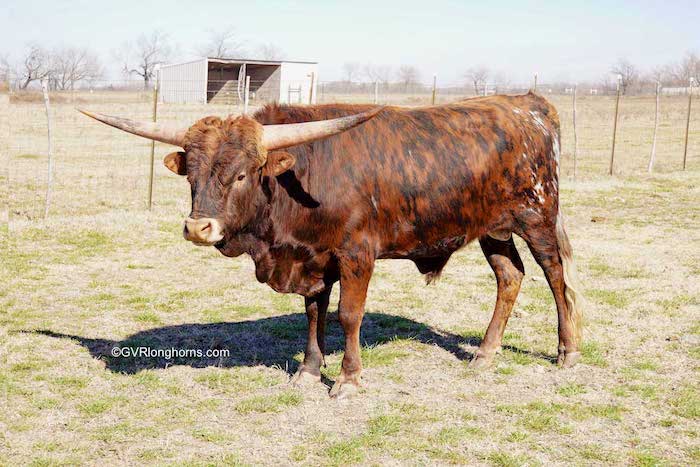 Robert has decided to place his bull up for sale if you are in the market for a calm, halter trained bull.
Depending on is ownership status, Robert  feels confident to take his longhorns to the next level and will be entering his bull in a number of shows this year.
If you are in the market for a calm, halter trained bull, a sale is negotiable. Please contact us so we can forward your enquiry directly to Robert.
Why choose Texas longhorn cattle?
This is a first of many articles from friends in our Cowmoonity. If you have purchased longhorns from us at GVRlonghorns and would like your story shared as to why you have Texas longhorn cattle please contact us. We would love to hear from you.
Unquestionably, within our cowmoonity, we have found that there are definite advantages accepted across the board for choosing Texas longhorn cattle.
We've made a list of those numerous advantages in our blog  15 awesome reasons why ranchers raise Texas Longhorn Cattle.
Additionally we  have a  dedicated page on our website, GVRlonghorns.com/advantages    On this page we highlight the many reasons why ranchers have Texas longhorns ranging, for example, from fulfilling Ag Exemption requirements to owning the longest horned Texas longhorns.
Disclaimer: All material noted above is based on our hands- on experience as ranchers, as well as our observations of our own cattle over the years. We have done and continue to do extensive research in order to maintain our herd's optimum health. However, all opinions and statements made on our website are meant as guidelines only. We are not qualified statisticians/ veterinarians and urge you to consult a specialist with your concerns. Content of this blog and all pictures belong to GVR Longhorns LLC and may not be copied in any form. ©GVRlonghorns.com All rights reserved
Please let us know how you feel about this post in the comments below or email us directly and if you enjoyed reading it please consider sharing it.
We love hearing from you.
Thank you for spending time with us,
Cathy