a Valentine's Day post to be read any day as it's theme is conveyed in our pastures everyday in every way………
The origins of Valentine's Day may be rooted in darkness and obscurity but the sentiment  the day portrays cannot be mistaken. Love, fellowship, adoration and romance are the order of the day on St. Valentine's Day. For those of us who ranch with Texas Longhorn Cattle we suspect there will be little criticism in the declaration of pure love of our bovines. They are a special breed, as unique in personality as they are in appearance from one another.
Therefore, we have no doubt that many ranchers share our concerns about our livestock in Texas this week.  We are not accustomed to the cold blizzard-like conditions we are currently experiencing and as brutal as these cold temperatures are, we  know they are going to get worse.
We have all prepared as best we can for the cold days to come and continue to do so.  We hope that our herd as well as our fellow ranchers and their livestock stay safe and fair well in this storm.
There is nothing we can do to thaw out the atmosphere but it is also Valentine's Day weekend so why not post a heartwarming blog of udder admoooration for our Texas longhorn cattle.
---
for a chance to own a special longhorn, or two, or three, ….. SALEBARN
---
Judge if you will, here are 14 lovable gestures you can't deny. They melt our hearts and fill us with a sense of joy. We hope they do the same for you..
1. Trust
Blackie Bloo is our best example of mutual trust. Every now and then you meet an extraordinary person, perhaps your Valentine, perhaps your special friend.  Genuinely kind, benevolent to all.   Blackie Bloo is that equivalent in our Texas longhorn herd. We don't approach most others in the herd the way we do with Blackie Bloo simply because Longhorns are strong and can cause serious injury to a person with and without intention. Nonetheless, the video below describes Blackie's character best. Its had thousands of views so you may have already seen it  but we think it's worth watching again.
A full story of Blackie Bloo is written on our post 'Are Texas Longhorns dangerous?' – READ MORE
2. Companionship
Our Texas longhorn cattle like to keep us company –  Almost everybody here at Green Valley Ranch takes this very seriously. If  "alone time" is what you are after, it may be hard to find on our ranch.
3. Like the first time…BBF!
"Young" love is special no matter what age a couple is. When everything is new, appreciation for each other is effortless. If you are lucky enough to find true love, that spontaneity does not wane. Just like a couple who have found true love, our Texas longhorn cattle, young and old,  are almost always excited to see us.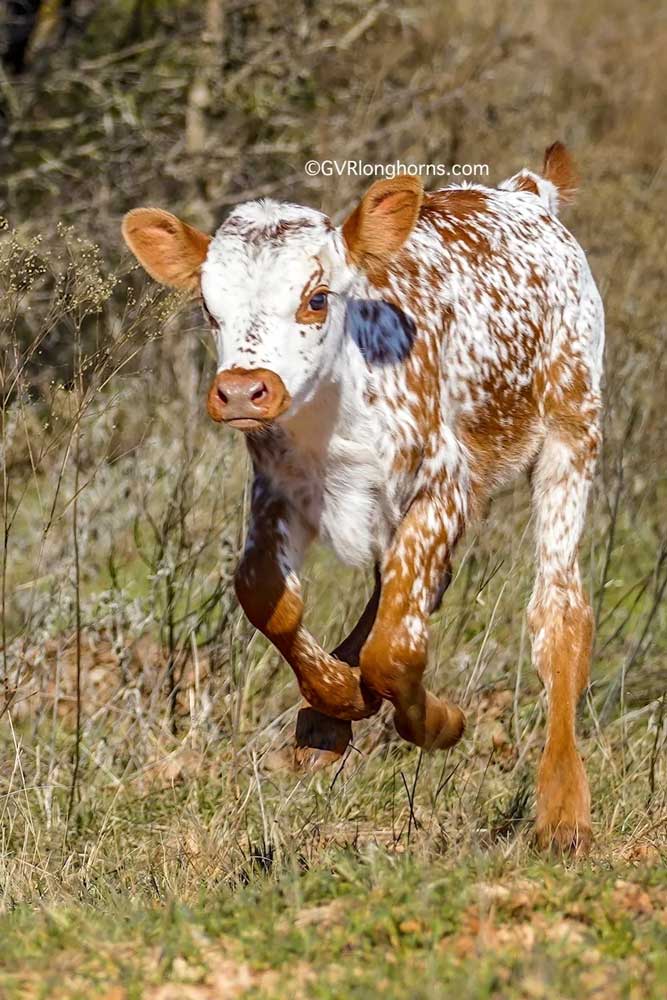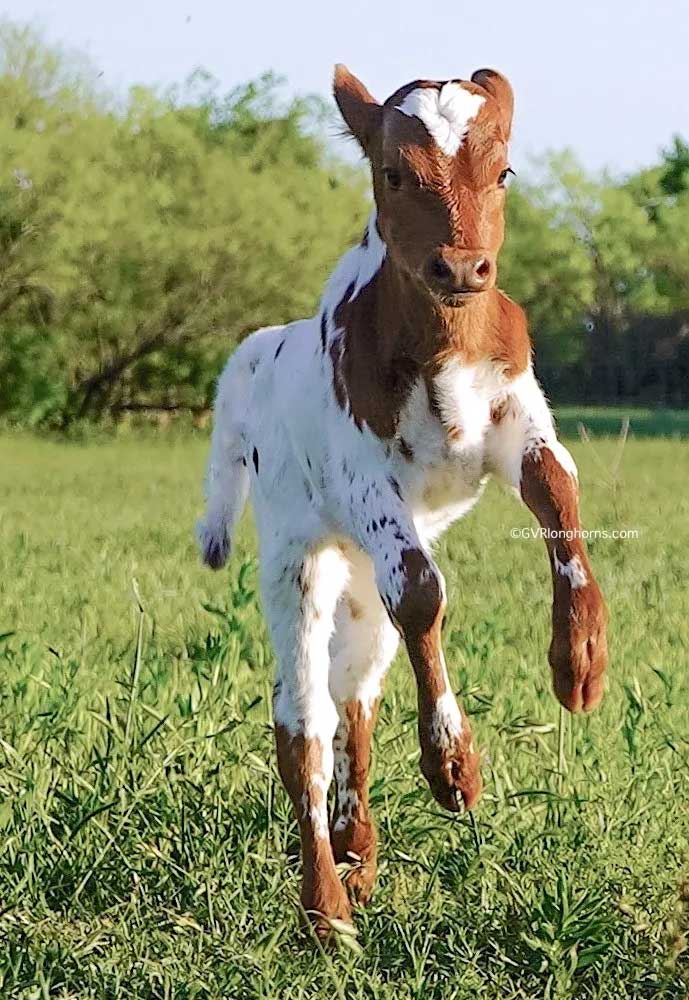 From time to time  there may be treats involved. Regardless, cupboard love has its merits too.
4. Ever Present
Our Texas longhorn cattle take a sincere interest in every thing we do. If we are in their pasture, they will find us. They are so in tune and inquisitive by nature. IMAGINE – getting the message without a text!
It's true that there may be a sense of judgement there but if it's evident, it's subtle enough to be overlooked.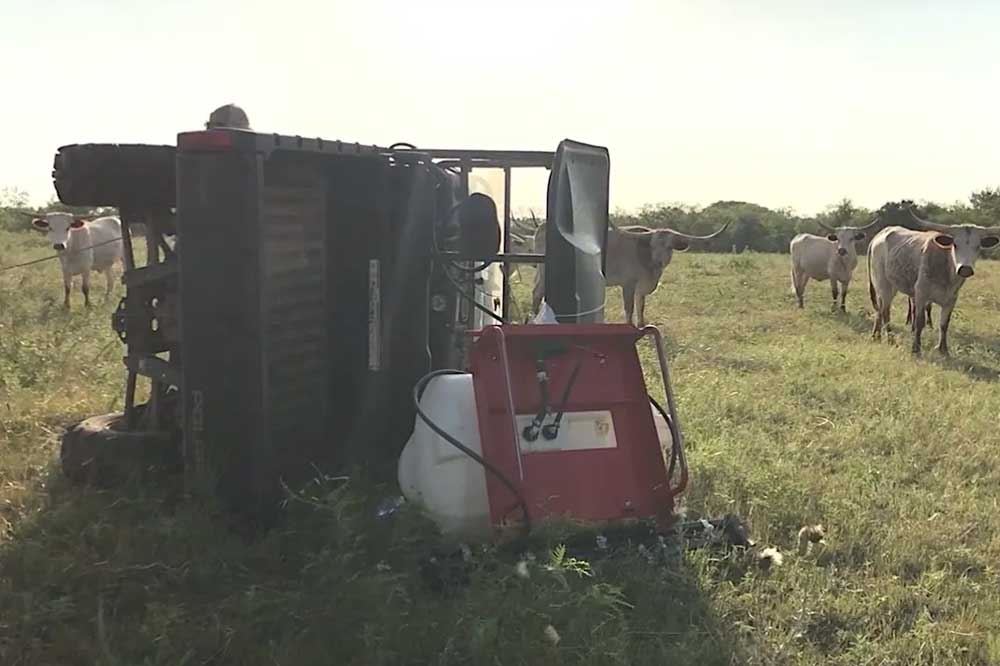 5. Cowmoonity Service
We may not always have extra hands to help us but we are not short on encouragement. Our Texas longhorns  are on the job 24/7 and ready to help or hinder any work that needs doing. At least they keep the moomentum going.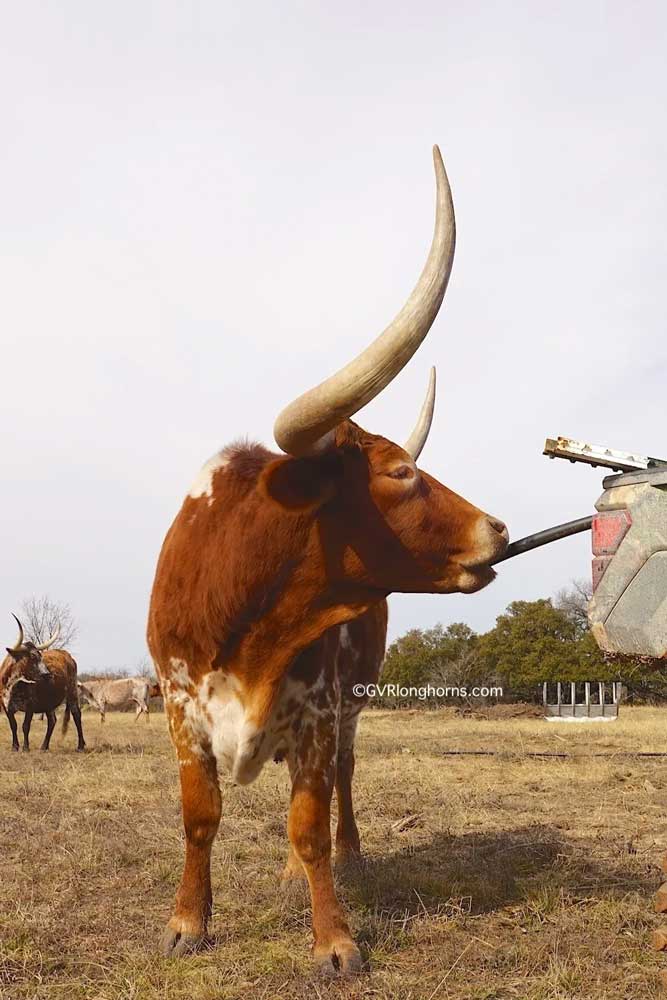 6. Cowlicks and Kisses
If a cowlick is equivalent to a kiss, then kisses are abundant.
'The real lover is the man who can thrill you by kissing your forehead or smiling into your eyes or just staring into space.' Marilyn Monroe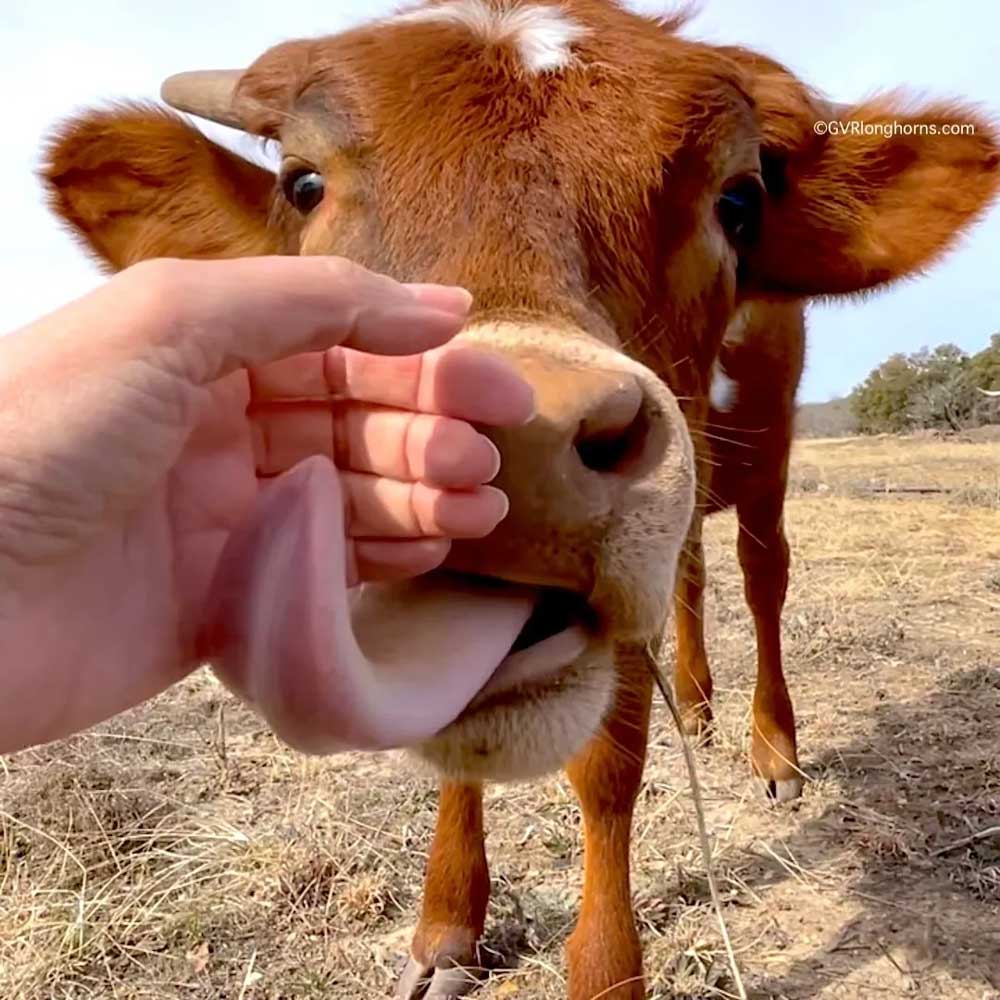 Full video on Tiktok – here's the link Please follow us on TikTok and help us grow.
7. A Sense of Purpose
Love of life, a friend, a partner, a child – all fulfill a sense of purpose.  It's well documented that Texas longhorn cows are wonderful mothers. They are truly happiest with a calf by their side. Make no mistake, they issue severe discipline too, but their purpose towards the little ones is inspirational.  Every now and then, we see that care extended to others in the longhorn herd too.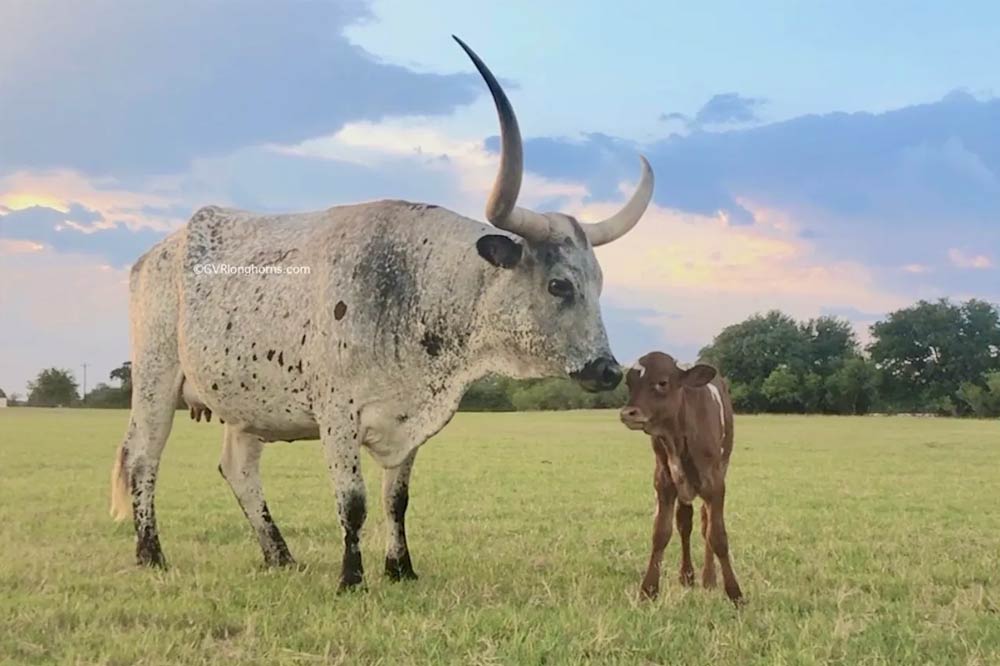 Here is a series of photos, ten in all, illustrating what love is to our Texas longhorn cattle and the commitment they exhibit to each other. Few words are necessary.
8. Love is Dedication
'Love is always bestowed as a gift – freely, willing and without expectation. We don't love to be loved; we love to love,' Leo Buscaglia
Below is an endearing sequence of photographs taken of Snowflake with her calf, Gunner, illustrating how she supported him as he learned to stand for the first time in his own time. (Notice how she uses her legs as well as her nose to support him.)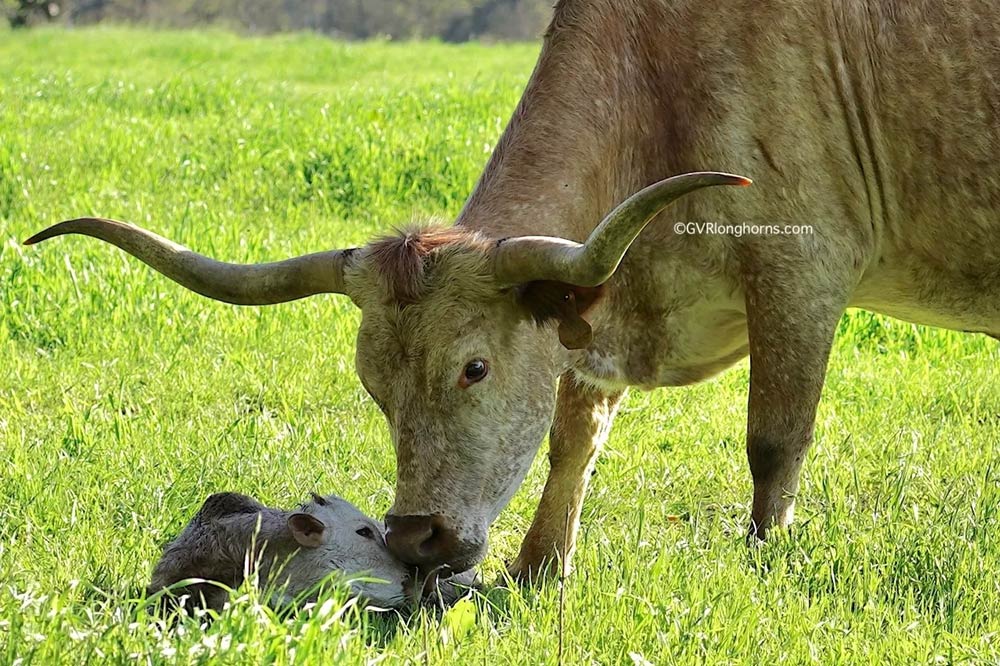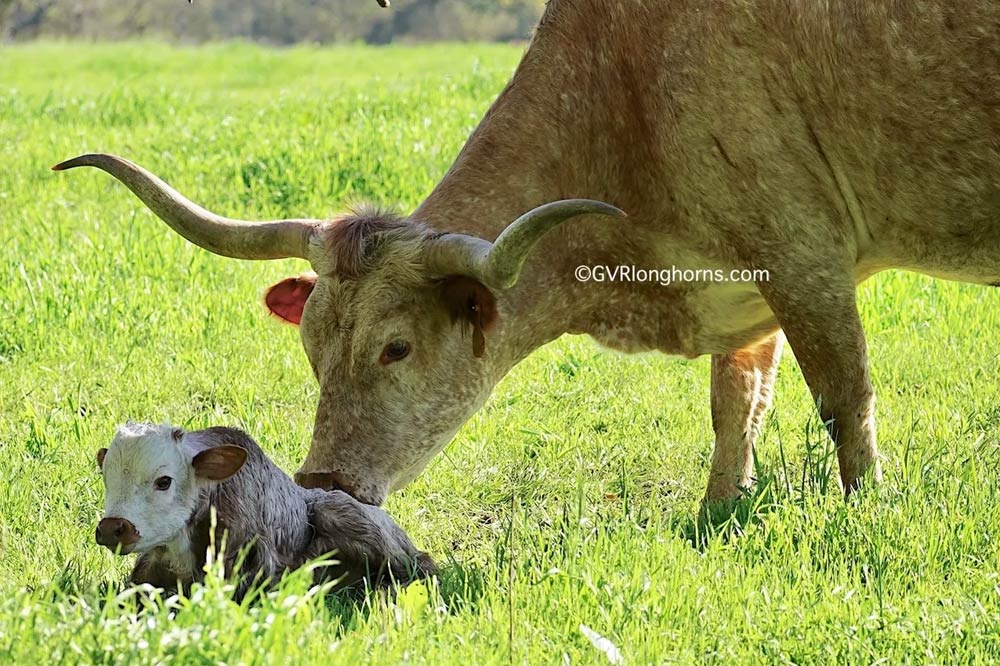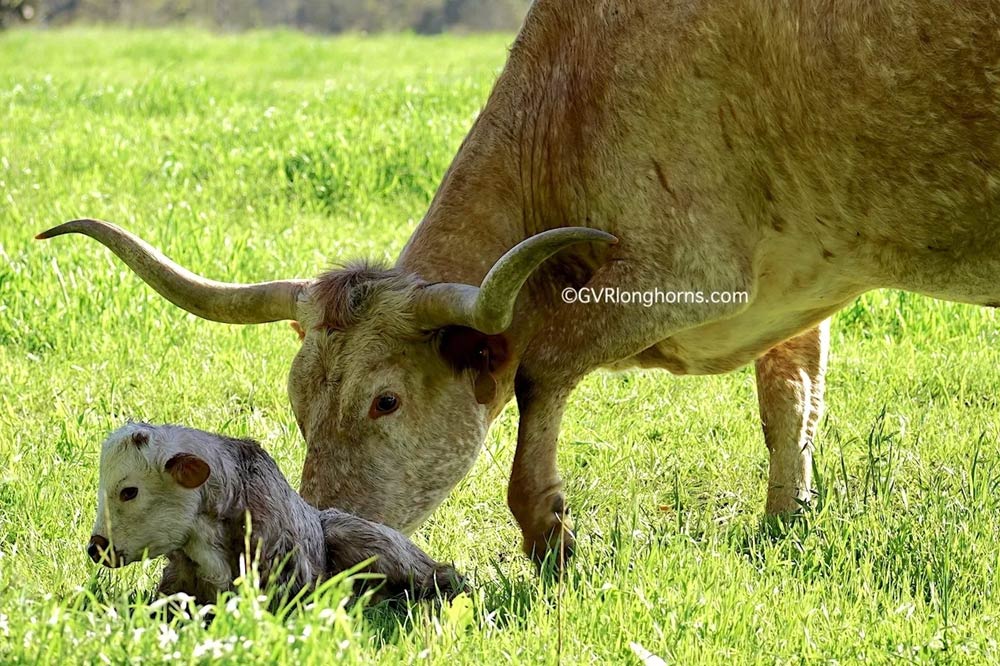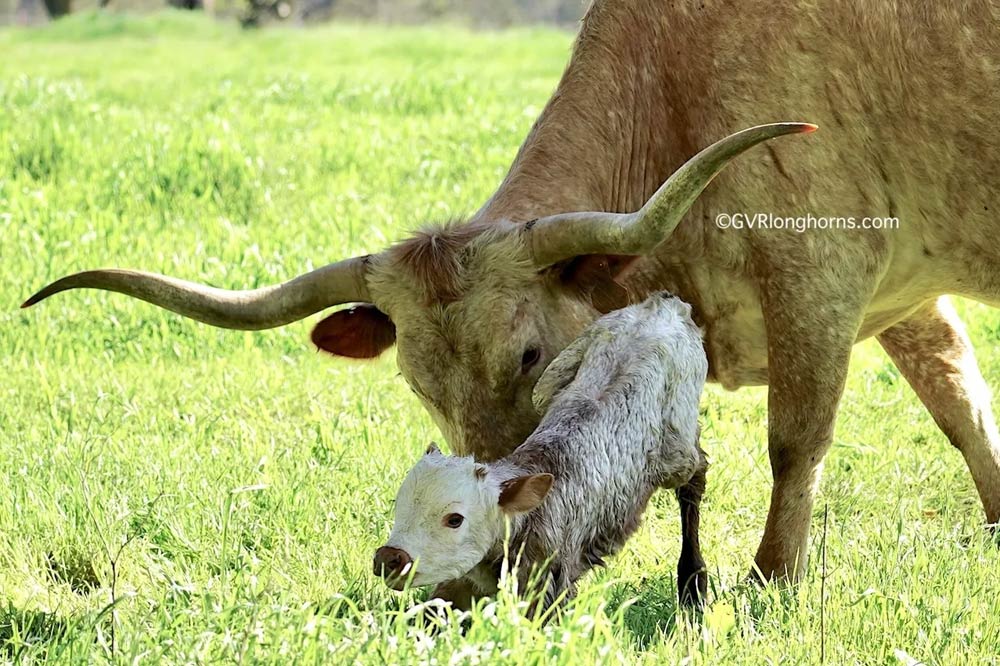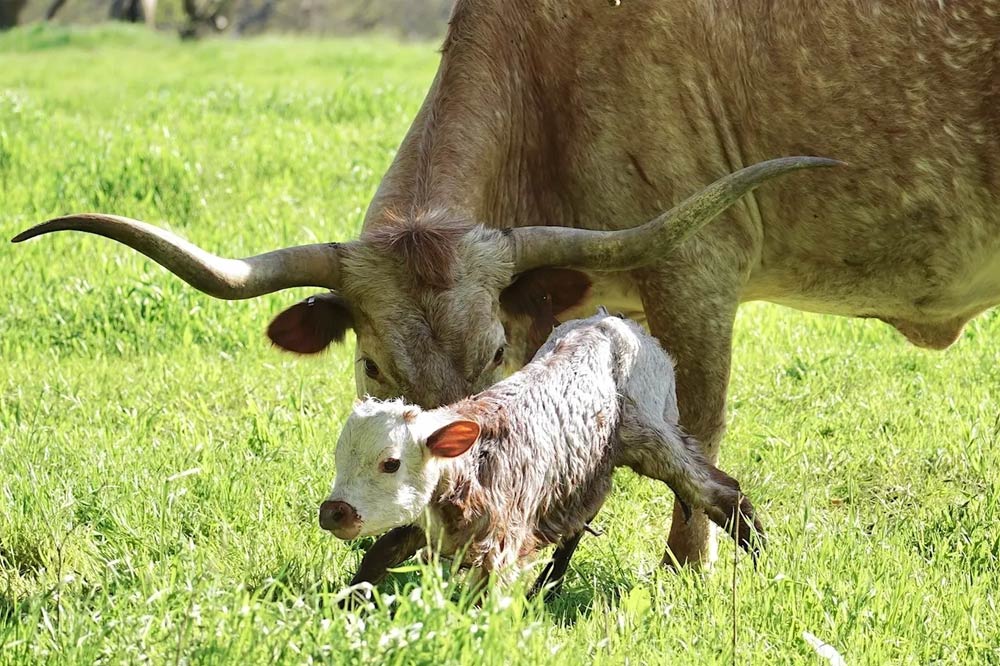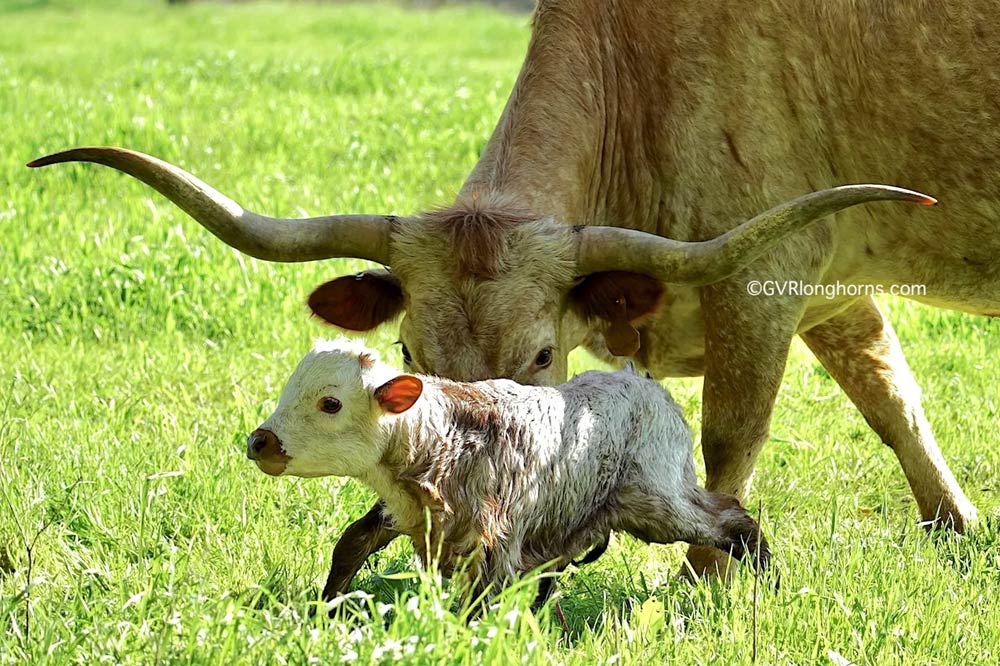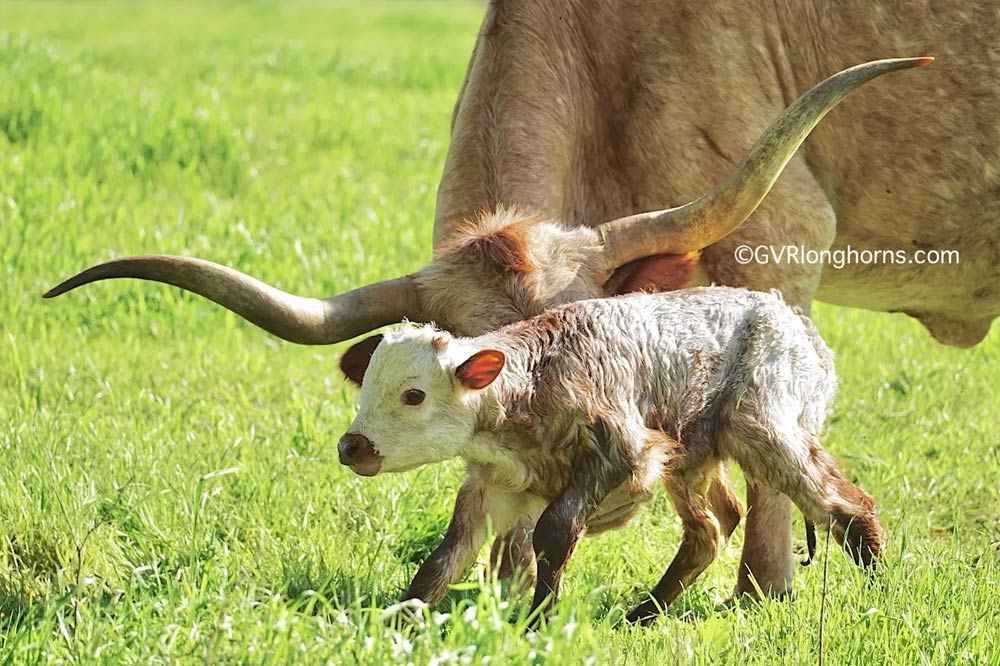 9. Love is Nurturing Others
' Being deeply loved by someone gives you strength, while loving someone deeply gives you courage.' Lao Tzu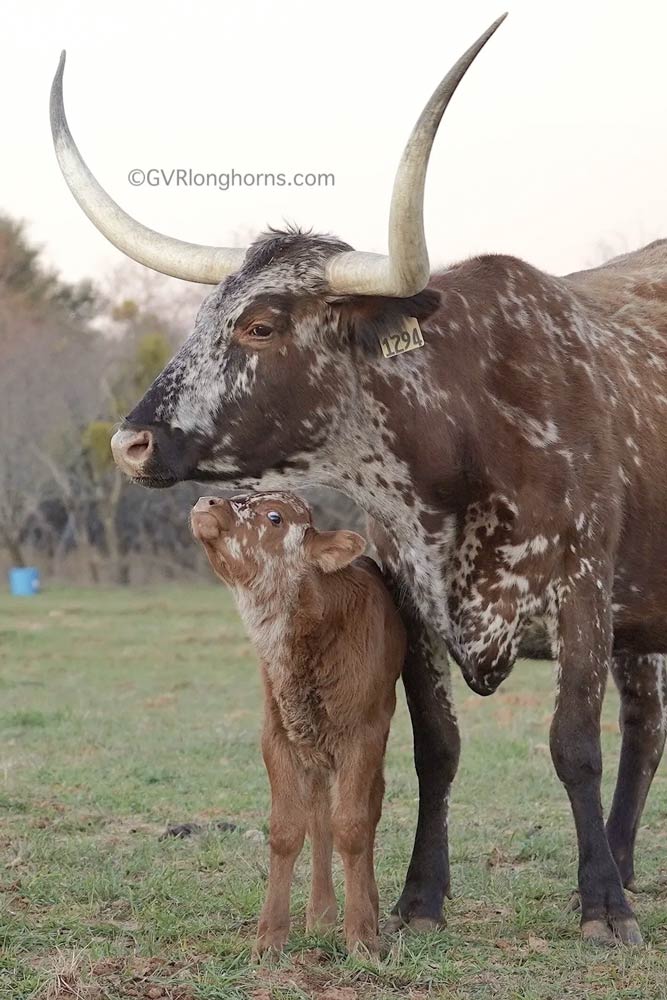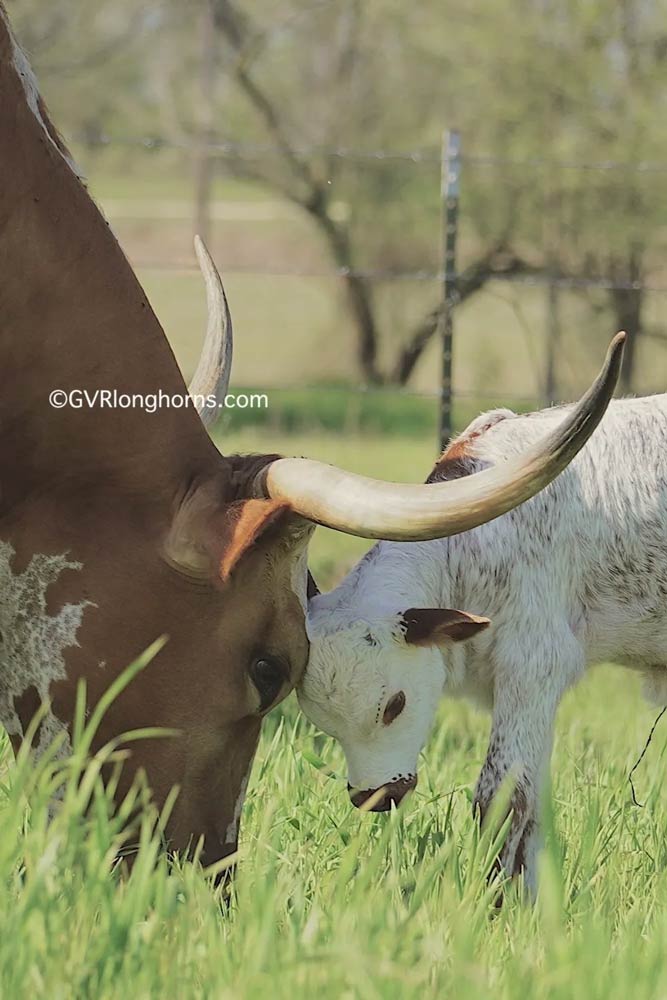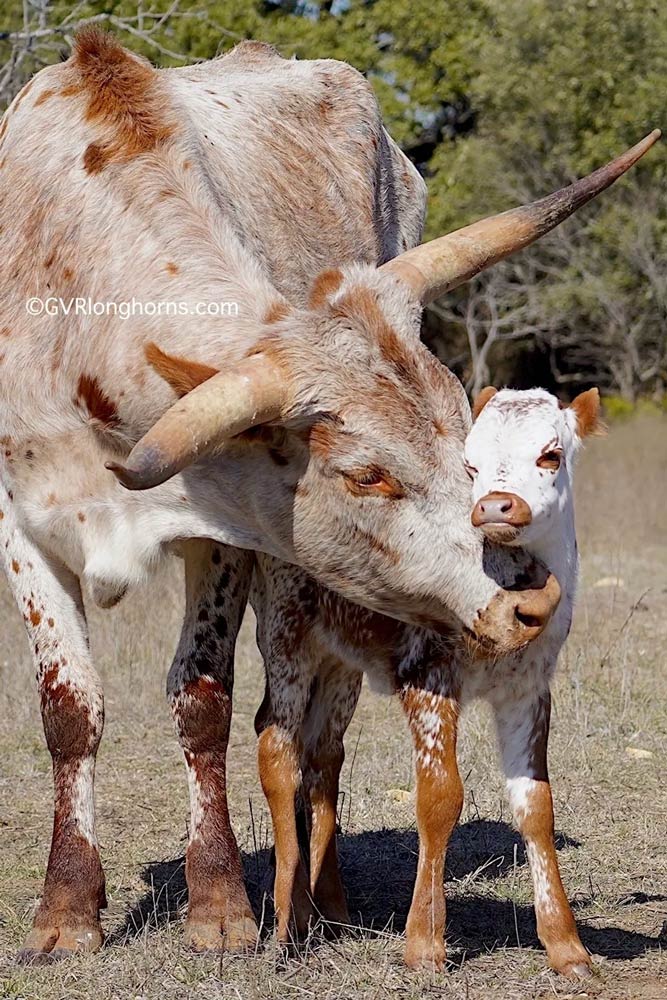 10. Love is Embracing Others
'sometimes the heart sees what is invisible to the eye.' H. Jackson Brown Jr.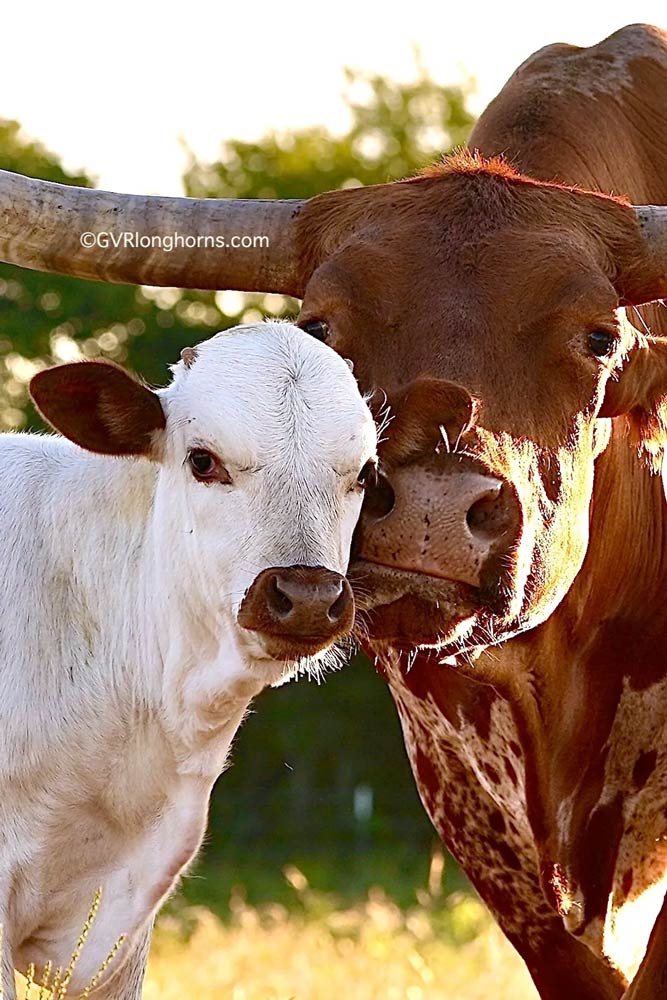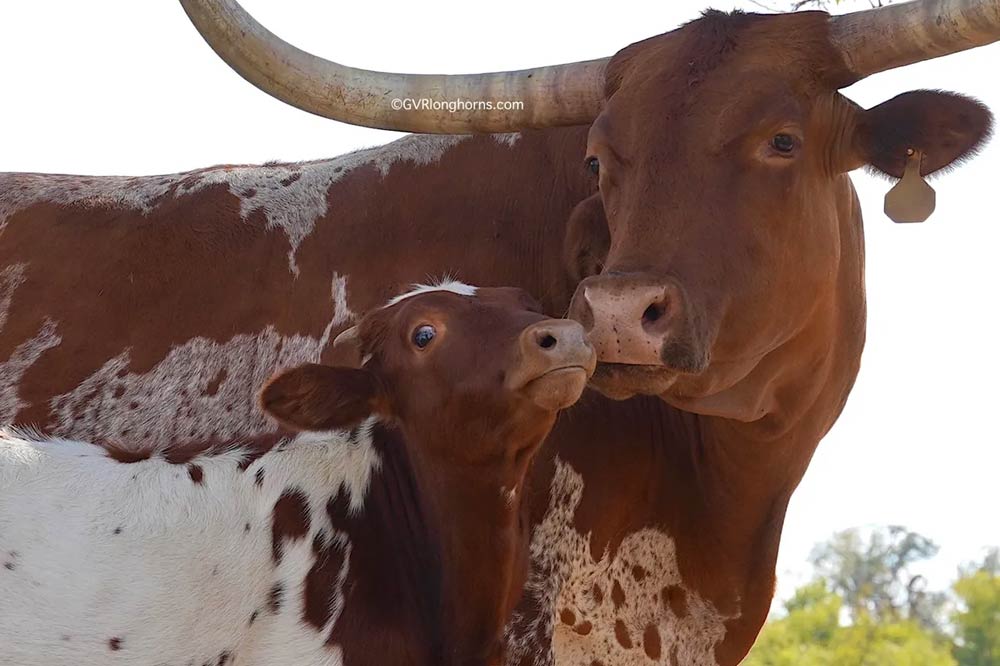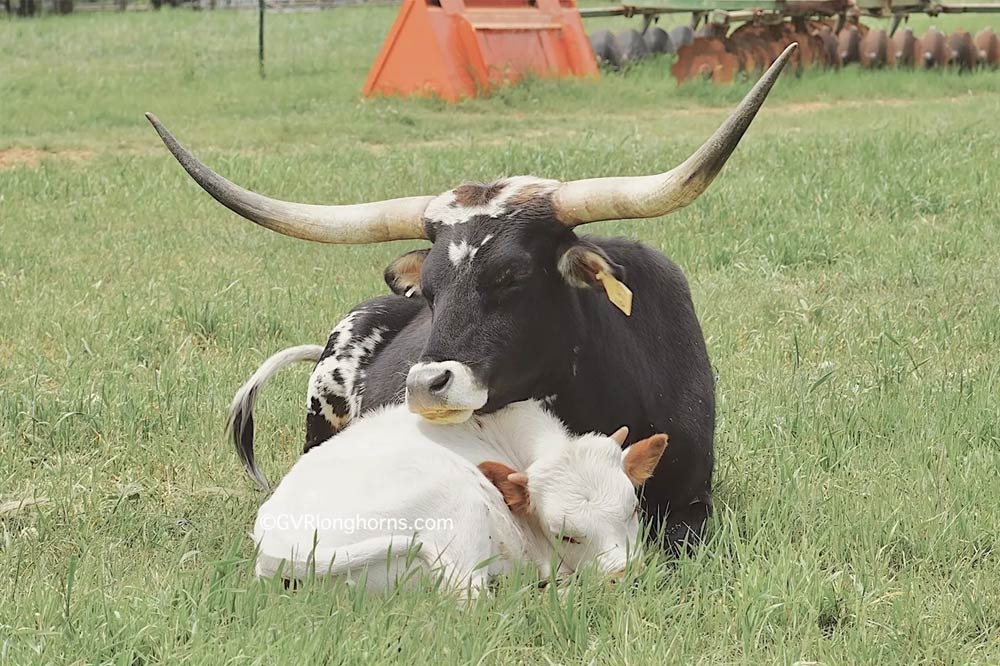 11. Love is Leading By Example
Love is not what you say, it's what you do……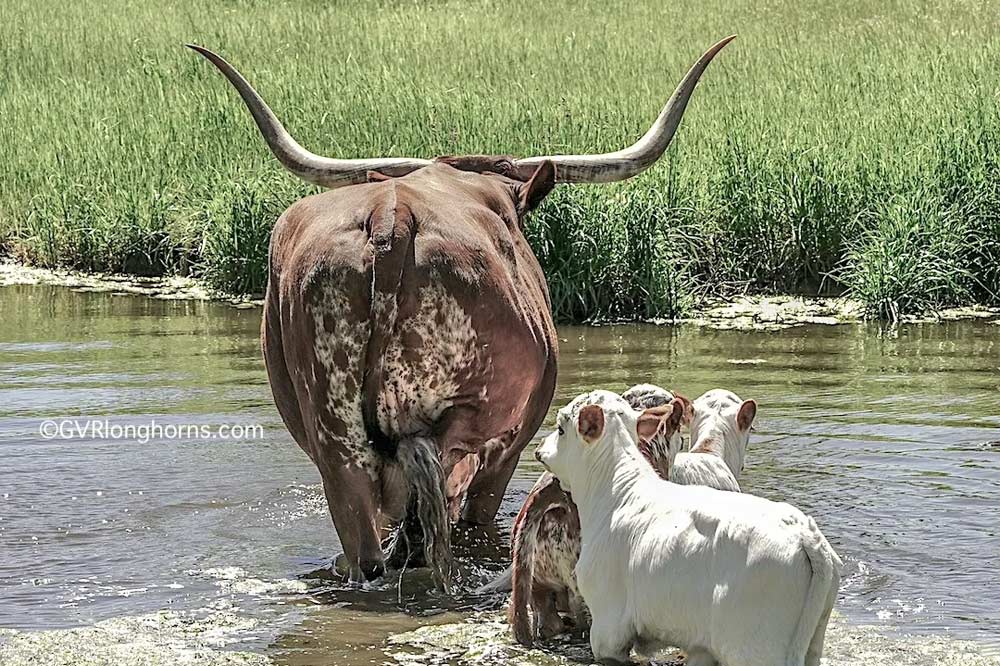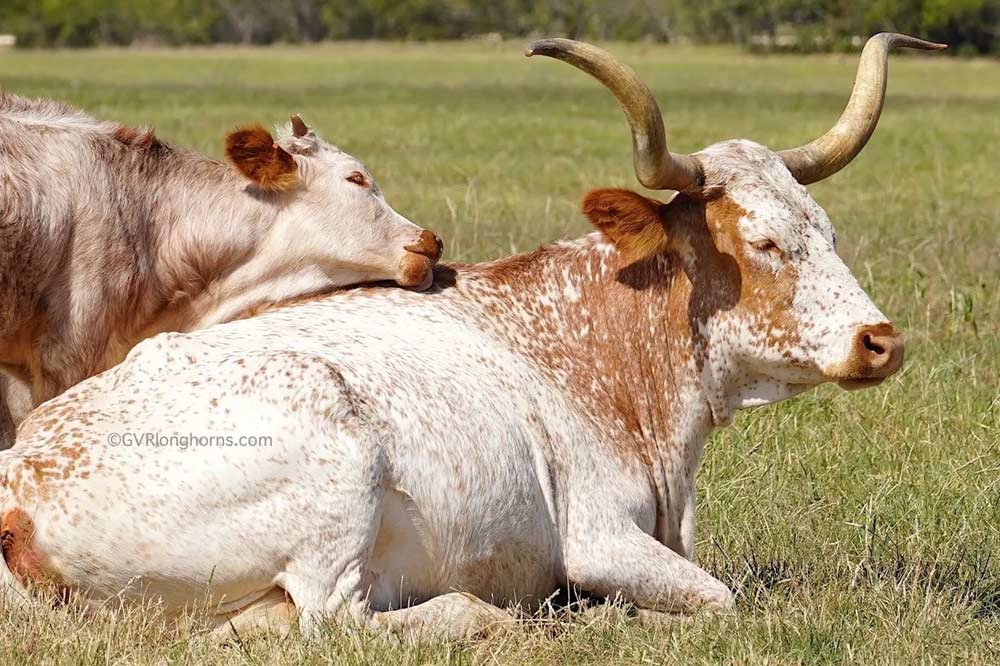 12. Love is Setting Boundaries gently
'The giving of love is an education in itself' Eleanor Roosevelt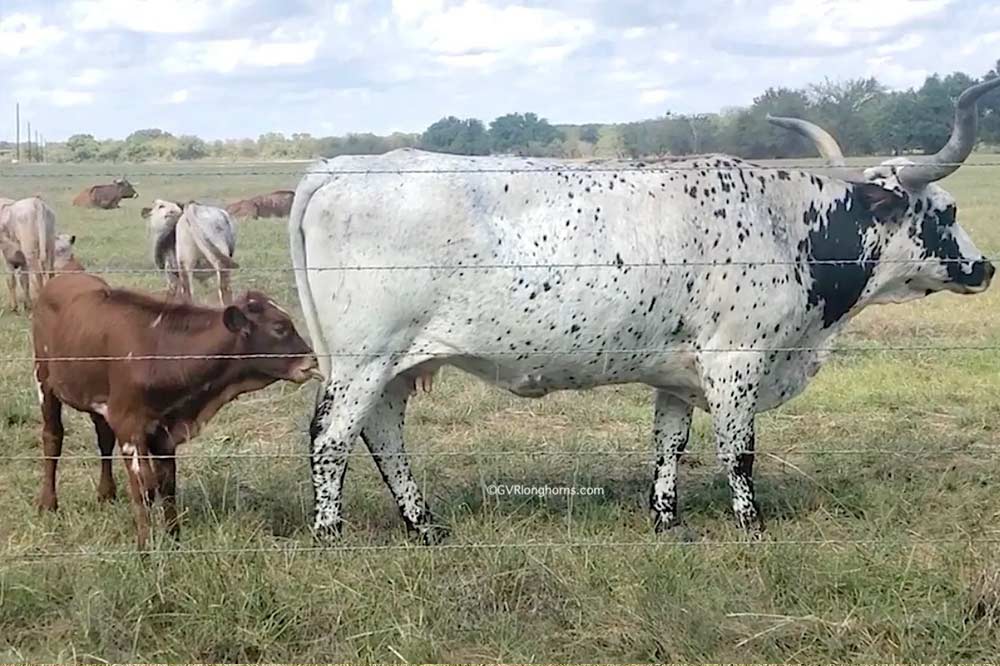 Full video on TikTok – here is the link, Watch the video here
13. Love is Compassion
'If you want to be happy, have compassion. It is one of the secrets of inner peace. ' Dalai Lama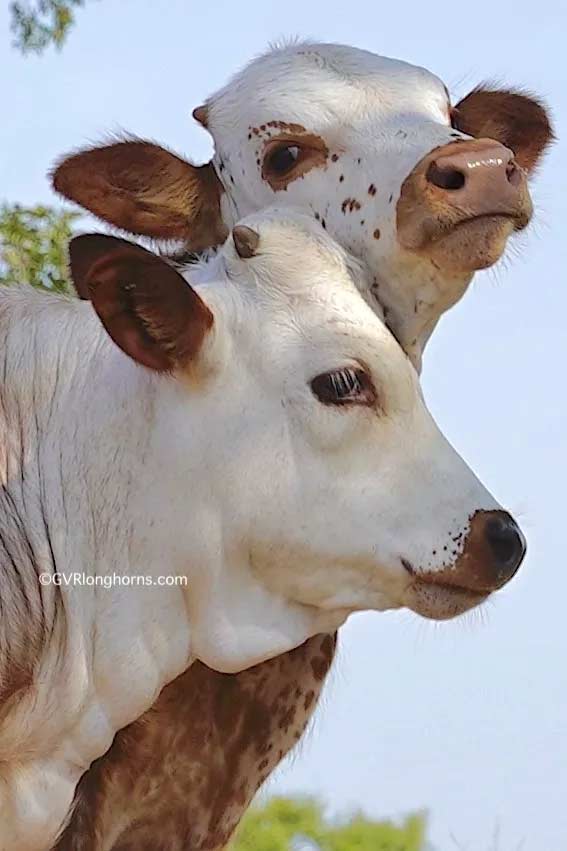 14. Love is Patience
…….and cattle have all the time in the world.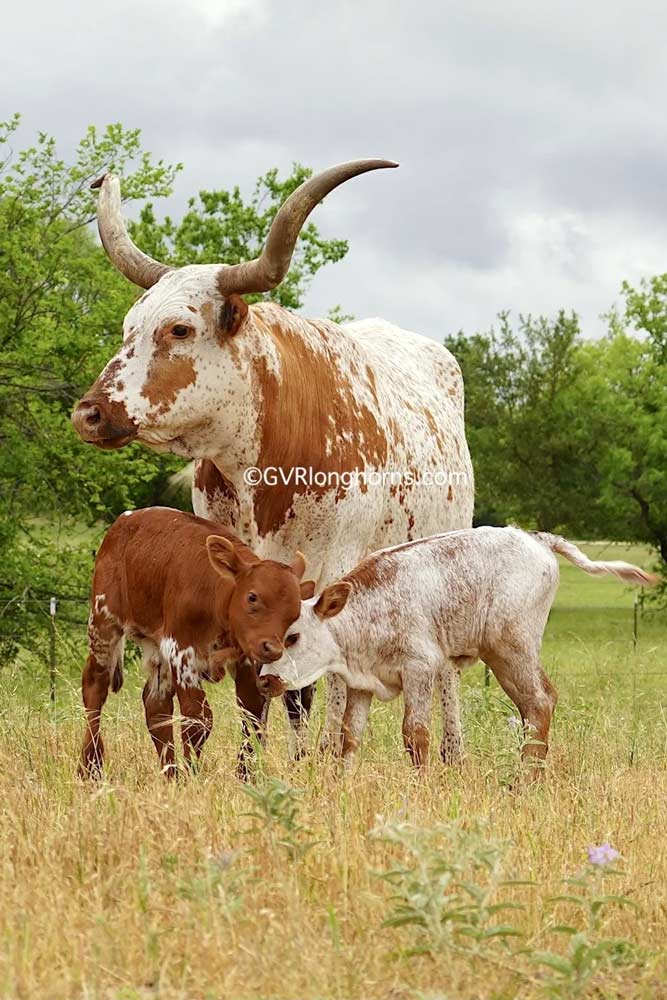 In conclusion
Not everybody will appreciate the complexities that flow through a Texas Longhorn Cattle herd. However, if you have read this far, chances are you have experienced or would like to experience the simplicity, vibrance and joy that resonates within this unique breed of cattle.
For Texas longhorn cattle for sale – visit our SALEBARN here
For additional Good Reads: –
TEXAS LONGHORN HORNS – EVOLUTION REVOLUTION
THE SECRET BEHIND THE POPULARITY OF TEXAS LONGHORN CATTLE
15 AWESOME REASONS WHY RANCHERS RAISE TEXAS LONGHORN CATTLE
ARE TEXAS LONGHORN CATTLE DANGEROUS?
IMMUNE TO A DISEASE WHICH PLAYED A ROLE IN DEPLETING A BREED – HOW?
WHERE IS THE VALUE IN TEXAS LONGHORN CATTLE? 5 CONSIDERATIONS
CONFESSIONS FROM LOVERS OF LONGHORNS
WHAT DO TEXAS LONGHORN CATTLE HAVE IN COMMON WITH A GOLDFISH?
---
Disclaimer: All material noted above is based on our hands- on experience as ranchers, as well as our observations of our own cattle over the years. We have done and continue to do extensive research in order to maintain our herd's optimum health. However, all opinions and statements made on our website are meant as guidelines only. We are not qualified statisticians/ veterinarians and urge you to consult a specialist with your concerns. Content of this blog belongs to GVR Longhorns LLC and may not be copied in any form. ©GVRlonghorns.com All rights reserved.