a chilly story
Texas Longhorn cattle are known for their ability to endure extreme temperatures, in summer and in winter alike. The Arctic Blast that we experienced throughout Texas this last month ( February 2021)  was no doubt one of those opportunities to put our expectations to the test.
However, losing power for a prolonged period of time put strain on our own perseverance, especially with regard to securing water for our herd. Overall, everybody in our Texas longhorn herd faired well but not without some drama.
---
GOOD READ – 16 TIPS for Texas longhorn cattle ranchers in Texas
---
Our story is by no means unique. We know that many had it worse. All the same, our experience was a first for us and one we hope will never be repeated.
Let's start with a reminder that the previous Monday temperature reached 74'F. 
In other words, our Texas longhorns, like all livestock in the area, were not acclimated to the grueling cold we were set to encounter.  None-the-less, to prepare we moved our main herd of longhorn cattle to a part of our property that is heavily wooded and would provide a good wind break and shelter from snow.
There is also a rather large pond for water here. and we kept a water line running into it to prevent it from freezing over.
Day 1, Saturday…a frosty Valentine's Day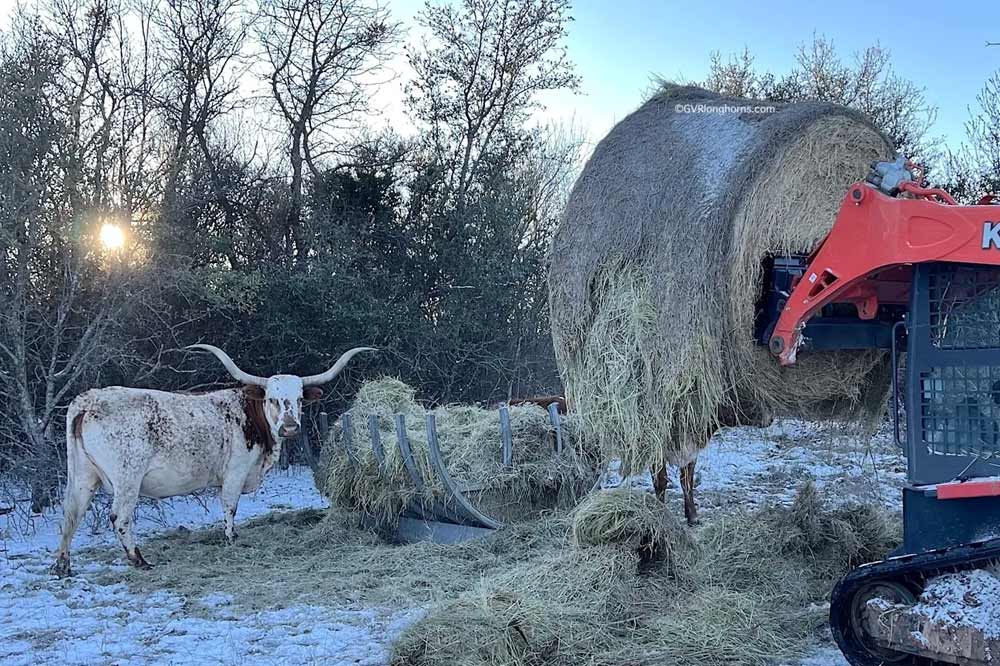 When the first cold front hit, Paul had already laid out extra hay bales in the feeders so there was plenty of surplus feed.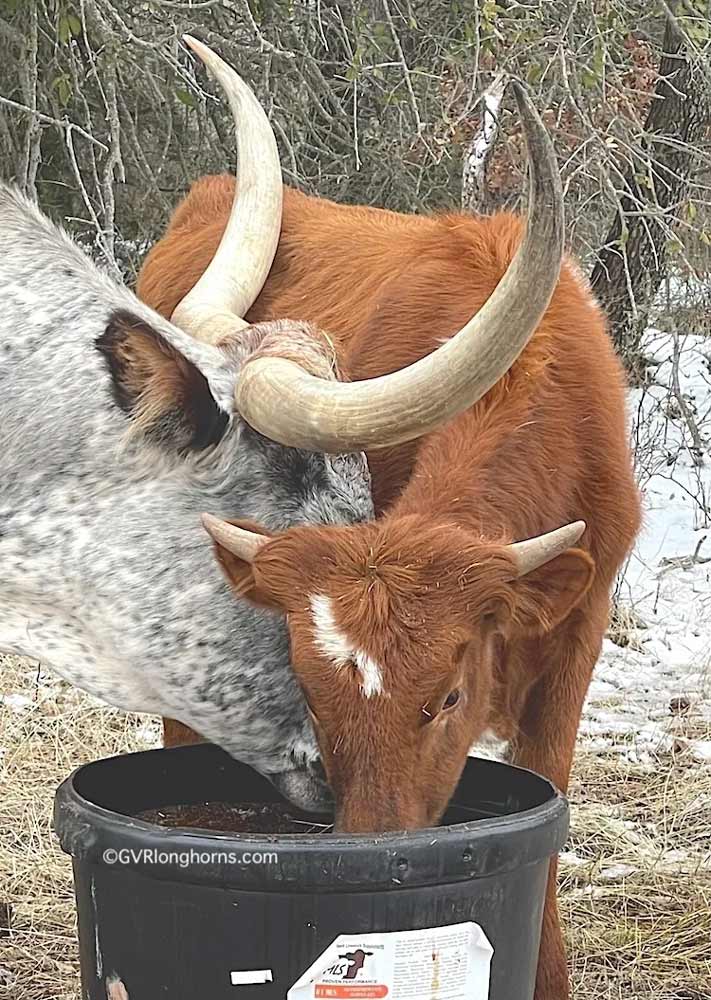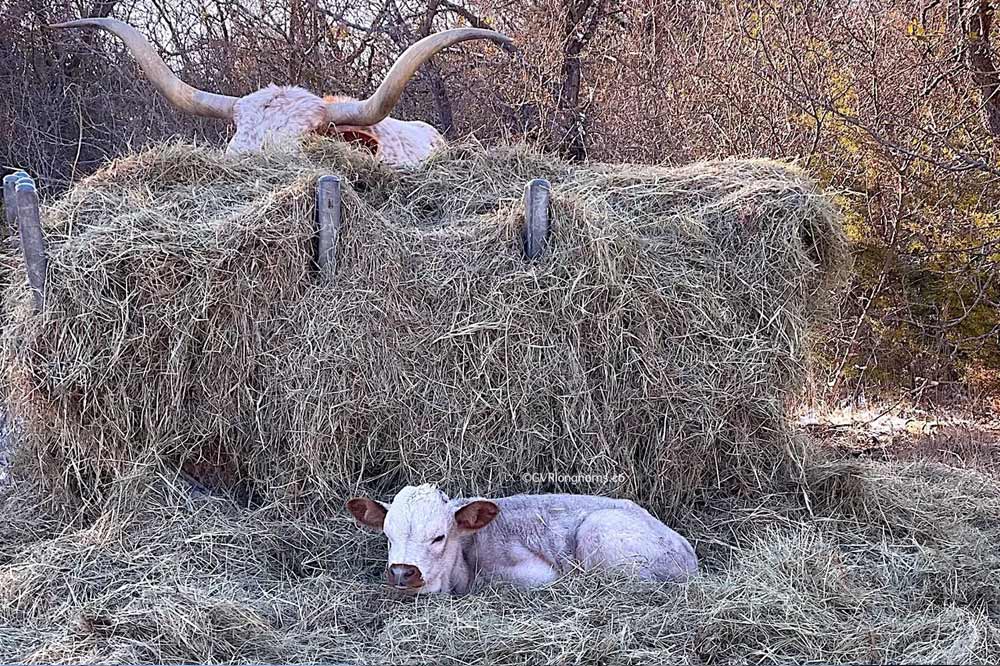 After the first snow fall we also unrolled hay for bedding.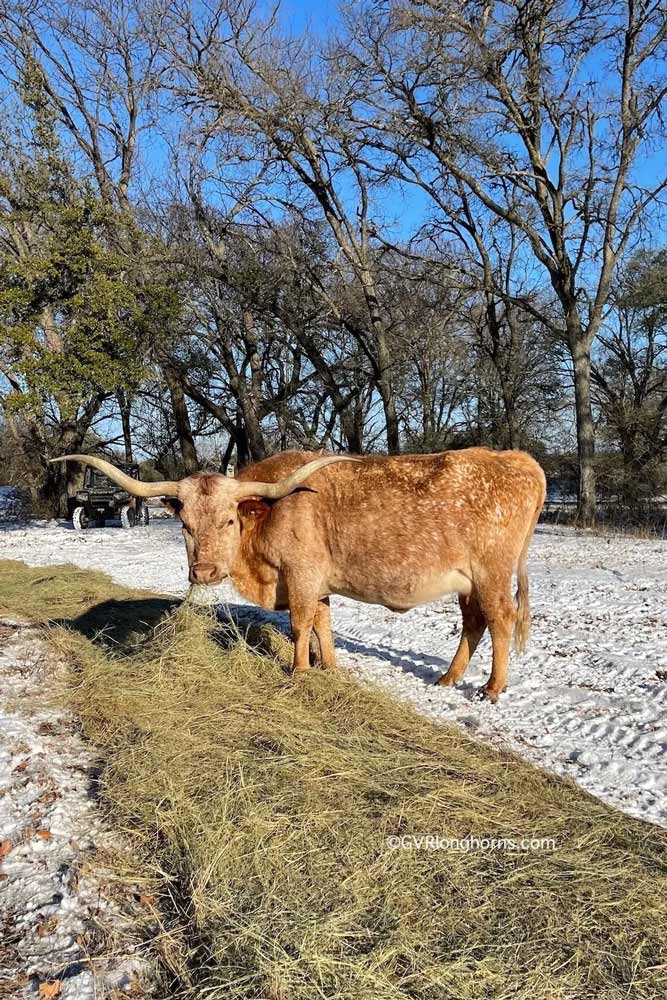 The pond was flowing freely with no evidence of any ice build up.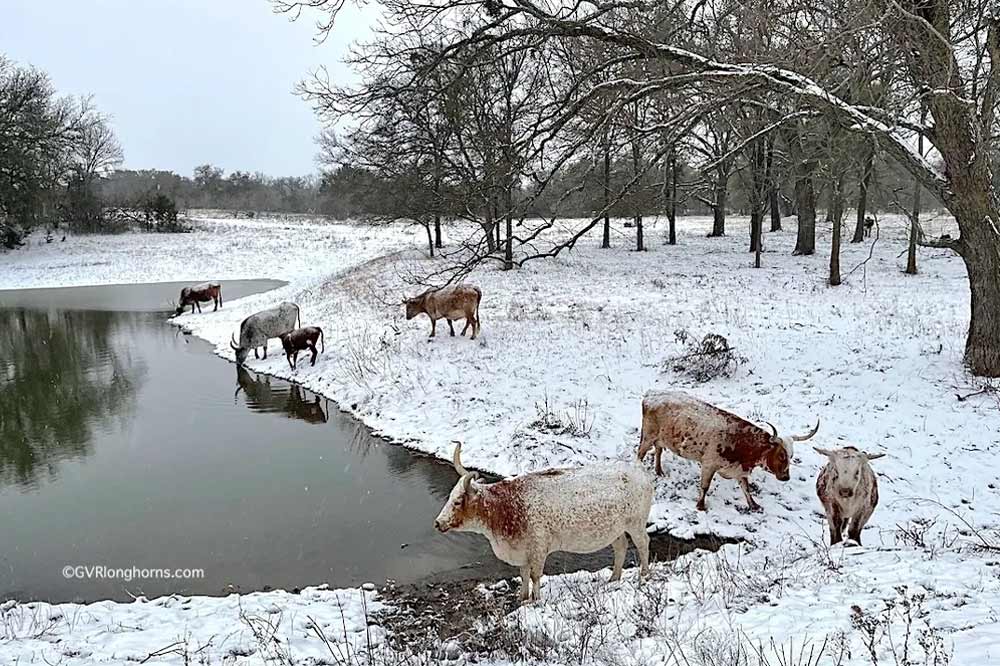 Day 2, Sunday… a whole other scenario!
We woke up to no power and although we have a small generator, we could not get it to start. An extended time without power caused two of our wells to stall and of course the pipes froze instantly in the below freezing temperatures.
By Sunday afternoon, the pond was freezing over but a small area remained open where the water had been flowing in from the now frozen pipes.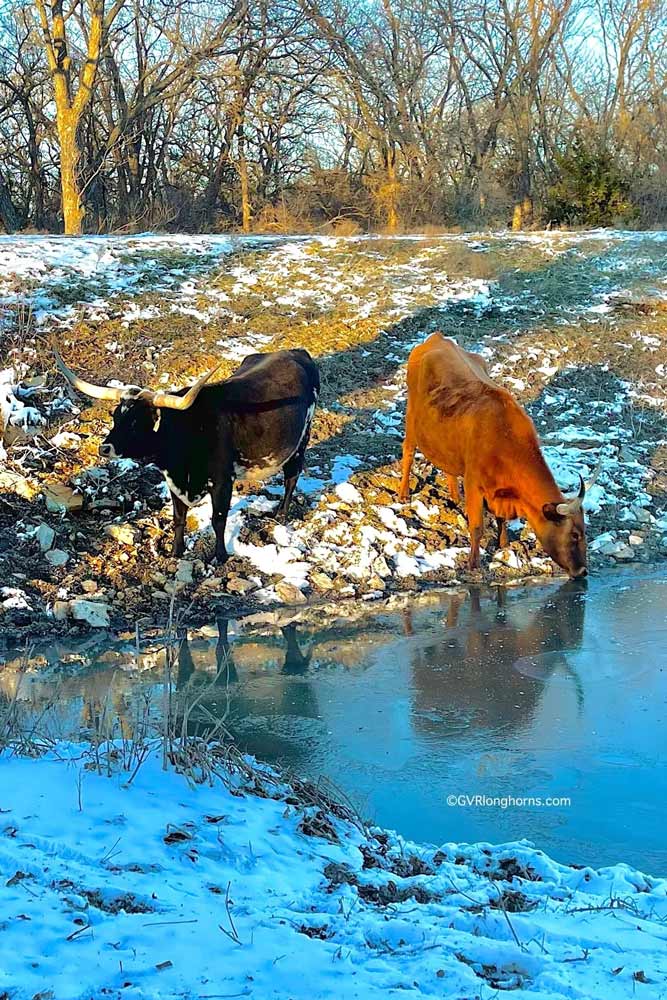 Day 3, Monday ….what we woke up to,
** Coyote tracks, everywhere around the herd – as well as evidence of a calf lost.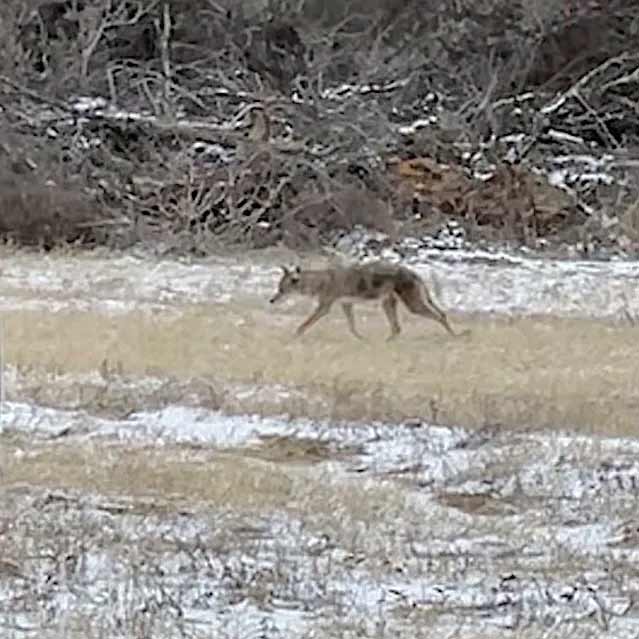 ** a Frozen Pond, in some places 4″ thick.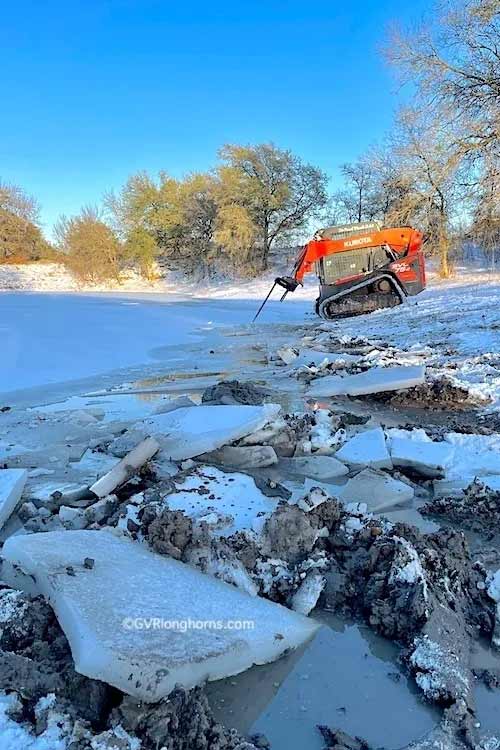 **  a baby longhorn heifer calf wrapped up in a blanket of hay.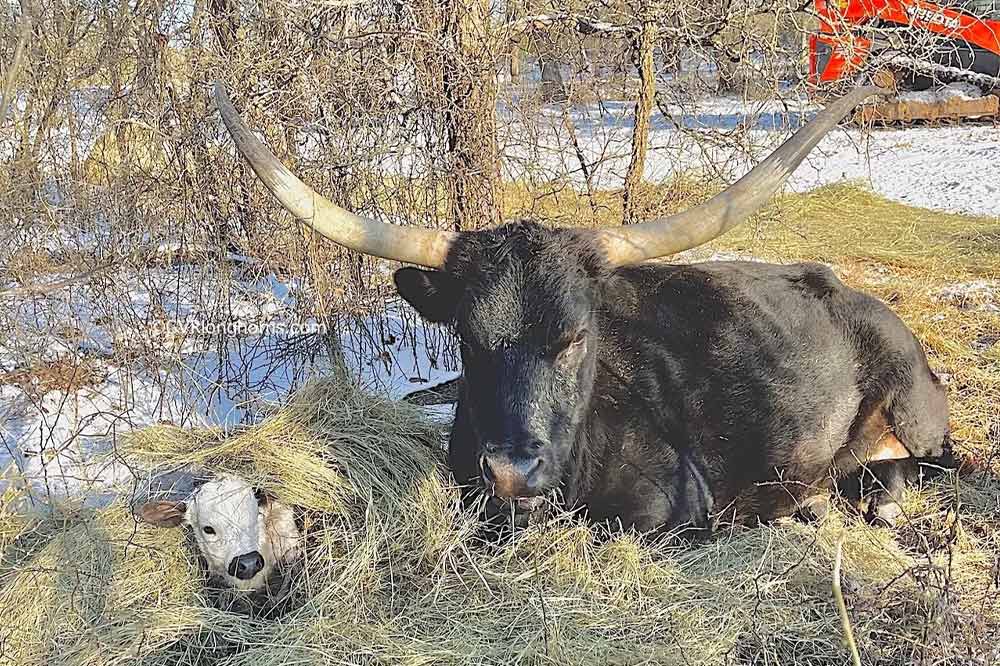 We named the new baby "Winter Star" The winter star is the brightest in the winter sky and even though there were no stars out that night, this baby was our brightest light of the day. Her mother is actually Sniper's Star.
---
Our Texas Longhorns faired as well as could be expected but we had no choice other than to move the main Texas longhorn herd from the frozen pond.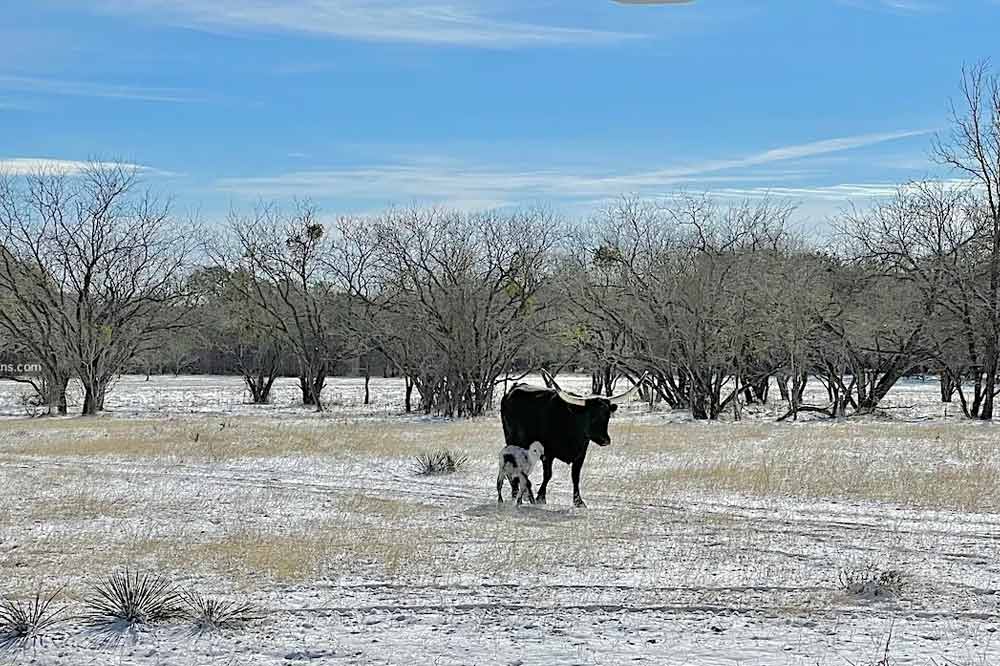 Ideally we would have liked to move Blackie Bloo with her baby, to the Barn Field but she was sticking with the main herd.
Throughout the morning drifting snow set in and by the afternoon Winter Star was frosted and visibly cold. Later we noticed her mama trying to lift her but it appeared that she could not get baby up. In fact, baby had been lying in the same space for a prolonged period of time. Nightfall was approaching with even lower temperatures and higher winds.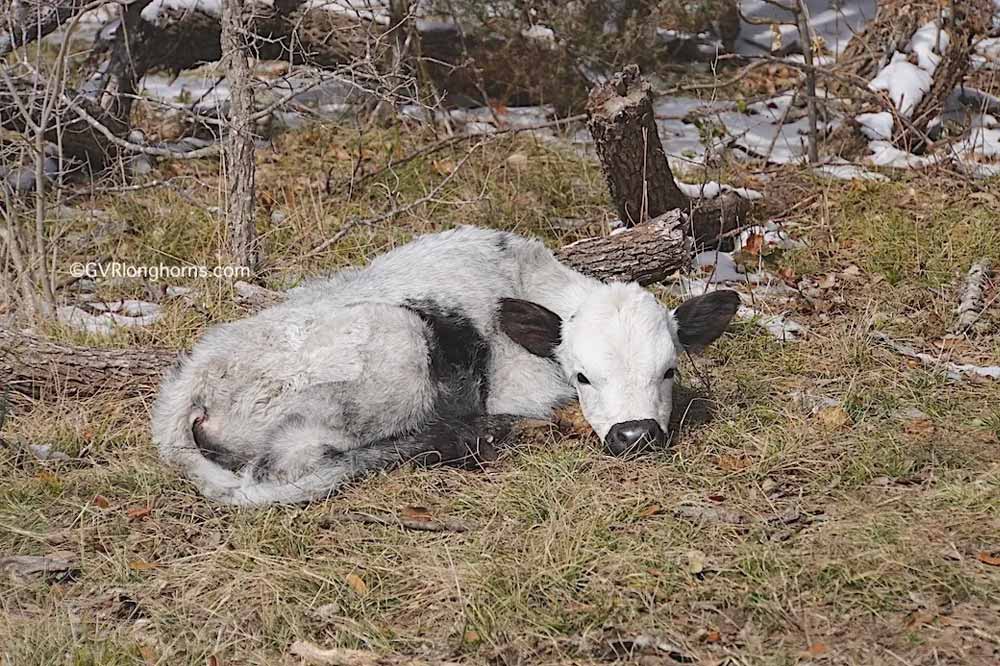 Generally, Texas longhorn cows are very protective mothers. We typically do not touch or approach babies especially in the first few days of birth. Usually, we wait for babies to come to us before we go to them. In addition, separating a mother from her calf is traumatic for both mama and baby and you run the risk of mother rejecting her calf when it is returned.
It was a hard decision for us to make – we took baby.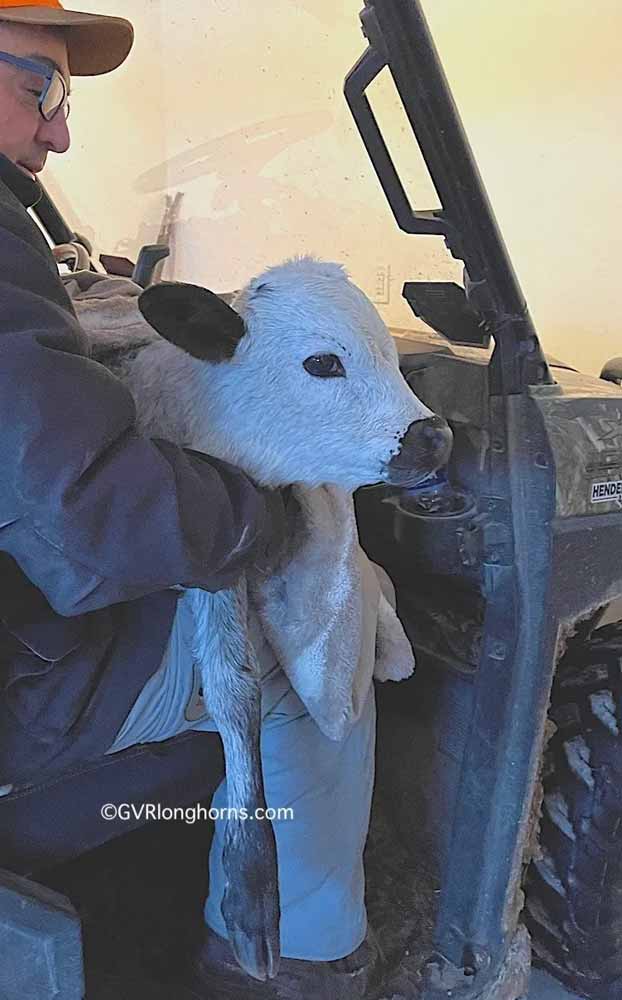 We dried baby off and she warmed up in no time and then she spent the night in our garage. Our neighbor Wesley advised us not to try and feed her. He has successfully raised too many day old dairy calves to count. He said she would probably stay in the same place throughout the night and in the morning go straight to her mother to feed.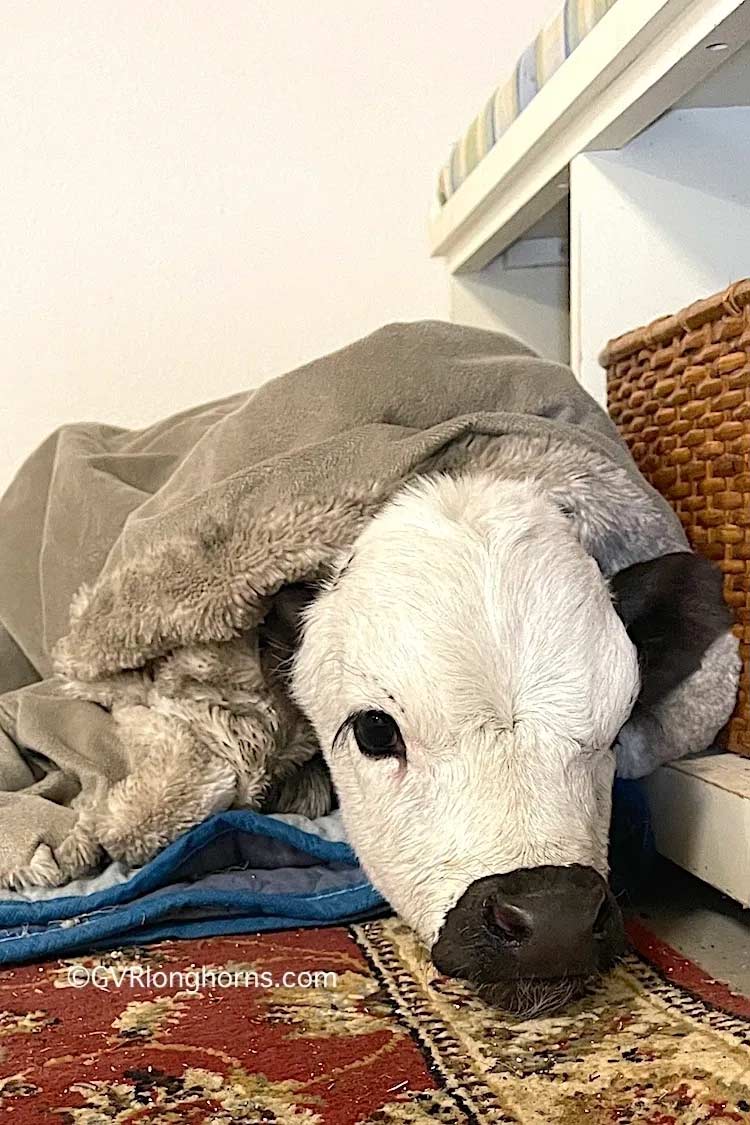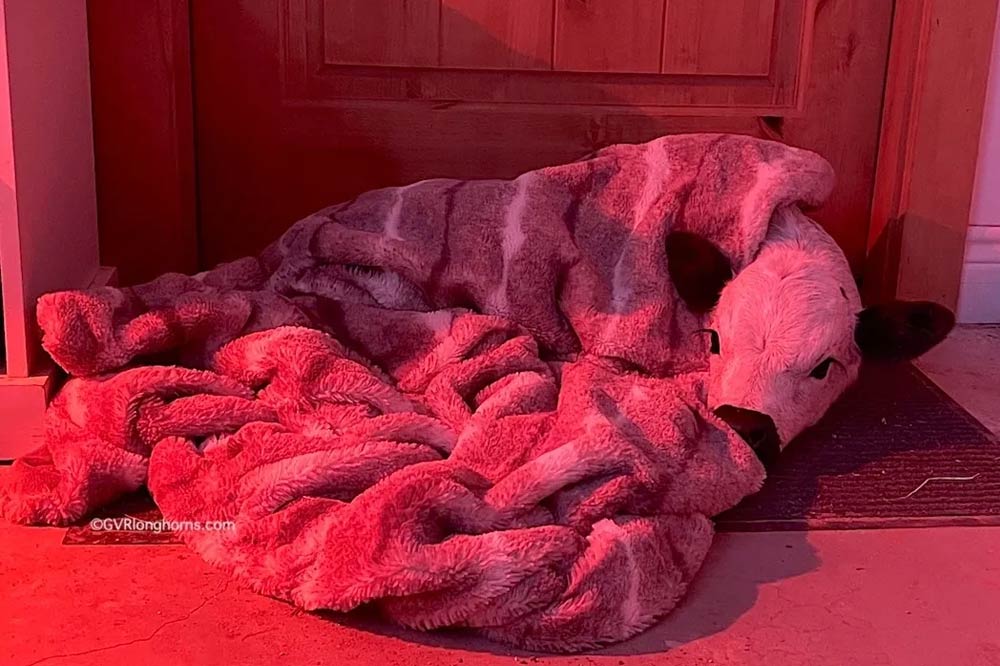 Day 4 – Tuesday
Heart warming on a chilly day
Everything went as Wesley advised us it would.
Baby stayed in the same place throughout the night
In the morning, we placed baby down where we had taken her from…..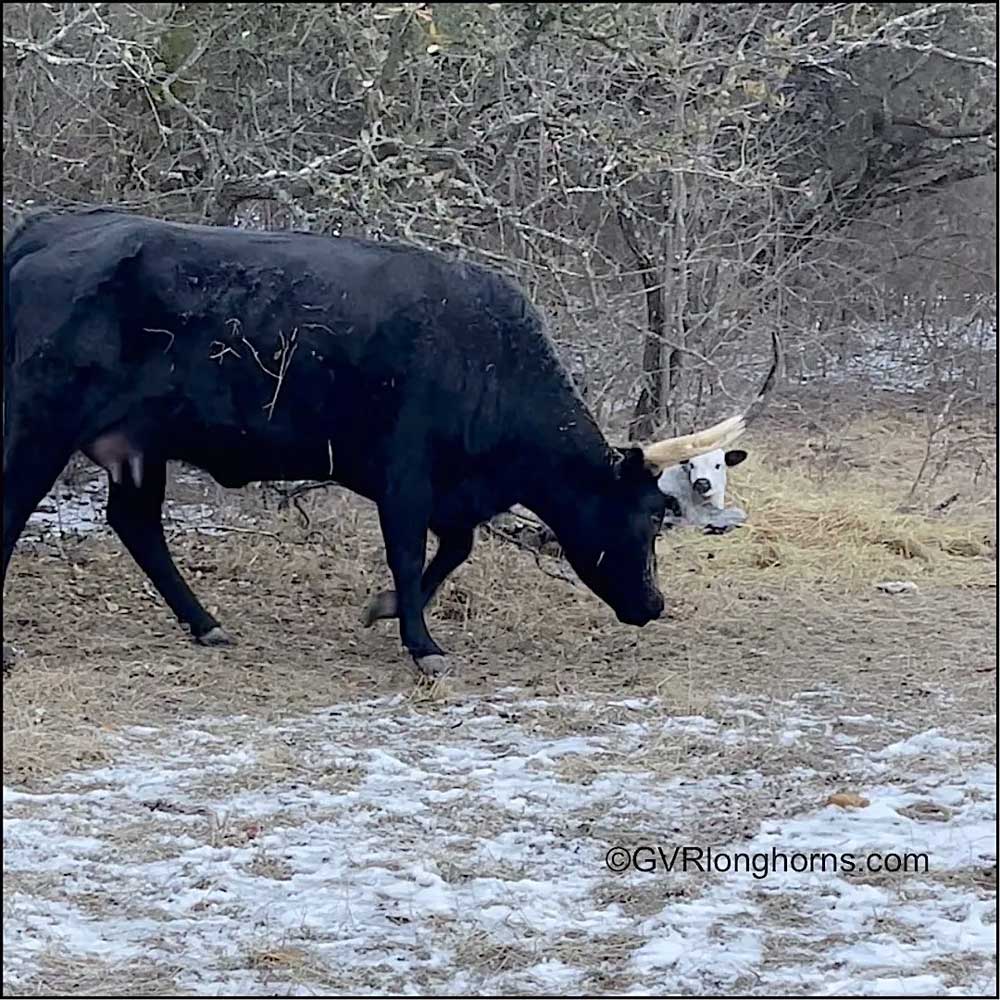 A happy ending
Despite temperatures staying below freezing until Friday, Winter Star withstood the rest of the cold days at her mother's side.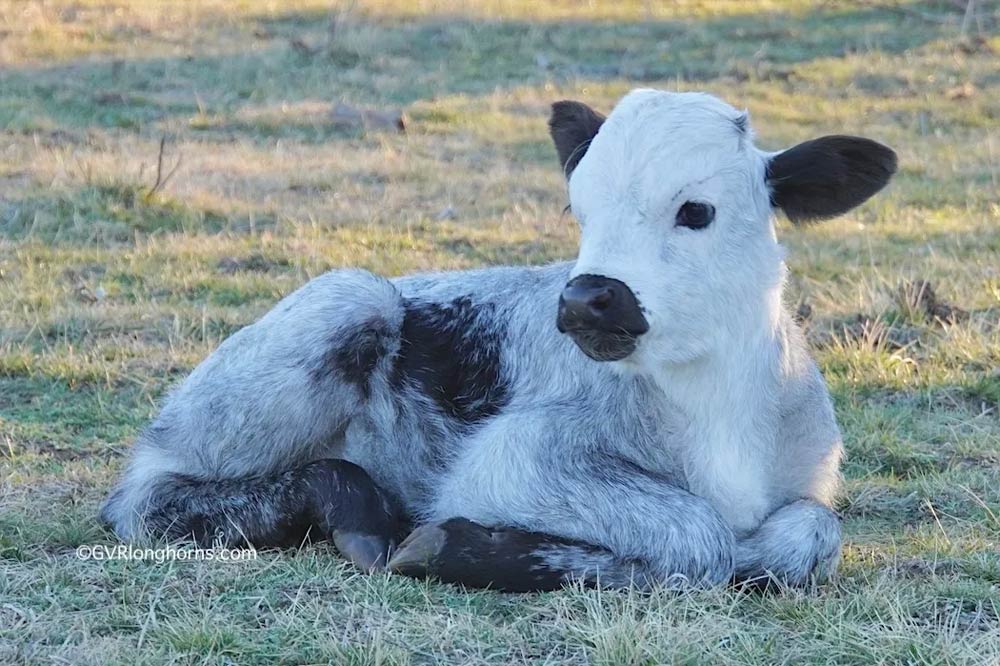 Day and night, she is a bright light in our pastures and we are relieved that she is healthy. She was a huge worry for us throughout the week of the storm but not the only stress.
Here are a few other pictures we took during the week.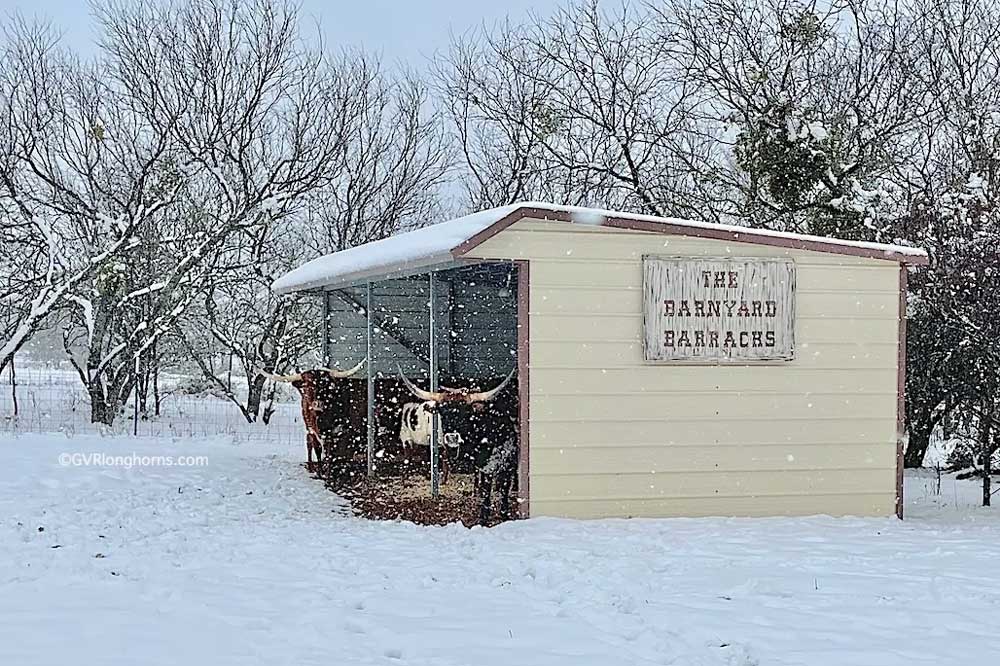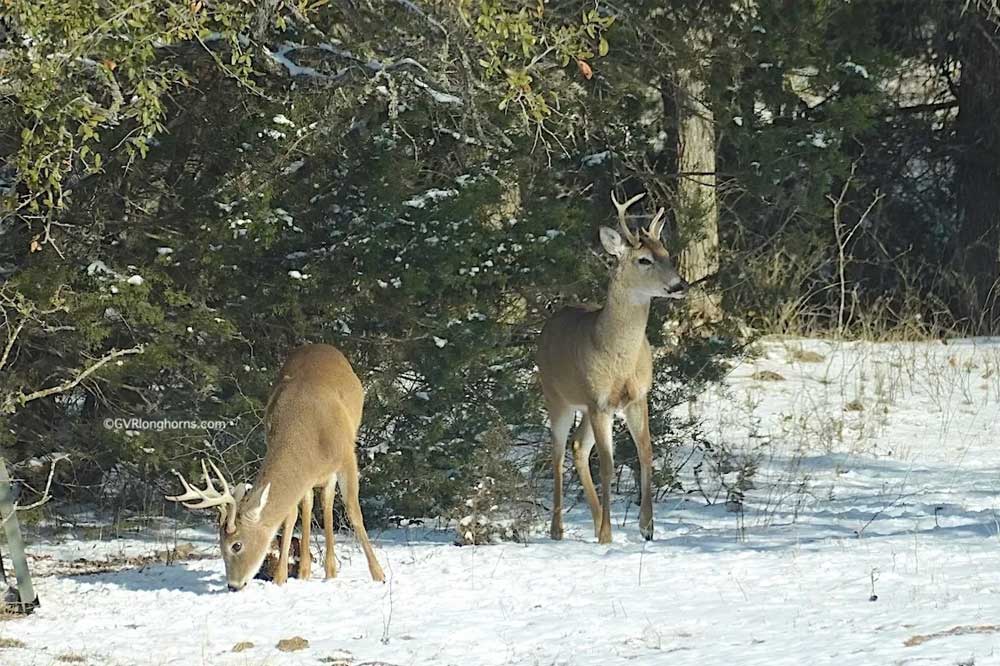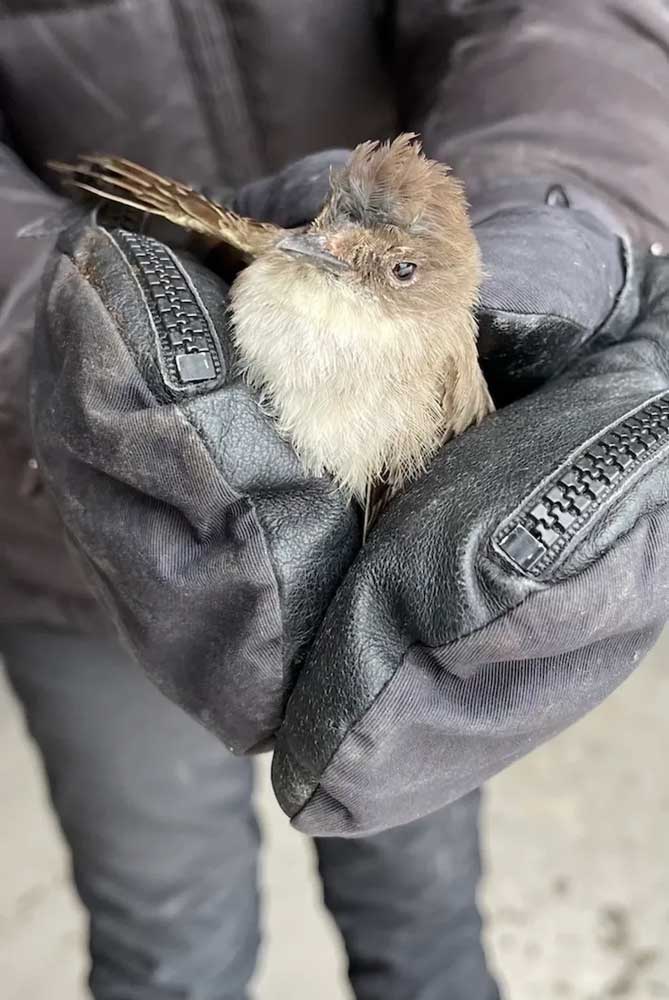 For another REAL FARM story:-
Are Texas longhorns Dangerous?
---
For Texas longhorn cattle for sale – visit our SALEBARN here
For additional Good Reads: –
14 GESTURES OF LOVE AND AFFECTION WITH TEXAS LONGHORN CATTLE
TEXAS LONGHORN HORNS – EVOLUTION REVOLUTION
THE SECRET BEHIND THE POPULARITY OF TEXAS LONGHORN CATTLE
15 AWESOME REASONS WHY RANCHERS RAISE TEXAS LONGHORN CATTLE
ARE TEXAS LONGHORN CATTLE DANGEROUS?
IMMUNE TO A DISEASE WHICH PLAYED A ROLE IN DEPLETING A BREED – HOW?
WHERE IS THE VALUE IN TEXAS LONGHORN CATTLE? 5 CONSIDERATIONS
CONFESSIONS FROM LOVERS OF LONGHORNS
WHAT DO TEXAS LONGHORN CATTLE HAVE IN COMMON WITH A GOLDFISH?
---
Disclaimer: All material noted above is based on our hands- on experience as ranchers, as well as our observations of our own cattle over the years. We have done and continue to do extensive research in order to maintain our herd's optimum health. However, all opinions and statements made on our website are meant as guidelines only. We are not qualified statisticians/ veterinarians and urge you to consult a specialist with your concerns. Content of this blog belongs to GVR Longhorns LLC and may not be copied in any form. ©GVRlonghorns.com All rights reserved.