Why Longhorns?
Why ranchers choose Texas Longhorns  – from our customers' points of view……
by Cathy Valle
In our third article in our series "Why Longhorn Cattle?" we spent time with John and Debbie. They explain why they purchased four Texas longhorn steers.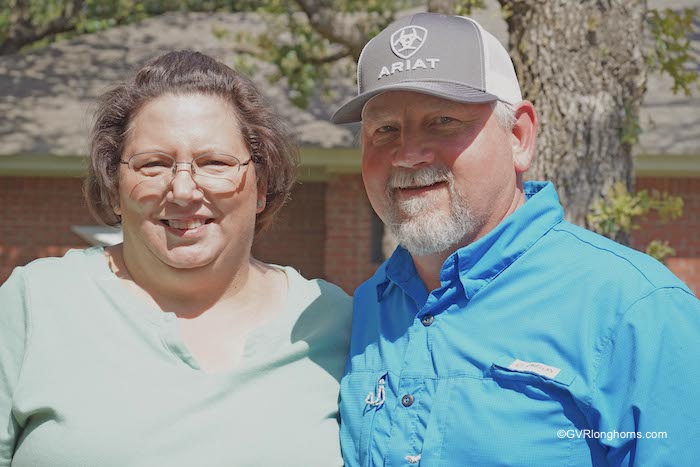 Our local Stephenville residents may recognize John (or Bubba according to his name tag) as he is a manager at HEB. He always has a smile on his face. However, talk to him about his longhorns and that smile grows even brighter.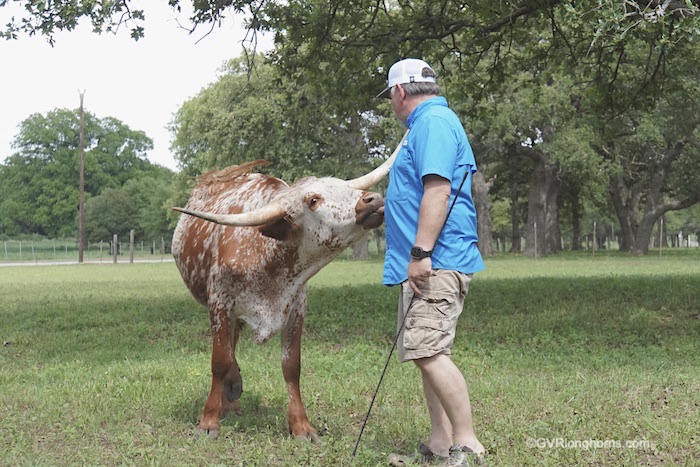 Nonetheless, Debbie was responsible for initially reaching out us over three years ago.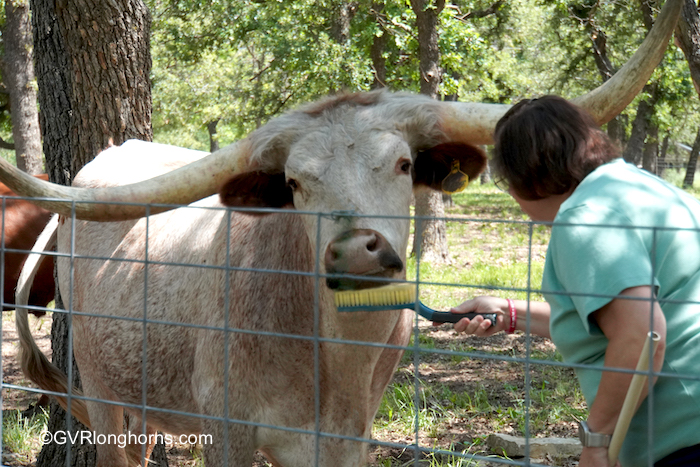 Her family raised beef cattle therefore she handled cattle and was surrounded by cattle most of her life. She always wanted a Texas longhorn though. They were looking for two steers and settled on two who they named Ruger and Gunner.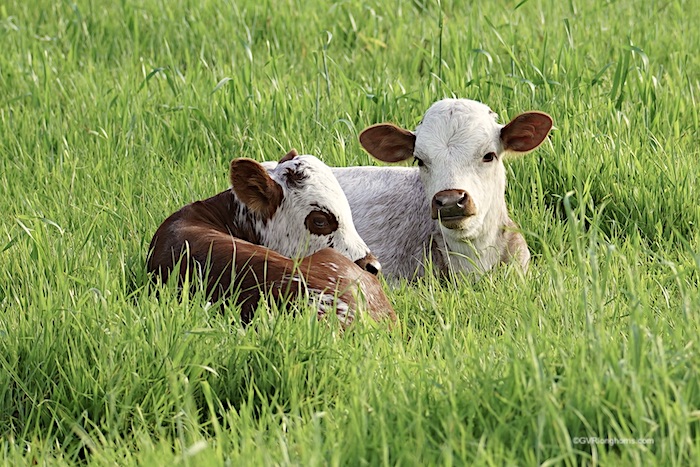 We know they are hooked on their longhorns. Within a year, their daughter Keri purchased an additional two Texas longhorns steers. She named them Aggie and Outlaw.
Why longhorns? Question asked and answered!
Debbie says, " We are very happy with our Texas longhorn cattle.  I love having the longhorns in our pastures. Our home feels more like a home. They are more like pets to us. What's more, people come from all over just to look at them."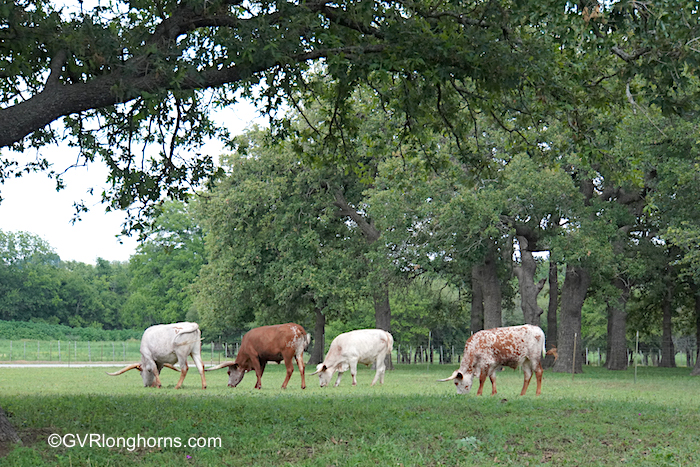 On respecting Longhorn cattle,
" Like all Texas longhorn cattle, our longhorn steers have long horns which makes it tricky to get close to them. However, once you navigate their horns they are gentle and curious."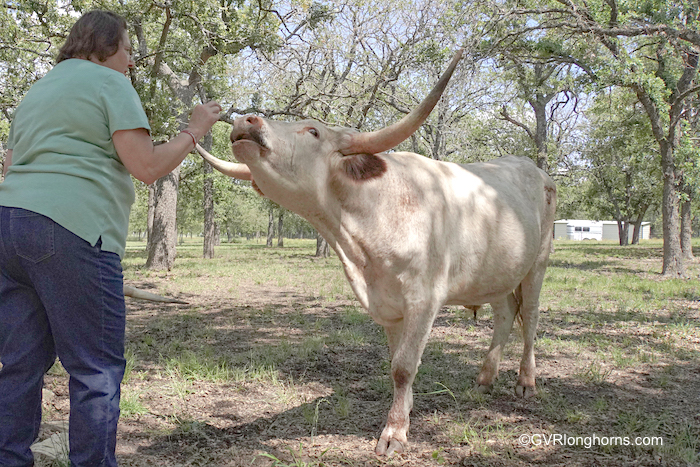 It's not hard to see that these four longhorn steers are part of a happy family. Debbie and John light up around their boys and all the boys respond enthusiastically.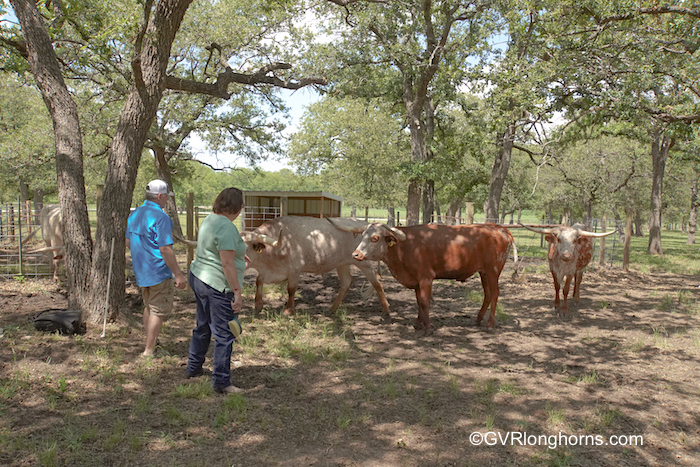 All the same, Debbie cautions and rightfully so. She says, "don't commit to Texas longhorn cattle if you are not in it for the long haul. Texas longhorns live long lives."
Gunner, Ruger, Outlaw and Aggie are the luckiest boys. They have found their way into the hearts of Debbie, John and Keri. More so, Debbie, John and Keri and part of our Cowmoonity and we could not be happier that they found their way to us at GVRlonghorns.
In conclusion, let's talk Baby Pictures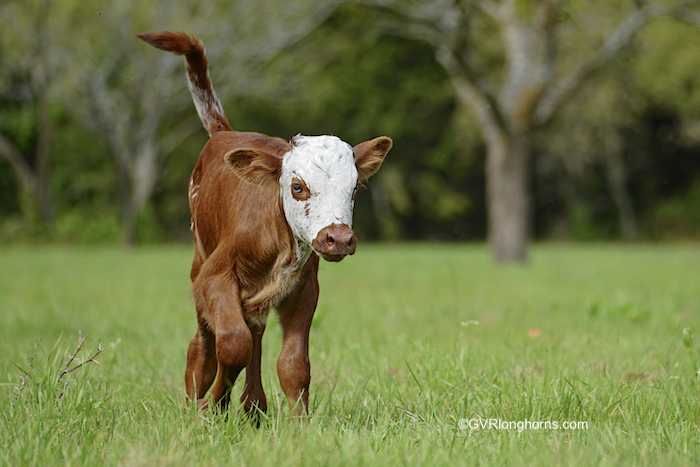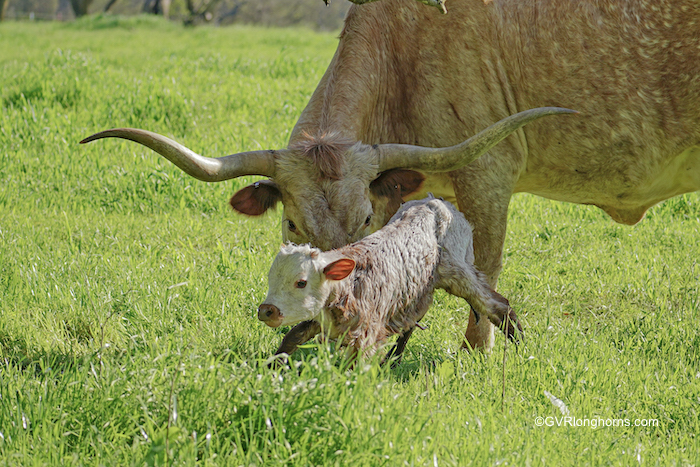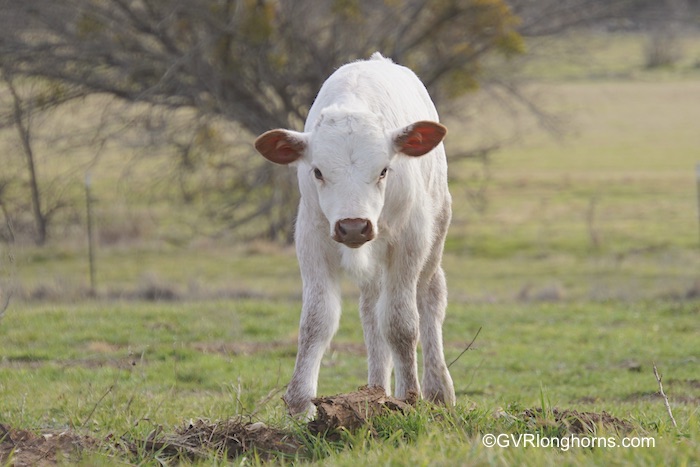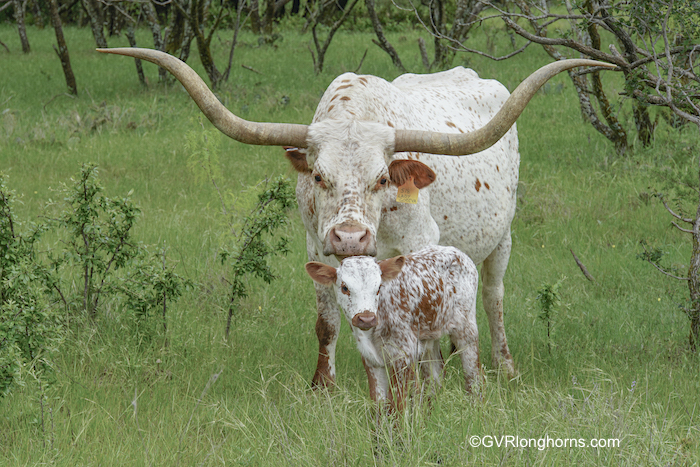 These boys were all sired by our previous and beautiful Texas longhorn herd sire M Arrow High Caliber.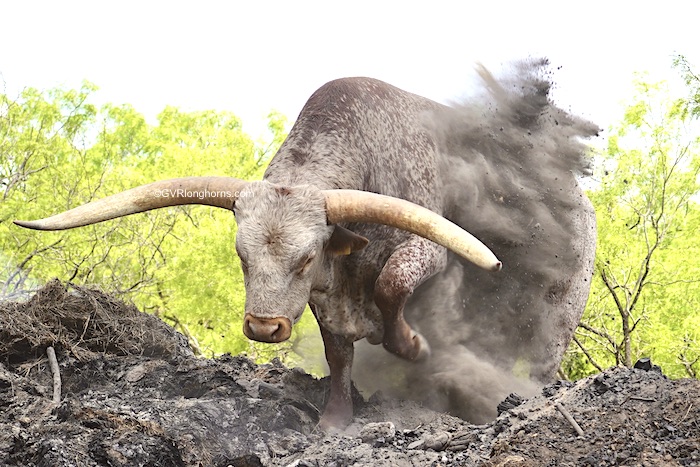 To summarize, Texas longhorn steers are a great option for fulfilling  agricultural tax exemptions on acreage in Texas.
In addition, they are a popular choice, especially for ranchers that don't live permanently on their rural land.
Why Longhorns? Specifically, why Texas longhorn steers?
A Texas longhorn steer is actually a longhorn bull that has been castrated at an early age.
By implication, a steer cannot breed.
Whereas a longhorn bull requires a herd of cows around him to keep him happy, a pair of longhorn steers will be content in your pasture so long as they have enough to eat and drink.
Longhorn steers generally grow more horn than their bull counterparts making them the perfect "pasture pets" in Texas.
For many other reasons (15 in fact!) as to why ranchers raise Texas longhorn cattle read our popular article,
---
Our Current TEXAS LONGHORN BULL HERD SIRE  – bred by Harrell Ranch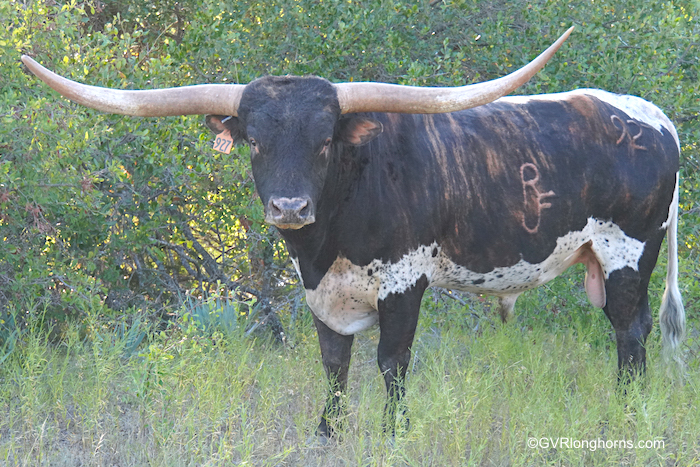 Thinking back, Paul and I searched for these specific characteristics in a Texas longhorn bull for a long time.
Subsequently, we purchased a half share in our Texas longhorn bull before his mother sold on auction for $140 000.00 and before his aunt was purchased for $700 000.00. READ MORE
RJF Texas Rebel is young and his production rate is exceptional
Following, a little over two years down the road…..this year's calves are the second group of longhorn babies to be sired by RJF Texas Rebel.
All in all, every calf displays what we expect from the finest Texas longhorn genetics, from personality to body structure.
Our first sold fast and our customers are happy without exception.
Are you convinced why so many ranchers in Texas choose Texas longhorn cattle?
If you would like to share in these fine genetics visit our salebarn here. OR, better yet, schedule a visit to meet us and our Texas longhorn herd in person.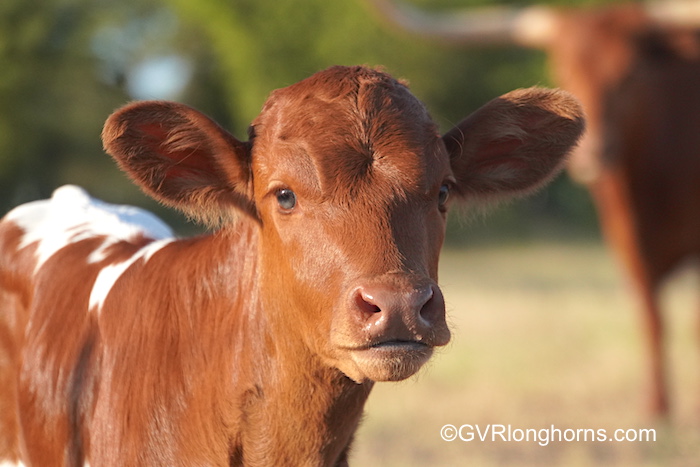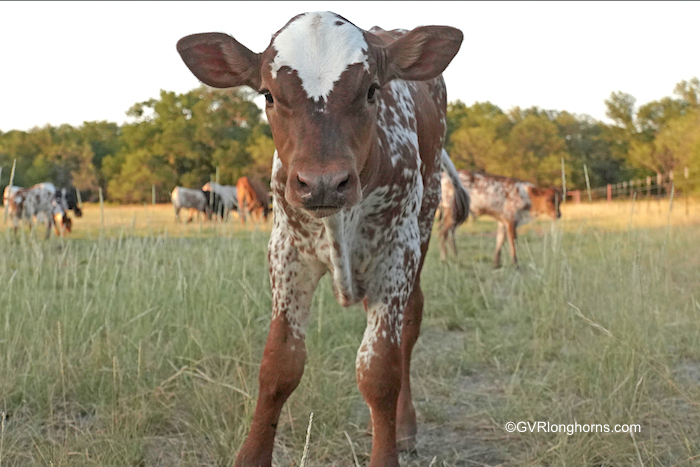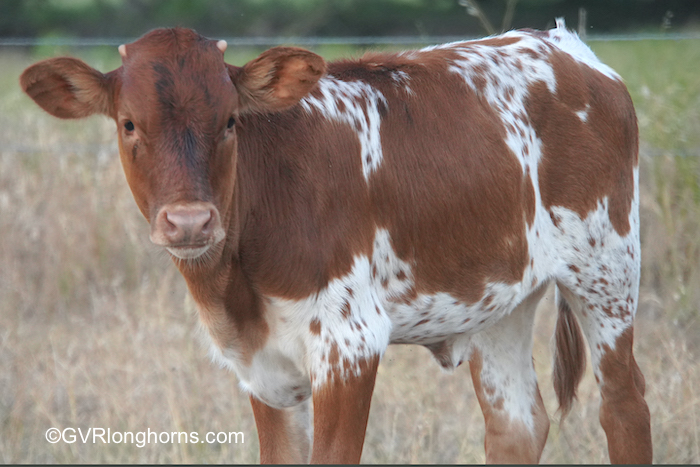 ---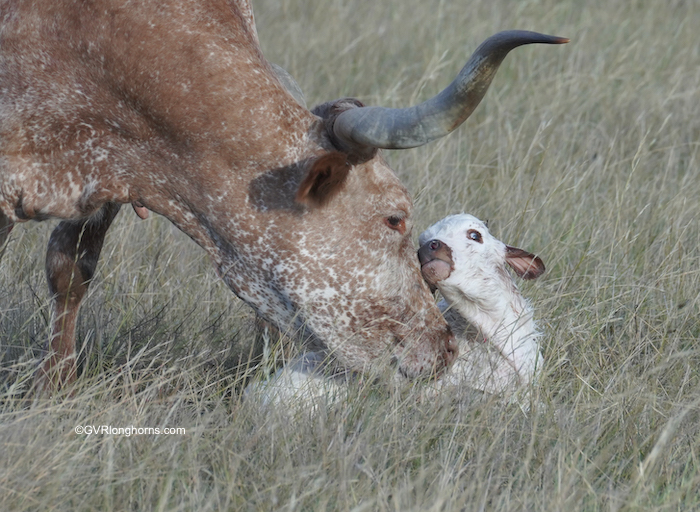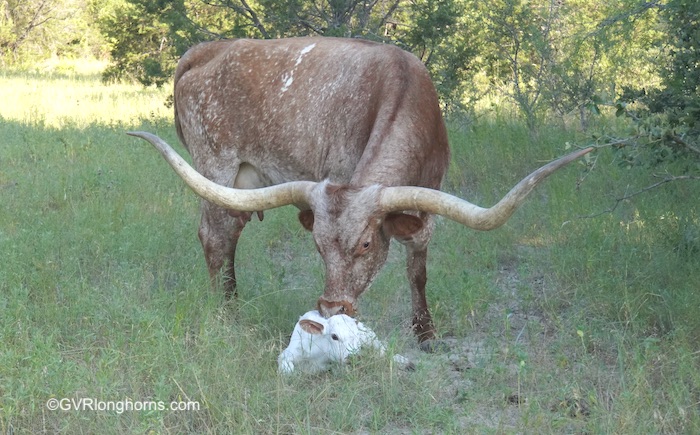 ---
Disclaimer: All material noted above is based on our hands- on experience as ranchers, as well as our observations of our own cattle over the years. We have done and continue to do extensive research in order to maintain our herd's optimum health. However, all opinions and statements made on our website are  guidelines only. We are not qualified statisticians/ veterinarians and urge you to consult a specialist with your concerns. GVR Longhorn LLC owns all content of this blog and all pictures.  In other words, NO copying please!  ©GVRlonghorns.com All rights reserved
Please let us know how you feel about this post in the comments below or email us directly and if you enjoyed reading it please consider sharing it.
We love hearing from you.
Thank you for spending time with us,
Cathy