Reducing stress for young Texas longhorn calves.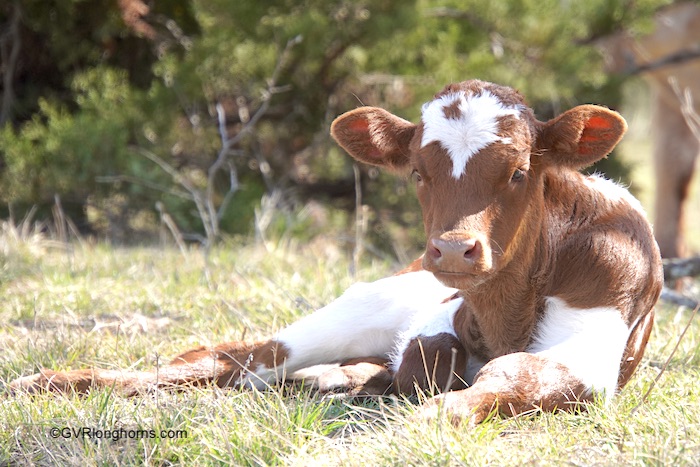 For Texas longhorn calves, one of the most stressful times must surely be at weaning. Babies are separated from their mothers. Mothers are uncomfortable as their udders fill and ranchers cannot escape the big and little calls and cries. 
Transfers of calves to new owners often happen just after weaning
Reducing stress for young longhorn calves is an important consideration. With that in mind, we posted a blog this time last year, "young Texas longhorn cattle: 5 easy tips to wean them gently." READ IT HERE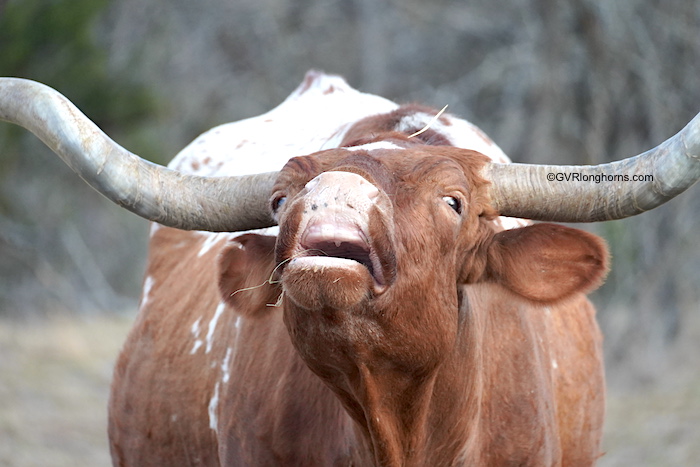 While it's easy to understand a baby's stress without mom around, there is another side of weaning that is often overlooked.
Surprisingly, even though we suggest weaning in a group, it's the group itself that often adds to the stress young Texas longhorn cattle must endure.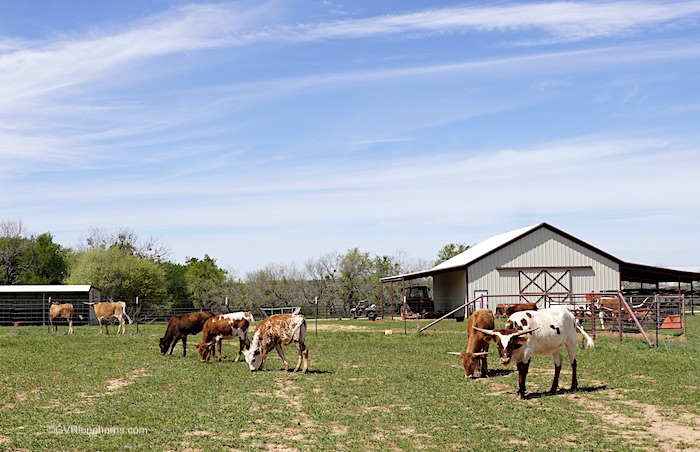 Group Dynamics  – Texas longhorn calves
As with us humans, cattle socialize with one another in a complexed way. Strong bonds develop from a young age.
In contrast, not everybody likes everybody else. Without a doubt, "Moo" is their voice but it is not their only language.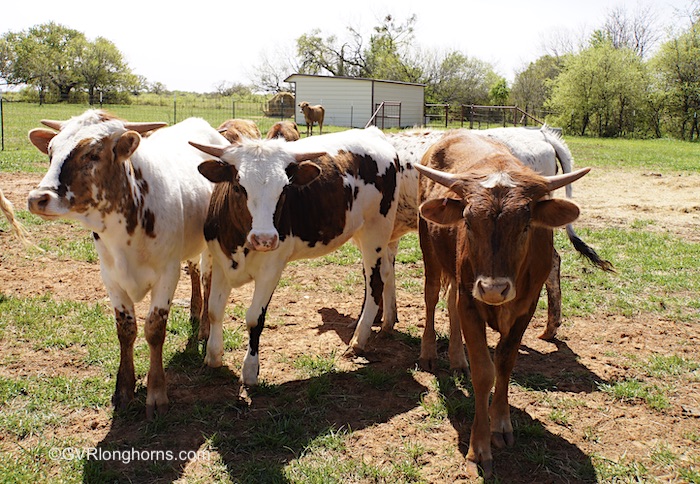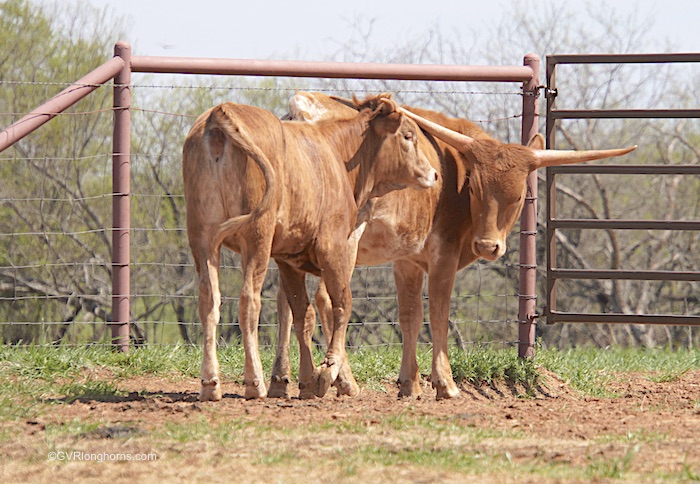 In the case of cattle, Group dynamics refers to the way each animal interacts with the other. In a similar way to humans, their behavior has a lot to do with how they perceive one another.  When Texas longhorn cattle cowmoonicate, they posture, prod and punish each other. There are rules and regulations. There are disciplinary consequences. In other words, there are certain criteria that appear to stick out, so to speak….
Fortunately, Texas longhorn cattle are easy to tell apart and they are therefor also simple to track. Similarly,  following their interactions is not difficult. There are some patterns of behavior that seem to repeat themselves. Here are some of our observations over the years of handling our young Texas longhorn calves and our longhorn cattle herd.
AGE of Texas longhorn calves
Do you remember being 5 years old, or 10 years old for that matter. 23 years of age, for example, was ancient. Likewise, a 2 year age gap felt like a generation. In the same way, 2 months makes a huge difference for weanlings. It's apparent that age matters. What's more, age has status. Although no one messes with our old longhorn ladies but it's a different story for the young ones.
In other words,  weanlings in a big herd are relatively worry free.  All are protected by the herd and of course by their mothers. Once they are separated into a weanling group, the  Texas longhorn calves have to fend for themselves. Suddenly, every weanling is not equal.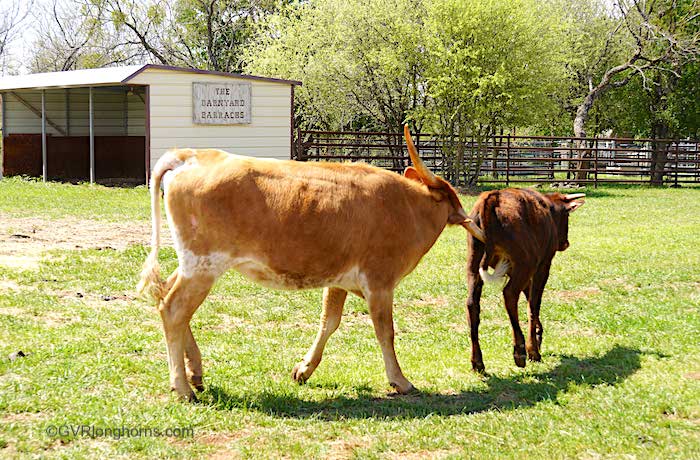 SIZE of Texas longhorn calves
When it comes to cattle dominance, it would appear that size does in fact matter!! So much so, it's hard to believe that the word 'BULLY' does not have its origins in bovine behavior.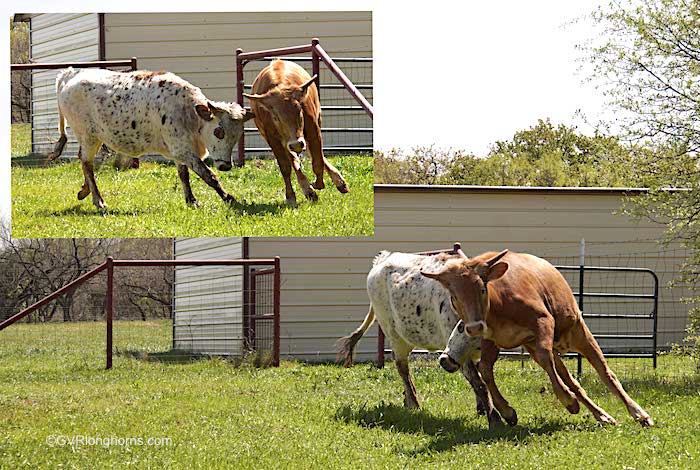 Size seems to trump age to a point. All the same, a group of longhorns similar in size will fight each other to establish their dominance and pecking order.  In fact, this seems true throughout our herd and is not necessarily relevant only to the young Texas longhorn calves.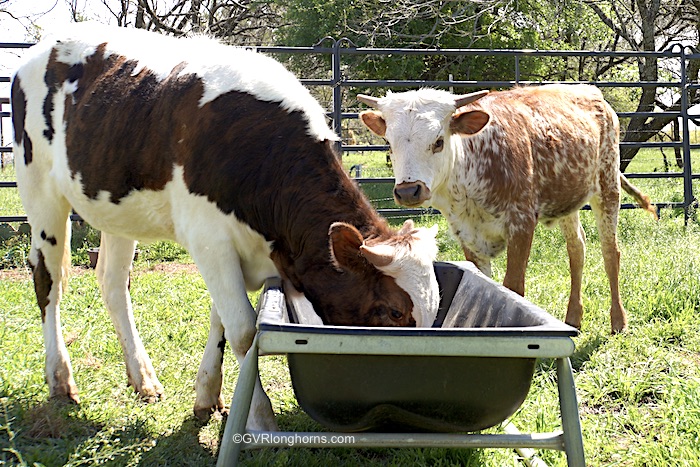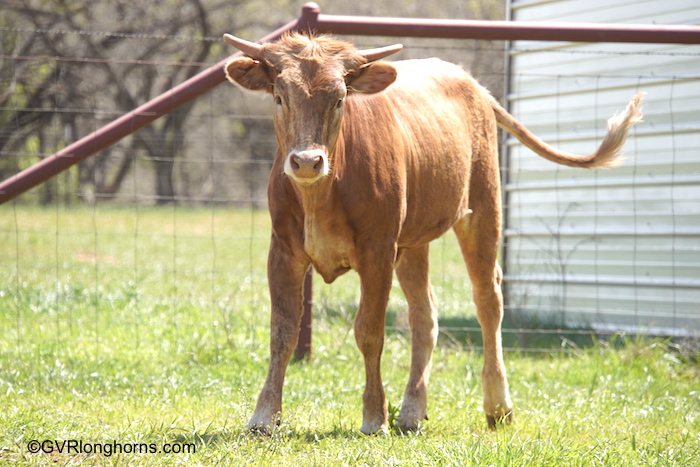 To help Peppadew socialize , we feel the need to help her establish trusting relationships with her peers.  Right now, she is scared but we don't think that will last long. Her time in the weaning pen will be a little longer though. We will keep her in a smaller group with a few friendly heifers. Luckily they are just a little younger and a little smaller than she is. Life is just better with friends!
FRIENDSHIPS amongst longhorn calves
Are you comfortable at a party on your own? Or, dining solo?
Parties and dinners are usually less stressful with friends(and especially friends that you genuinely like).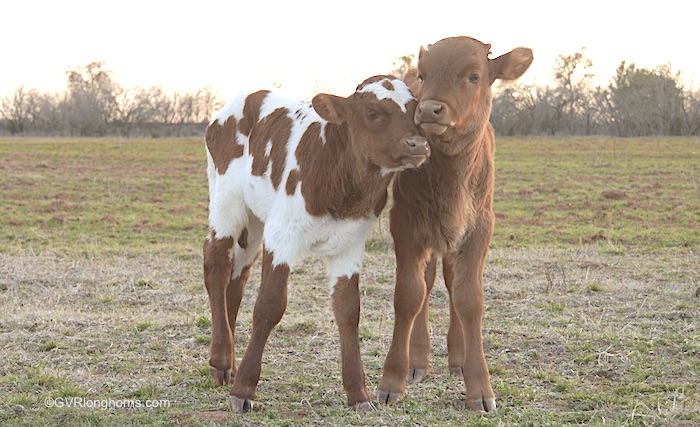 Similarly, friendships and alliances matter with young Texas longhorn cattle, or at least they do in our herd. Friends stick together. Bullies with friends seem to join forces against their victims. Little young ones with friends don't seem to stress as much when bullied.
In the same vain, friendships play a huge part in the group dynamics of our Texas longhorn herd. Most every time we change a herd, bring in a new member or wean our babies, friends join forces and alliances come into play.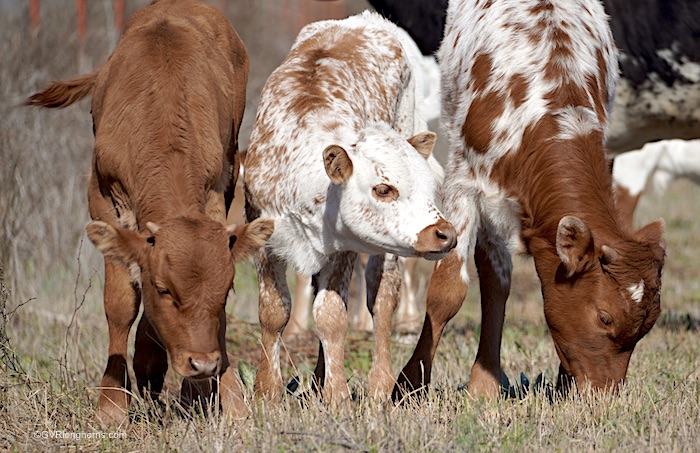 PERCEPTIONS
Our perceptions influence our thoughts and behavior. Similarly, how cattle perceive their world is important to understand. Understanding the world from a cow's point of view has many facets which are all significant and highlighted in our blog –  from a cow's point of view – 6 things to look out for. – READ IT HERE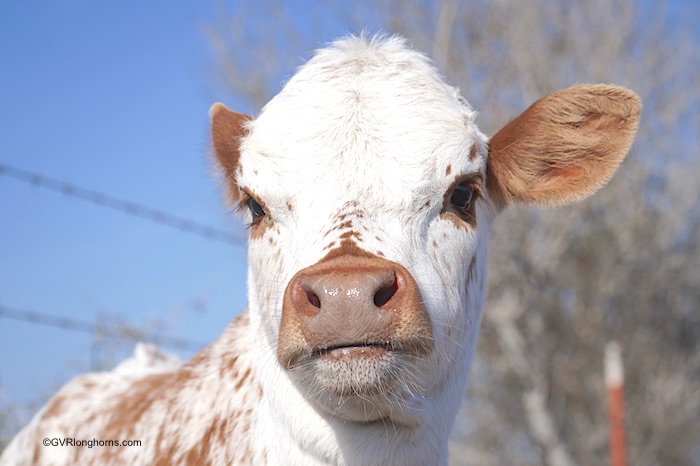 IN CONCLUSION
There is no doubt we enjoy everything Texas, from ranching to rodeos and  from cowboys to their cowboy boots and hats and more. Nonetheless, different perspectives add more dimension. It makes sense that little ones, under stress may not behave well. Rather than punish this behavior, we like to get to the bottom of it. It is true that not all longhorns our fun-loving, calm and overly friendly. However, it is interesting to see how longhorns' behaviors change when they (especially little ones)  don't feel frightened anymore. Our Texas longhorn cattle herd is constantly evolving and we are constantly learning. With this said, we love to get your perspective. Thank you for reading our article and please consider leaving your constructive comments and observations.
For Texas longhorn calves for sale in Texas – CLICK HERE
Disclaimer: We are not qualified statisticians/ veterinarians and urge you to consult a specialist with your concerns. Material noted above is based on our own calculations. Every effort is may to be accurate however errors in calculations may occur. We record our hands- on experience as ranchers, as well as our observations of our own cattle over the years. We have done and continue to do extensive research in order to maintain our herd's optimum health. However, all opinions and statements made on our website are meant as guidelines only.  Content of this blog and all pictures belong to GVR Longhorns LLC and may not be copied in any form. ©GVRlonghorns.com All rights reserved